UWC Day - UWC Timor Leste
22 September 2018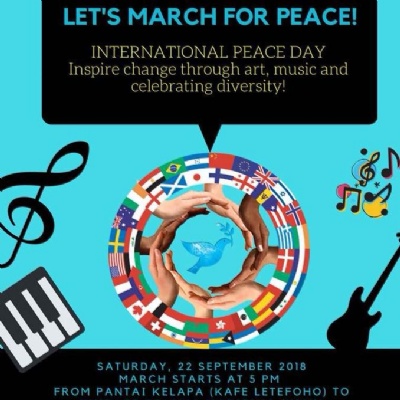 22 September, 2018 - Peace Concert and March in collaboration with the Timor Leste Youth for Peace organisation.
Come and celebrate the International Day of Peace and UWC day with us! We will be celebrating this special day with two main events :

We will start marching from the point of assembly until Avenida dos Direitos Humanos (Largo de Lecidere || UPM, in front of SEJD office) and continue with the next event.

2. PEACE CONCERT

After the march, there will be a concert enlivened with numerous known Timorese bands and singers such as :

1. Alcatraz
2. Black Jesuz
3. G-47
4. Natureza Band
5. El-Chapo
6. Trischa and Friends
7. ECC
8. Sanctuary band

During the concert, there will be food stalls selling wide range of food and beverages to complement the event!

Note: The Concert is free to enter for MARCH FOR PEACE participants. If you would only like to join the concert, there will be a $1 entrance fee that will go towards funding future projects of TLYFP.