UWC Day - UWC Costa Rica
21 September 2019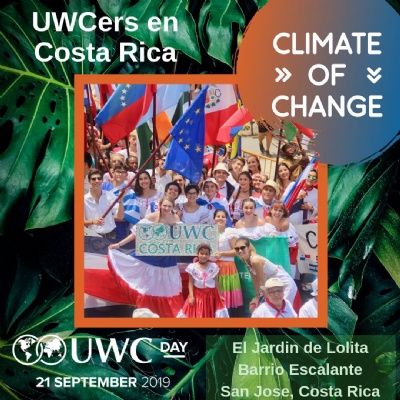 21 september 2019, El Jardin de Lolita, en Barrio Escalante, 3pm, Reunión de graduados de UWC en Costa Rica
At the school, we have a full day of events planned:
Morning: Community clean up. UWC Costa Rica students and staff will go out to the Santa Ana community to do a litter-clean up while sharing information with the community about what UWC is and our mission.
Evening: We will have an
Oxfam hunger dinner
with the objective to encourage a conversation about inequality around the world and how we as individuals can do our part to decrease inequality. (This event is limited to only UWC Costa Rica students and staff due to space/logistic limitations)
Night: We will have our traditional Peace One Day show where our students will use art (dance, songs, poetry, theater, and more) to not only showcase the cultural diversity in the UWC Costa Rica community but also, and most importantly, inspire one another to work towards peace and take action to address the many conflicts that plague our world, regions, countries and communities.