A Cross-UWC Conversation on Anti-Racism, Diversity, Equity and Inclusion
16 December 2020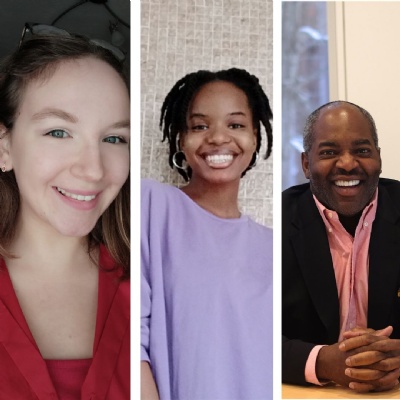 A Cross-UWC Conversation on Anti-Racism, Diversity, Equity and Inclusion between Koko and Kathrin, students at Waterford Kamhlaba UWCSA, and Rod Jemison, Head of UWC ISAK Japan.
Anti-Racism has been catapulted to the top of most diversity, equity and inclusion agendas in 2020. This includes the Asinakekelane group at Waterford Kamhlaba UWC of Southern Africa. Asinakekelane means 'Let's Care About Each Other' in siSwati and is a community organisation comprised of students, teachers, alumni and parents discussing all issues of discrimination. As Black Lives Matter protests rose to a peak back in May, Koko from the Democratic Republic of Congo and Kathrin from Austria (both Waterford Kamhlaba UWCSA, 2020-2021 & co-heads of Asinakekelane) saw an intensified need in their school community to offer support and learning opportunities in the area of anti-racism. "We tried to do as much we could to be there for our community - even though everything was online by then due to COVID-19. We organised virtual protests, videos and supported two of our co-years to set up the Waterford Kamhlaba Race Talks to keep the community informed about what was going on in the world and discuss how it related to issues of diversity, equity and inclusion within our own community. Seeing how important these issues were to our school made it pretty clear to us that issues of racism needed to be a focus for Asinakekelane moving forward," Koko explained.
Meanwhile, Rod Jemison, Head of UWC ISAK Japan, saw similar needs brought to the fore, both within the ISAK community itself and across the wider UWC movement. Rod was also later named co-chair of the UWC Anti-Racism, Diversity, Equity and Inclusion Steering Group. Koko, Kathrin and Rod got together - virtually - to have a conversation about what unites them in the work that they are doing at two different UWCs, the challenges they face, as well as what is making them excited for the UWC Anti-Racism work they envision for 2021.
"When it comes to racism, it's very easy to find people who are aware of the issues, who are willing to share their experiences and opinions, and who want to take part in creating solutions. But we've also found that enacting those solutions isn't always that simple and that we often want or need things to change quicker than the institutional nature of the problem allows for", Koko said, reflecting on the main successes and challenges she and her peers have come across in their work so far.
The group also discussed how these challenges carry additional complications amidst the diversity of nationalities, backgrounds, cultures and perspectives that make up the UWC student-body. As Kathrin pointed out, "Some people didn't even realise racism was such a pressing issue before the Black Lives Matter protests erupted on such a global scale. I have a friend at UWC who comes from a background where racism and other forms of discrimination were just not talked about - so since May we've spent hours on Zoom together discussing these issues. These diversity of perspectives and approaches can be surprising at first, but then in a way it actually mirrors UWC: we are so diverse, so of course there are different viewpoints."
Nevertheless, the three agreed that issues of racism cannot be dismissed as political, emotional or put down to ignorance: "Although UWCers can be pretty passionate about their own views, they are also luckily very open to broadening their horizons and to learning new things. So that's how we need to frame the fight against racism going forward: we need to educate people about different perspectives and the struggles so many people face, rather than attempting to outright 'correct' their views. It's so important that anti-racism becomes a core and mandatory part of the curriculum and that it's taught at various stages of a UWC education. Conversations around racism cannot be the reserve of those who are directly affected by it, or those who are already engaged in tackling it. And we need to create an environment where people feel comfortable to share their questions and insecurities - otherwise true transformation cannot happen," Kathrin added.
Koko, Kathrin and Rod went on to discuss how interconnected these challenges were across all UWC schools, with Rod urging the students to unite with their co-years around the world to take on this issue together: "There's so much momentum right now to get the ball rolling and the energy I see from you two and the students here at ISAK is immense. So once you connect with each other - and I know your generation is good at that - the chain reaction you will set in motion will be unstoppable. I hope you will leave this conversation knowing that you have friends all over the world, and especially in the movement, who are on your side and want to make change happen together. We're ready to get going."
Wrapping up the conversation on a high, the three shared what makes them positive and excited for the future of Anti-Racism, Diversity, Equity and Inclusion work at UWC:
"For me it's the fact that everyone has been made aware that racism is still a very big issue in the world and, whether they like it or not, we will change things. Especially with COVID-19, I have a very strong sense that the world has flipped - so everything else has to flip with it. I'm looking forward to the change I can feel coming." - Koko
"I'm excited to get back to campus and feel that UWC spirit in real life again [once the campus reopens in January]. As soon as we feel that, and we can talk face to face about the things we care most about, we can overcome anything." - Kathrin

"In my lifetime, I have not seen the consistent, aggressive and constant dialogue that we are having about issues of racism across the board. I was used to having these conversations with other people that look like me. Now those conversations have spread around the world, no matter what race, colour or creed people are. You see black and white people, people of all genders and ethnicities, standing side by side during the BLM protests - and it's like nothing I've ever seen before. So, I'm looking forward to it being normal for people to understand racism. It's exciting." - Rod