Alum Survey - Harvard's UWC Impact Study
Thank you to all UWC school and college alums who completed the online survey for Harvard's UWC Impact Study!
We are extremely grateful to all of you for helping to make the study a success and bringing us one massive step closer to finally producing an empirical answer to the question of what impact UWC has and how this is brought about. Thank you!
The alumni survey for the Harvard UWC Impact Study has now been concluded with the Study expected to wrap up its findings at the end of 2021.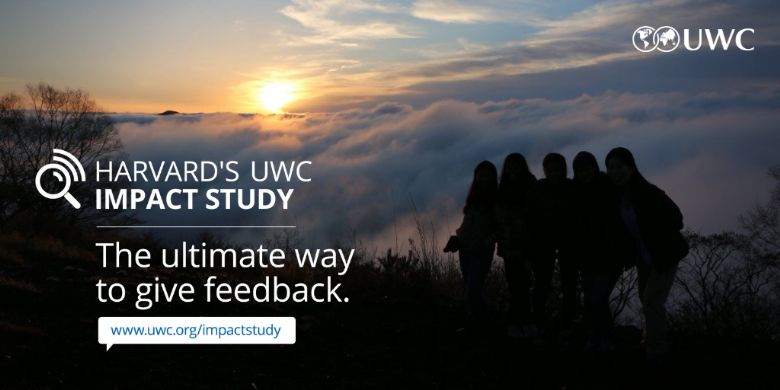 THE SURVEY
Dear UWC alum,
Have you ever claimed that UWC changed your life?
Do you have strong feelings about your time at UWC?
Would you like an opportunity to talk about your UWC experience in an honest and meaningful way?
The Alum Survey of the Harvard UWC Impact Study was the chance for all UWC alums to speak up: to tell the researchers both what was positive about their UWC experience and what was challenging. It was a once-in-a-lifetime chance to be part of a truly global, inclusive, cross-generational reflection on the impact of a UWC education. All UWC school and college alums from all generations (who studied at UWC for their last two years of secondary school or longer) were asked to give feedback, in an effort to get the clearest possible picture of whether and how a UWC education is transformative.

6,894 alumni ended up taking part in the Alum Survey, which took about 30 to 40 minutes to fill in depending on how detailed participants chose to be. This means that the results will stem from 19% of UWC's reachable alumni which, according to the researchers at the Harvard Graduate School of Education, is a very good participation rate for surveys of this kind. 1,659 participating alumni also volunteered to be available for follow-up interviews in addition to completing the survey, of which 250 were randomly selected for interviews.

Project Zero at the Harvard Graduate School of Education is conducting the Impact Study with absolute independence and the responses of UWC alumni remained completely anonymous.