Fatima Arabzada on her Story as a Refugee
5 July 2017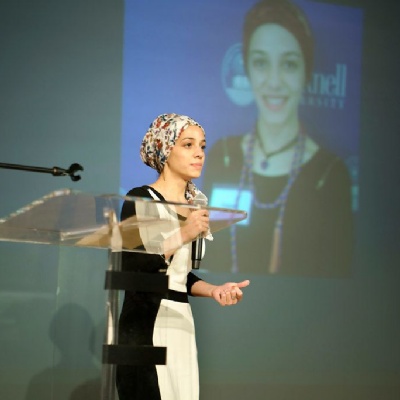 The UWC Refugee Initiative gala event held in New York City last month saw many inspiring speakers come together to talk about their experience as or with refugees, the role of education in tackling the refugee crisis and how we can collectively contribute to find sustainable solutions to it. One of the speakers was Fatima Arabzada, a UWC-USA alumna from Afghanistan (2010-2012) with a refugee background: here is her speech.
"I was born in Iran and lived there for the first 10 years of my life. As an Afghan, I was constantly reminded that I do not belong to the country, because they used the word Afghan as an insult among themselves. I early on realized I belonged to a country I have very little knowledge about the language and culture.
I took pride and defended Afghanistan and at age 10, I fantasized about fixing all its problems so that the future generations do not have to bear the insults, degradations and a lives under constant threat of evacuation.
My family returned to Afghanistan in 2004. My siblings began working for UNHCR, Mediothek, Afghan Wireless, Department of Education; two of my siblings and I began our journey of fixing all of Afghanistan's problems. We decided that children has to be our focus. One because we did not know about the world of older people, but what we knew was that children had only 1/24 hours a day program in television. Most of television shows were reserved for politics or love songs. We took the matters into our own hands and created a team of children and began a children's radio program, also created posters to protect and raise awareness about disabled children's rights and lastly created the children's version of "Afghanistan Today" magazine. I also taught 1st grade when I was in 9th grade because there was a shortage of teachers in a village 45 minutes away from our house.
When I learned about scholarship opportunity to the US, I was so determined to get there that I taught myself English. I did not tell my parents or any of my family members, because I did not know if my parents would put everyone in harm's way, take the wrath of Taliban, to allow me to come to the US. I practiced and practiced and practiced the interview in my head and when everyone was asleep. On the day of the interview, I went all Italian. I used every single hand gesture possible while speaking to convey the answers. I was not about to let lack of vocabulary stand between the opportunity and I. Then, I received the scholarship.
After many years, I have turned resilient and am willing to work long and hard to ensure better future for myself and other refugees. We, the refugee recipients of UWC scholarships, understand how incredibly fortunate we are to be one of millions of women in our countries to receive the most practical world class education possible. This also creates responsibilities on us to better the situation in our own countries. In the past 5 years, with increasing influx of refugees throughout the world and a platform to voice their situation, I have unfortunately learned that my experience as a refugee is not unique. Also, I have observed that we often do not have control over our childhood and many other factors that leaves us vulnerable, but what we have control over is creating the opportunities to raise leaders among the refugees by giving us the opportunities for education."

Photo credit: Carlos Andres Varela