Tips for getting winning references for your UWC application
12 September 2018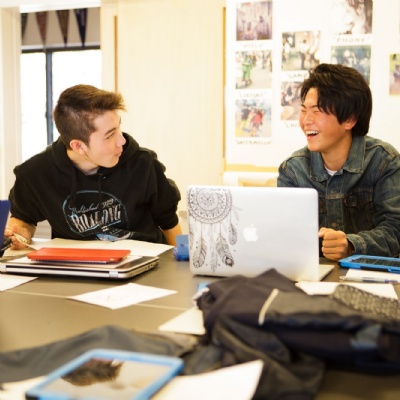 As you work your way through the application to join a UWC school or college, depending on the application process that you're following you may be asked to provide references from both an academic referee and a non-academic referee.
Your references are an essential part of your application and are held in the highest regard in the decisions that we make about your application. In this post, we offer some tips and hints for helping you to get the most out of your referees.
Who should I ask?
For your academic referee, this should be a teacher (or another education professional) from your current school. They should understand your academic ability, but also be able to reflect on your contribution to the school community, and your character.
For your non-academic referee, you might wish to ask someone related to your hobbies or interests outside of school. This might be a sports coach, a local community group leader, or the organiser of another activity that you're involved in. It's important that they know you well enough to be able to really reflect on your character and strengths.
When should I ask them?
As soon as you possibly can! It's important not to leave this until the last minute.
For some of our applicants, our application deadline might fall at the start of a new school year. This is a busy time for teachers, and they may be asked to write several references for others too.
For some of your non-academic referees, they may not be familiar with writing references and so they might want a little more time to think about what to write and how to approach it.
Ask them early so that you can be one of the first references that they're writing. That way they won't yet be fatigued of writing lots of references or won't feel like they have to rush it at the last minute. Giving them plenty of time will allow them to show you in the best light.
Asking them to write your reference early also gives the opportunity for you to discuss your choice to apply to UWC with them properly. If they're not familiar with us already, it'll also give them time to get to know us, understand why we're different, and reflect on whether we're a great fit for you.
What should they reflect on?
We'd recommend that you ask them to spend a little time familiarising themselves with UWC. In particular they should understand:
For each referee, we ask them to reflect on different elements of your character. This is usually set out in the application form, but to recap...
Academic referees should reflect on your:

Academic motivation
Interest in being involved in activities outside of school
Ability to be organised
Interaction with others
Maturity and balance
Adaptability
Initiative
Verbal and written communication
Ability to handle stress
Other strengths and weaknesses.

Non-academic referees should consider your:

Interests for being involved outside of school
Ability to organise yourself
Interaction with others
Maturity and balance
Adaptability
Initiative
Oral and written communication
Ability to handle stress
Other strengths and weaknesses.
Remember, the sooner you ask your referees to write your references, the more opportunity you create for them to write a winning reference for you!