Young Voices / UWC Atlantic
31 October 2019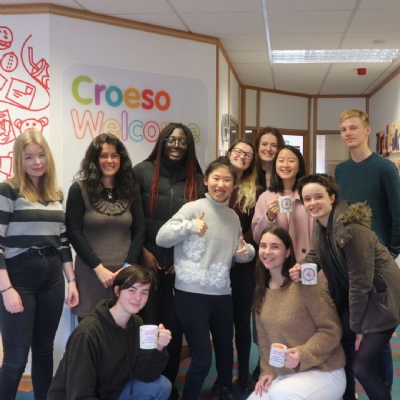 The Young Voices team found that the lack of civic engagement among young people in Wales to be giving rise to a host of societal issues, including deepening inequality, social exclusion and a culture of blame. As the team outlines, "at its core, our project embodies our belief that every young person should actively participate in our society in our capacity as citizens."
They set about designing a peer-led civic education program for 13 to 18-year-olds with the aim of passing on all that they learned at UWC to help other young people become engaged and compassionate citizens of tomorrow, while also closing the gap they soon discovered between the civic awareness of teenagers from different socioeconomic backgrounds.
In its first six months of operation after the Young Aurora 2019 final, the team established the project as a weekly service initiative for other students to join at UWC Atlantic, they delivered their civic education programme at 5 different schools and they trained a new set of first years to design and deliver the workshops. The team also participated in a Welsh Government consultation on implementing votes at 16 in Wales - and the bill to lower the minimum voting age to 16 was successfully passed in November 2019.
Young Voices continues today as a service project at UWC Atlantic.