One more opportunity for young changemakers
17 December 2020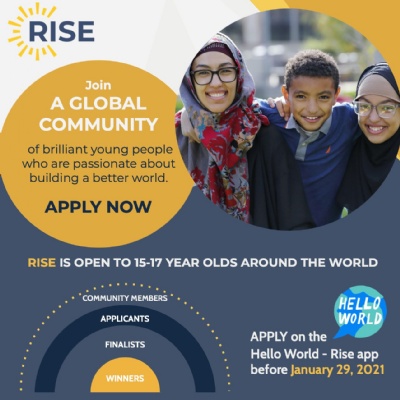 Last month UWC announced a partnership with Rise, an initiative of Schmidt Futures and Rhodes Trust. Rise is a new global talent programme funded by Eric and Wendy Schmidt as part of a USD 1 billion philanthropic commitment to talented youth from around the world.
As part of that partnership, we are promoting the Hello World - Rise App, which provides learning, networking and funding opportunities to all applicants.
Rise is on a mission to find extraordinary young people and support them for life as they use their talents to build a better world (sounds familiar, doesn't it?). The programme looks for brilliance, integrity, empathy, and perseverance—not just test scores or grades.
Applications are open to 15-17 year olds of all backgrounds until 29 January 2021. So if you know any young changemakers that could benefit from this opportunity, please spread the word!
In particular, we are calling out to all current UWC students who are between 15-17 year olds and who we believe are the perfect Rise candidates.
Just by applying, applicants will have access to free online courses and opportunities around the world and in July 2021, Rise will announce its first-ever cohort of 100 Global Winners. These Global Winners will then be provided with access to a lifetime of benefits as they work to serve others:
Education Support: Receive need-based financial support for university and internships, a technology package, and free online courses.
Residential Summit: Meet other Rise Global Winners at a fully-funded summit and explore leadership, service, and your future career path.
Mentorship and Career Services: Access individualized resources and guidance as you embark on your career journey.
Funding Opportunities: Apply for funding to scale up your service to others, or compete for investment to start a social enterprise.
Early Access: Be the first to know about scholarships, internships, and other opportunities through our partner universities and organizations.
Global Community: Stay connected to a community of future leaders through annual events and opportunities.

As one of the most exciting and positive developments to come out of 2020, we would like your help in spreading the word (and encouragement) to potential applicants about the Hello World - Rise App.
Thank you for helping us to reach the next generation of change-makers for a better world!