New global partnership with Rise will support refugee education and scholarship opportunities
16 November 2020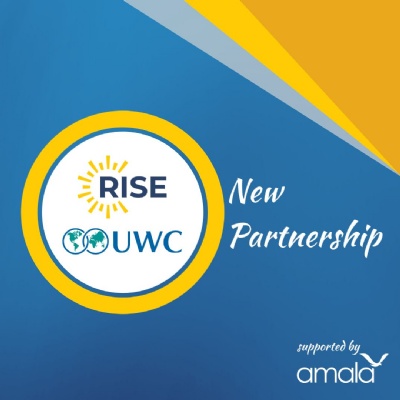 Collaboration will see launch of refugee camp education drive and scholarships to one of 18 international schools
Schmidt Futures, co-founded by former Google CEO Eric Schmidt and his wife Wendy Schmidt, along with the Rhodes Trust, today launched a new global talent program for 15-17-year-olds called Rise.

Rise and United World Colleges (UWC) will collaborate to launch an education programme at a refugee camp in Kenya and full scholarships to study at one of their 18 schools across the globe. Schmidt Futures has provided $1.6m in financial support for the effort.
The announcement comes at a time when education opportunities for refugees have been hit hard during the COVID-19 pandemic. The UN claimed in September that half of the world's refugee children are out of school, and the UN Higher Commissioner has said that refugees face a 'pandemic of poverty'.

The inequalities in education opportunities were already stark before the pandemic. Only a quarter of refugees (24%) are in secondary school education compared to 84% of the overall global population. That gap is even greater at tertiary education level (3% vs 37%).

The partnership is part of a wider launch announced today — the opening of applications for Rise, a global talent program to find outstanding young people who need opportunity, and support them for life as they use their talents to build a better world.
Rise is the anchor program of a broader $1 billion commitment to talent development from Eric and Wendy Schmidt.
In announcing the launch of Rise, Wendy Schmidt, Co-founder of Schmidt Futures, said:
"Today's young people will face a rapidly changing world of challenges on a scale unprecedented in human history. Through this ambitious program, we hope to engage tomorrow's leaders across the globe, providing education and unique opportunities for them to identify problems, solutions, and ways they can work together, for a lifetime, in the service of humanity."
Eric Schmidt, Co-founder of Schmidt Futures, said:
"We are living in a time of both significant global challenges and unique global opportunities. With the launch of Rise, we hope to identify and empower the next generation of brilliant leaders around the world in a way that has never been done before. We'll harness the power of technology to find talented young people who would otherwise go undiscovered or unsupported, connect them in a global community, and give them the resources to use their talents for good throughout their lives."
The news has been welcomed by Kenyan human rights activist Musimbi Kanyoro, former Head of the Global Fund for Women, who is now Chair of UWC International. Kanyoro said:

"Conflicts, wars and injustice deny millions of children their right to education and jeopardize their wider development efforts. When people are turned into "refugees" their dignity is compromised, their potential obscured and their possibilities locked up. By supporting their education, we reaffirm their humanity and unlock their power for self-reflection, learning and leading change.

"Thank you, Rise, for partnering with UWC to give the young people in Kakuma Camp the 'education power' to realise their own dreams and shape their visions for peace, development and sustainability."

UWC will deliver a foundational education programme at the Kakuma refugee camp in Kenya for 60 refugee students over three years, starting in 2021. This foundation programme will be run by a collaborative effort between UWC and Amala, a social enterprise which provides education opportunities for refugees.

Additionally, 15 students (five per year from 2021) from refugee backgrounds will be eligible to receive all-inclusive scholarships to study the International Baccalaureate Diploma as a residential student at one of UWC's 18 schools. Locations include the UK, China, the USA, Costa Rica, Tanzania, and Germany.

Polly Akhurst, Co-founder of Amala, said:

"This new programme builds on the work we've been doing in the Kakuma camp over the past three years. Our work in Kakuma camp has taught us that education brings the rejuvenation of hope for young people who have been displaced. This programme will instil hope in a generation of young people in the Kakuma camp and inspire them to bring about positive change in their communities."

UWC has a strong history of providing education for refugee children. On average, around 5% of UWC's students in the IB Diploma years come from a refugee, displaced or persecuted background, and benefit from full scholarship provision.

Jens Waltermann, Executive Director, UWC International, said:

"Amidst all the uncertainties of 2020, the closing of borders and 'us versus them' thinking, we need to show that cooperation across borders and across all our differences is the only way to address the global challenges we face. We must build bridges through education."

For more information visit www.risefortheworld.org/apply.
---
Notes to editor
For further information, please contact Ian Morton:
ian.morton@campaigncollective.org / +44 (0)7811 183633
About the Rise Application Process
Beginning today through Jan. 29, 2021, young people ages 15 to 17 as of July 1, 2021 can apply to Rise through Hello World - Rise, a global, mobile-first platform available on Google Play and the iOS App Store.
The Rise application is designed to identify potential, rather than evaluating applicants solely on grades or test scores. Rise looks for brilliant applicants who also demonstrate perseverance, empathy, and integrity—and who have a calling to make the world better and need an extra boost to make their ideas a reality.
Throughout the eight-month application and selection process, young people will have an opportunity to showcase these qualities by recording short videos about their background and interests; creating a two-month individual project on a topic about which they are passionate; and presenting their work on the Hello World app and providing feedback on the work of their peers. In the spring of 2021, up to 500 finalists will be selected to participate in a virtual interview.
All applicants will have access to free online courses on leadership, personal growth, and professional development from experts around the world—including Oscar-winning producer Brian Grazer, in a learning module on curiosity conversations, and psychologist Dr. Angela Duckworth, who will help guide young people through their project.
Young people without access to the Hello World app can also apply through other low-tech pathways. For more information about how to apply, visit www.risefortheworld.org/apply.
Rise Global Winners
Rise will announce its first cohort of 100 Rise Global Winners in July 2021.
Rise Global Winners will receive access to need-based financial support for university and internships, in addition to a technology package and free online courses. They will attend a fully-funded residential summit to explore leadership, service, and their future career paths. As they enter the workforce, they'll receive mentorship and career services to further their service to others. If their work benefits their community, they'll be able to apply for funding to scale up their impact. If they have an idea for a social enterprise, they'll be able to compete for investment that grows as they show results. Throughout their lives, they'll be able to engage with a global community of leaders and have early access to educational and funding opportunities through the network of Rise partners, including universities, businesses, and nonprofits.
About UWC (United World Colleges)
UWC (United World Colleges) is a global movement that makes education a force to unite people, nations and cultures for peace and a sustainable future. UWC has a network of 18 international schools on four continents, with volunteer-run national committees in more than 150 countries. Today, 10,780 students from over 160 countries attend UWC schools (2019 data).
UWC offers a challenging educational experience to a deliberately diverse group of students. It complements the high academic standards delivered through the International Baccalaureate Diploma Programme (IBDP) by placing a high value on experiential learning, community service and outdoor activities.
Admission to a UWC school is independent of socio-economic means, with over 80% of IBDP students selected by a UWC national committee receiving full or partial financial support.
Since the foundation of the first UWC college in 1962, UWC has inspired a network of almost 60,000 alumni worldwide, who remain engaged with the UWC movement and committed to creating a more sustainable and peaceful world.
For more information visit www.uwc.org or follow us on social media: Facebook, Twitter, LinkedIn and Instagram.
About Schmidt Futures
Schmidt Futures bets early on exceptional people making the world better. Founded by Eric and Wendy Schmidt, Schmidt Futures is a philanthropic initiative that brings talent together into networks, bets on the most promising ideas through competition, and equips people to scale through partners and thoughtful application of modern tools.
About The Rhodes Trust
The Rhodes Trust, based at the University of Oxford, brings together and develops exceptional people from all over the world, and in all fields of study, who are impatient with the way things are and have the courage to act. The Rhodes Scholarships are postgraduate awards providing transformative educational opportunities. Established in 1903, they are the oldest and perhaps the most prestigious international graduate scholarship program in the world. Nearly 8,000 Rhodes Scholars have gone on to serve at the forefront of government, education, the arts, NGOs, commerce, research and other sectors. They are well known advocates for expanded social justice, and have advanced the frontiers of science and medicine.
For more information about Rise, visit: www.risefortheworld.org.