UWC's Executive Director Recognised with Honorary Doctorate Degree by Macalester College
19 May 2023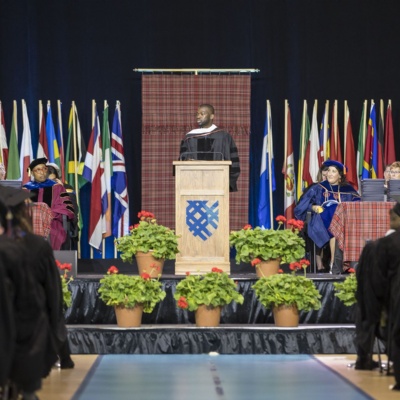 Macalester College in Minnesota, US, is one of 99 renowned educational institutions awarding scholarships to UWC graduates under the Davis UWC scholars program.
UWC International's Executive Director, Faith Abiodun, was recently honoured at Macalester College's Commencement Ceremony with the prestigious degree of Doctor of Humane Letters (Honoris Causa). This honorary award recognises his outstanding humanitarian contributions to society through the various leadership organisations that he has founded and led. Abiodun's recognition and presence as the keynote speaker at the ceremony served as a poignant reminder of the enduring partnership between Macalester and UWC.
"It was a great privilege to bestow an honorary degree upon Mr. Abiodun, whose work leading UWC International is so aligned with Macalester College's vision of a more just and peaceful world," said Macalester College's President Suzanne M. Rivera. "His speech at commencement was deeply inspiring. And his very presence on our campus shined a spotlight on the strong UWC/Macalester partnership, which is advanced by the Davis-UWC scholar program."
The longstanding relationship between UWC and Macalester has been solidified through the presence of more than 300 UWC graduates who have graced the halls of Macalester College, with a further 49 UWC students joining the university in the next academic year. This stands as a testament to the internationalist perspective of both organisations and the value that is placed on bringing a diverse community of students together.
As Abiodun stated:
"... If we think back 100 years ago, of the journey of those 48 people who graduated here in that class [the Class of 1923], there was just one international student. How impressed would that student be, to realise there is a student body drawn today from 94 countries across the world. Things do change over time."
Macalester College is one of the 99 selected partner US colleges and universities that provide scholarships to UWC graduates through the Davis-UWC Scholars Program. To date, 13,544 UWC scholars from over 165 countries and territories have benefited from the program.
Abiodun closed his remarks with a powerful invitation
"Don't dream small dreams. Take on big challenges, and do not sit on the fence when the time comes to defend your values. Be aware of your limitations and be thankful for your opportunities. Be firm in your convictions. And even if you are required to stand alone, stand strong. Be prepared to be wrong so that you can enjoy the elation of being right. Learn to tackle the mountain directly in front of you so that you can see clearly the other mountains ahead of you. Listen carefully to this, you will be only remembered for the risks that you take. So, take some risks because the secret to doing great things in life is to do lots of small things very well".
Watch the Commencement Ceremony and Faith Abiodun's full keynote address here (Degree conferral and speech begins at 1:00:55).

Read the full text of Faith Abiodun's speech here.