Alumnus Viktar Fenchuk's Arrest in Belarus
26 October 2021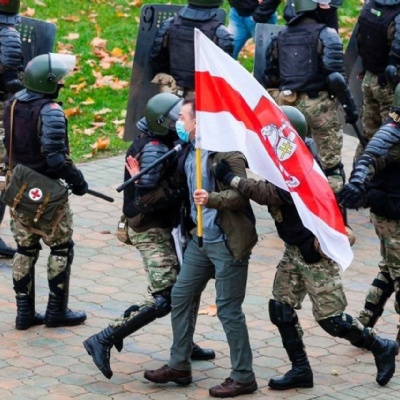 It is with great concern that we take note of the information that alumnus Viktar Fenchuk from Belarus (UWC Atlantic, 1992-1994) is still awaiting his final sentence after he was arrested on 31 August and sentenced to an initial 12 days in jail. He is currently being kept at a pre-trial detention centre in Minsk where he has been held for almost two months.
Viktar was the first Belarusian to attend UWC in 1992. He has since served as a founding member of the UWC Belarusian National Committee. Today, Viktar is an ornithologist and a former head of a prominent environmental organisation that protects birds in Belarus.
Viktar had previously been arrested during a peaceful protest on 8 November 2020 and spent 15 days in jail. A number of other UWC alumni and community members were also arrested around this time.
Then on 31 August 2021, the environmental organisation Viktar used to head was raided. Viktar stopped responding to messages shortly thereafter and on the same day he was arrested and sentenced to 12 days in jail. He was then sentenced to an additional 10 days in jail but was not released thereafter. Viktar is currently being kept at a pre-trial detention centre in Minsk where has been held for almost two months. The latest information that has reached us is that Viktar has been charged with Article 342, part 1 in the Criminal Code of the Republic of Belarus: organisation and preparation of actions that grossly violate public order, or active participation in them.
There has not been a hearing nor a verdict yet. If found guilty, he could face restrictions of liberty for a term of two to five years, or imprisonment for a term of up to four years.
Since Viktar's arrest, members of the UWC national committee in Belarus have been in touch with Viktar's family and have kept UWC International and the UWC community informed with developments.
Together with the UWC Belarusian National Committee and the rest of the UWC community, we stand united in our deep concern for the safety and well-being of Viktar. We call on the government and judicial system in Belarus to ensure the respect of the rule of law, human rights and the personal integrity of Viktar, all UWC community members and other citizens who participate in peaceful protests.
We are continuously concerned about ongoing reports about alleged human rights violations in Belarus, such as the one's published by the United Nations Human Rights Office and Amnesty International.
We will continue to monitor the situation closely together with the national committee in Belarus. In the meantime, if you would like to stay updated with the situation and find out how you can help, please follow this dedicated Facebook page.