Philanthropist Shelby Davis Doubles Annual Dare to Dream Pledge from USD 5 Million to USD 10 Million Through Global Match-Funding Initiative in Run-up to 60th Anniversary of UWC Movement
30 June 2021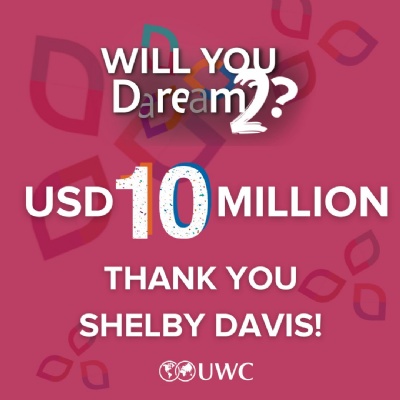 We are delighted to share that United World Colleges (UWC) International Patron and global philanthropist, Shelby Davis, is doubling his support to the Davis-UWC Dare to Dream Scholarship Program for highly talented students in need, who are selected in over 155 countries to attend one of 18 UWC schools around the globe.
The goal is to challenge the UWC community and global philanthropists to match 100 additional scholarships pledged by Davis on top of the 100 Davis-UWC Dare to Dream scholarships that Davis has been funding annually for the past three years to reach a total of up to 300 Dare to Dream scholarships per year.
"Every UWC student and graduate I have met knows that the force of a UWC education has helped them become global citizens who want to bridge all sorts of differences - such as between countries, races, religions and outlooks - which can lead toward a better future for all of us. A goal like this takes continuous leadership, time, effort and resources to help a divided world come closer together for the good of humanity. Providing support to the UWC movement is a concrete way to nurture hope as we DARE TO DREAM of a more peaceful and prosperous world. I am doubling my commitment to $10,000,000 and will be doing that every year, and I ask for your support as we work together to achieve our global goals" says Shelby M.C. Davis.
Since the Dare to Dream Program was first launched in 2018, Shelby Davis has donated USD 5 million annually to UWC, providing 100 two-year scholarships worth USD 50,000 to students who, in Shelby Davis' words, would "not even dare to dream of a world-class education like that offered by UWC."
Under the new "Dare to Dream 2"-program, Shelby Davis is pledging a further USD 5 million as a match-fund for each scholarship raised by the UWC schools, national committees and UWC International's newly constituted International Philanthropy Committee. This program is due to launch shortly. To allow UWC schools and colleges and national committees to build up fundraising momentum for future student intakes there will be no initial matching requirement for the additional scholarships provided by Shelby Davis for the 2021 student intake. The matching requirement will kick in from the 2022 student intake onwards and detailed conditions of the program will be distributed in due course.
"In the build up towards UWC's 60th anniversary in 2022, we cannot thank Shelby enough for daring us to dream even bigger with this matching grant. It builds upon his previous UWC support and on his belief in our UWC students' capacity to make a difference. 300 additional scholarships will mean 300 opportunities for a better future as we change the world - one student at a time. We are deeply grateful to Shelby Davis and Phil Geier for their continued generosity and trust in UWC" comments Jens Waltermann, Executive Director of UWC International.


Background Information
UWC (United World Colleges) is a global movement that makes education a force to unite people, nations and cultures for peace and a sustainable future.
Since its foundation in 1962, we have been supported by visionary global philanthropists who helped create, nurture and guide our network of 18 schools on four continents, volunteer-run national committees in more than 155 countries, and a diverse student body with over 80% of national committee selected students receiving financial aid based on need.
Shelby Davis has been a long-standing philanthropic supporter of UWC. Long before the inception of the Davis-UWC Dare to Dream Program, he began providing scholarships to US-American students to attend UWC in the 1990s. Endowment funding to UWC-USA and the Davis-Mahindra Scholarship Program followed. Between 2015 and 2020, UWC schools unlocked USD 17 million in match-funding through the Davis-UWC IMPACT Challenge. And over 11,000 UWC alumni have been funded to attend one of 99 US colleges and universities through the Davis-UWC Scholars Program, making it the largest privately funded international scholarship program for undergraduates in the world.
UWC has inspired a network of almost 60,000 alumni worldwide, who remain engaged with the UWC movement and committed to creating a more sustainable and peaceful world.
For more information visit www.uwc.org or follow us on social media: Facebook, Twitter, Instagram and LinkedIn.