Celebrate the Power of Diversity
24 August 2017
UWC Day 2017 is fast approaching!
The annual UWC Day is an occasion to celebrate, live and share UWC's mission to "make education a force to unite people, nations and cultures for peace and a sustainable future" and it coincides each year with World Peace Day. This is a moment to celebrate the strength and diversity of the UWC movement and an opportunity to connect and mobilise with UWC community members and beyond.

The theme for the 2017 UWC Day is "The Power of Diversity" and we can't wait to hear what the many members of the UWC community have planned.
Everyone is encouraged to get involved and be part of (or even set up) a quality, mission-led event or activity locally. Previous examples have included community service initiatives, screenings of films about UWC, panel debates, social events with a mission-focused discussion and fundraising events for national committees or the UWC Refugee initiative.
Will you be running an event? If so, please create a record of it on the UWC Hub and also post an update on your activity in the UWC Day 2017 group on the Hub. This allows us from UWC International to support and publicise your event to achieve maximum impact! You will be added to the UWC website and also to the UWC Day World Map!
One easy way to celebrate and to raise awareness about UWC (Day) is adding one of the UWC Day frames to your pictures on Facebook (available for profile pictures and as a camera effect) or the cover photos we prepare.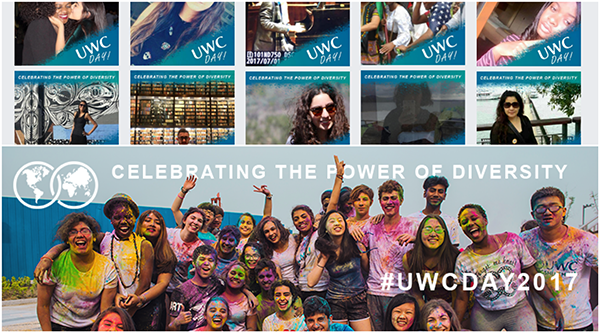 Don't forget to use the official #UWCDay2017 in all communication, social media activity and promotion!