Countdown to the Final of the AHP for UWC
5 June 2017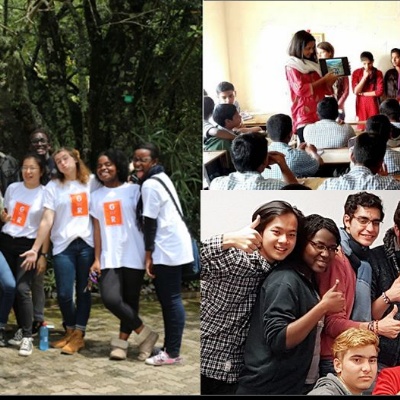 Only a few days to go until the final chapter of the Aurora Humanitarian Project for UWC Schools and Colleges (AHP), which will take place on 27 May 2017 at UWC Dilijan in Armenia. The three finalist teams - from UWC Mahindra College, Waterford Kamhlaba UWC of Southern Africa and UWC Robert Bosch College - will make their final pitch for a chance to be awarded €4,000 towards the further development and funding of their project.
The challenging task to select the winner will be carried out by an exceptional Final Jury composed of:
Ernesto Zedillo

, Director, Yale Center for the Study of Globalization, and Former President of Mexico

Jill Longson

, Vice-Chair UWC International Board

Leymah Gbowee

, Nobel Laureate, Liberian peace activist and women's rights advocate

Marguerite Barankitse

, Founder of Maison Shalom and REMA Hospital in Burundi and Inaugural Laureate of the Aurora Prize

Noubar Afeyan

, Co-founder of the Aurora Humanitarian Initiative and Senior Managing Partner and CEO of Flagship Pioneering
"If we put the emphasis on education for peace, education on human values, on the value of integrity and solidarity," said Marguerite Barankitse on the occasion of the International UWC Congress about UWC education "this is what will make your college, all of your colleges, become symbols of hope for a more human world. A world without war, a world where there is no more reason to die of hunger or illness, because only education will change the world."
It is with this spirit that the three finalist teams were selected among projects submitted by 15 UWC schools and colleges for this first year of the Aurora Initiative having a dedicated section for UWC. The criteria set for the evaluation of the projects include creativity, self-reflection, commitment, quality of research, sustainability and impact. To learn more about the AHP and the selection criteria read here.
UWC International wishes all finalists the best of luck and looks forward to watching the final presentations of the three projects - and to see all of them becoming reality in the months and years to come.
Here is a glimpse of these three inspiring projects.
UWC Mahindra College
Kriyā Iron has three goals: addressing the pressing issue of anemia in the rural areas surrounding the college, raising awareness of micronutrient deficiencies and other nutritional concerns, and empowering women to improve their own health. Watch the video.
Waterford Kamhlaba UWC of Southern Africa
BraveGirl Camp, a weeklong camp taking place on the WK UWC campus in mid-August, targets 15-18 year old Swazi girls from urban areas and hopes to give opportunities to future female leaders in the country. The aim is to inspire dialogue surrounding issues of gender inequality among promising urban women, at a pivotal point in their lives. Watch the video here.
UWC Robert Bosch College
The DoGood.shop project will provide an online platform for participating social organisations to gain more exposure, network with each other and fundraise by prompting customers to make additional donations when they purchase products. In the long term, the project also aims to empower refugees by providing them with IT training to work on the project themselves and by helping them gain the education and qualifications to find jobs. Watch the video.