Harvard's UWC Impact Study Launches Historic Alumni Survey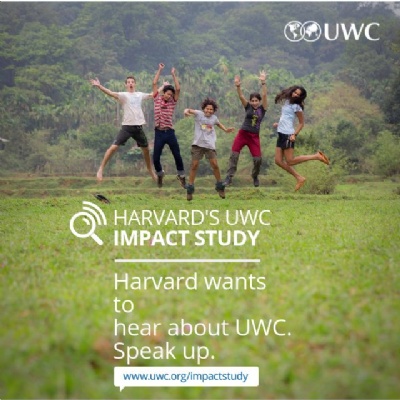 UWC International is excited to provide an important update on the progress of Harvard's UWC Impact Study.
Launched in 2017, Harvard's UWC Impact Study is the largest and most important piece of research ever conducted about UWC education and its impact on UWC alumni. This longitudinal study is being conducted independently by researchers from The Good Project of Project Zero at the Harvard Graduate School of Education and seeks to determine how a UWC experience impacts the skills and attitudes of its graduates and whether (and if so, how) UWC alumni do indeed become forces for a more peaceful and sustainable future.
The results of the study will help to further develop UWC's educational programme and inform the work of educators worldwide, as noted by Prof. Howard Gardner, Hobbs Professor of Cognition and Education at the Harvard Graduate School of Education, and Principal Investigator of the project: "Our research group at the Harvard Graduate School of Education is delighted to have the opportunity to work with the network of UWC schools and colleges. We hope that the findings of our four-year study will provide valuable data for UWC and that those findings will also prove of use to other schools around the world who share the laudable vision of UWC."
Over the course of the last academic year, researchers have been surveying and interviewing students who entered the IB Diploma Programme at UWC schools and colleges in 2018 (2019 in the case of Waterford Kamhlaba UWC of Southern Africa). The researchers will continue to conduct the study (which includes observations of classroom and extra-academic activities, as well as interviews with UWC faculty and staff) with the cohort of students entering the IB Diploma Programme at UWC schools and colleges in 2019 (2020 at Waterford Kamhlaba UWCSA). In order to determine which factors, if any, make a UWC education uniquely impactful, the researchers are also studying students and alumni of ten other international schools, providing a robust comparison.
For the next phase of the study, alumni of all UWC schools and colleges are being asked to take part in what will be a historic first for the UWC movement: an online survey about the impact of a UWC education.
UWC International is pleased to invite all UWC school and college alumni from all generations (who studied at UWC for their last two years of secondary school) to complete the official online survey, which only takes between 30-40 minutes and serves as a unique opportunity for reflection on the value of a UWC education. The research team hopes to receive at least 20,000 responses from UWC alumni around the world in order to achieve the most meaningful results. Alumni who choose to take part make a real, tangible impact on the future of the UWC educational movement, improving it for years to come while also informing the wider educational community about the power of values-based education for peace.
If you studied at a UWC school or college for your last two years of secondary school and have not yet taken part in the survey, complete it today! It is a unique chance to be part of a truly global, inclusive, cross-generational reflection on the impact of a UWC education.

For background information on the study, including the methodology behind it, see here.
Know a UWC alum who hasn't taken the survey yet? Share the link!
Questions? Contact communications@uwcio.uwc.org.