Shelby and Gale Davis Visit Waterford Kamhlaba UWCSA
23 October 2018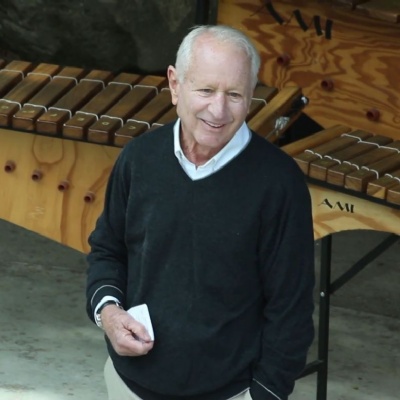 Earlier this month, students, parents, faculty, staff, governors and alumni at Waterford Kamhlaba UWC of Southern Africa (Waterford Kamhlaba UWCSA) received two very special visitors. Shelby Davis, the UWC movement's greatest Patron, visited the School's campus in Eswatini (formerly Swaziland) accompanied by his wife Gale, and the couple was warmly welcomed by the entire Waterford Kamhlaba UWCSA community.
During their time at the College, Shelby and Gale Davis participated in a school-wide question and answer session, where they interacted with community members and discussed questions about philanthropy, education and business. After a morning assembly, during which Shelby delivered a speech to the student community emphasising the importance of giving back to society, the Davises visited a local preschool where Waterford Kamhlaba UWCSA students participate in community service. Through this experience, Shelby and Gale witnessed the importance of CAS (Creativity, Activity and Service), a core element of the curriculum and community life at Waterford Kamhlaba UWCSA and across the UWC movement. Mancoba Mabuza (Communications & PR Officer at the College) reflects on this part of the visit:
"For me, the highlight was seeing [Shelby] play with the kids at Sobhiyozo preschool ... that picture will be etched in my mind for years to come! His love for humanity and the world is written all over his face, and that is why I think that Shelby embodies what UWC stands for."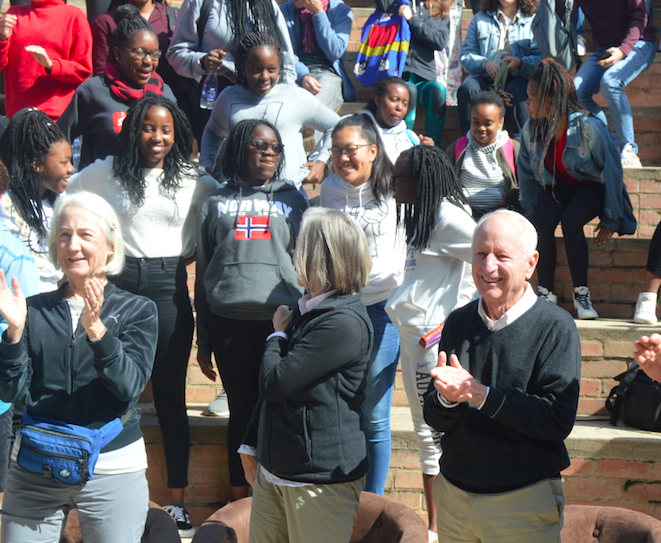 UWC alumni in the surrounding area also met with Shelby and Gale, and took the opportunity to thank the Davises for their continuing support of UWC alumni through the Davis United World College Scholars Program, which provides scholarship funding to UWC alumni accepted at partner colleges and universities in the United States. At one point during the visit, Shelby was seen holding back tears at a grateful message from a Swati UWC alumna and Davis United World College Scholar currently studying at Wellesley College in the US, where Shelby's grandmother, mother and daughter all attended.
On the last evening of their visit, Shelby and Gale were treated to performances by the School's choir, gumboot dance troop, marimba group and others.
Though the Davises were only on the Waterford Kamhlaba UWC of Southern Africa campus a short time, their visit made a lasting impression upon the community: especially its students. Gciniwe, a first year student in the IB Diploma Programme, reflects:
"Picking a single moment to describe as my key moment of Shelby Davis' visit was harder than believing he was actually coming. Looking back on the assembly, the dinner, the Q&A session and even the concert I realise that my favourite moment was getting to put a face to the amazing acts of service. I am just so grateful to have met and learnt from a man who truly embodies the UWC mission statement. Shelby Davis truly makes education a force to unite people."
On a similar note, fellow first-year student Lindani describes what she learned from Shelby: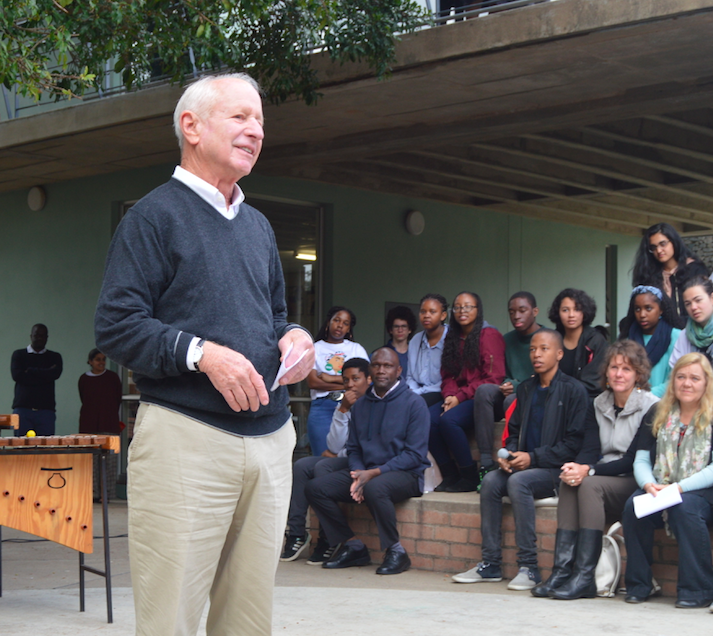 "Something I took away from his visit is how kindness has the ability to bring about positive change. Being part of UWC, I may not be able to change the world, but through kindness, I can change the worlds of those around me. That's what really matters."
UWC International thanks Shelby and Gale Davis on behalf of the entire UWC movement - and looks forward to more campus visits from them in the years to come!