UWC Alumni Featured at Gates Foundation Event
25 September 2018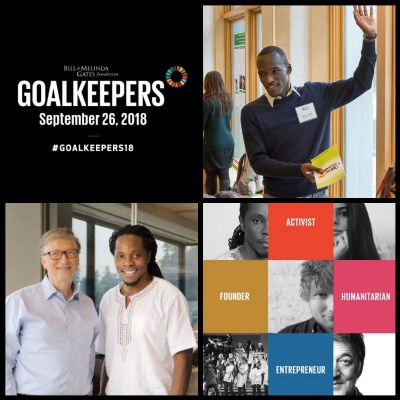 On 25 and 26 September 2018, influencers and activists from around the world are coming together in New York City for "Goalkeepers 2018." The event, which coincides with the United Nations General Assembly also taking place in New York, is part of the Bill and Melinda Gates Foundation's campaign to accelerate progress towards the UN Sustainable Development Goals.
During the second annual Goalkeepers event, speakers will explore the power and challenges of a growing global youth population - and how to ensure that young people are empowered to make change in their communities worldwide.
UWC is proud to announce that among the esteemed speakers at Goalkeepers 2018, including French President Emmanuel Macron, Norwegian Prime Minister Erna Solberg and Dame Graça Machel (whose children both attended Waterford Kamhlaba UWC SA), the UWC movement will be represented by two alumni: David Sengeh (Sierra Leone, UWC Red Cross Nordic, 2004-2006) and Andrew Nalani (Uganda, UWC-USA, 2010-2012).
Both David and Andrew were chosen to speak at Goalkeepers 2018 for their commitment to making change in their native regions: David, as recently-appointed Chief Innovation Officer for the government of Sierra Leone and long-time innovator in the healthcare sector; and Andrew, as Co-Founder of the African Leadership Experience, which provides transformative personal and professional development experiences for individuals and organisations seeking to cultivate 21st century skills.
Andrew, who spoke to UWC International, says that his UWC educational experiences (at UWC-USA and as a short course participant at Pearson College UWC's Seminar on Youth Leadership) "changed [his] life."
"I'm honoured to share with the world about experiences that shifted my understanding of education as an avenue for igniting the spark of self-awareness, creativity, curiosity and collaboration across lines of difference. In this shift, my UWC education was critical. In Uganda where I'm from, 80% of the population is under the age of 35; if this is not a crisis, it is a call for us to expand our moral imagination and act with courage to ensure that all young people--not just the rich and the privileged--but all of them have access to a transformative education that sparks their curiosity and allows them to imagine the world with their own voices in it."
More information about the event is available here.
Be sure to watch the live stream of the event on 26 September 2018 below.