Li Po Chun UWC: 7 Weeks of Giving
26 June 2018
At Li Po Chun United World College of Hong Kong (LPCUWC), alumni play a key part in many of our programmes and activities – we invite alumni to come back and speak to students about their careers and life paths; we have alumni who have chosen to return as teachers and staff at the College; we have alumni who engage with students as mentors and project supervisors; alumni who volunteer as ambassadors on open days and at school fairs; and alumni involved in our Education Outside the Classroom programmes. Last but not least, our alumni also generously contribute to the College's scholarship fund as active donors and fundraisers.
Reunions are an important time for alumni to reconnect with the College, and with each other. Every summer, the reunion classes gather at the College for a weekend of fun and nostalgia. The personal connection to LPCUWC, and UWC as a whole, remains strong throughout the life of an alum – and that connection can motivate them to do extraordinary things. Take, for example, our Classes of 1996 and 1997, who celebrated their 20th year reunions in 2016 and 2017, respectively. Spurred on by the Davis-UWC IMPACT Challenge and the College's need for increased financial support, the Class of 1996's reunion group successfully led a year-long campaign to raise enough money to award a full two-year student scholarship. With the funds matched by Shelby Davis, this happily multiplied to cover two full scholarships, and more!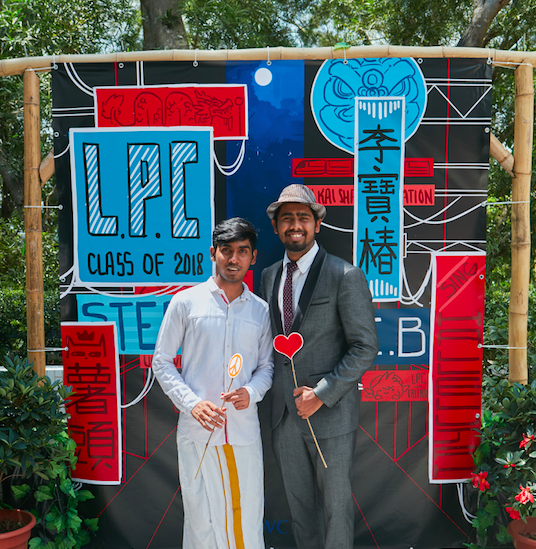 Even more admirable was their wish for the scholarships to be granted to students from very opposing cultural backgrounds – Tamil and Sinhalese Sri Lankans. Reflecting on the UWC's mission to "make education a force to unite people, nations and cultures for peace and a sustainable future", the alumni were passionate in their efforts to, in the very least, allow two students from conflicting sides of the civil war to meet and study together at LPCUWC. In the end, the efforts were well worth it. Not only did the students meet and study together, they also became good friends. The invisible barrier that divided the two of them before, no longer exists.
Encouraged and inspired by the efforts of their 'second years', the Class of 1997's reunion group followed suit the following year, raising enough money for another full scholarship, which, with fund-matching, enabled the College to grant a further two full scholarships. Without the tenacity and commitment of these alumni, we would not have been able to offer these well-deserved scholarships. And thanks to the Davis-UWC IMPACT Challenge, every dollar donated by them was matched, and multiplied, enabling the donations to stretch even further.
This is just one example of the amazing impact and work that our alumni are able to achieve in giving back to the College, and we cannot be more grateful. Thanks to our alumni, we have been able to unlock the majority of the US$1 million matched funding from the Davis-UWC IMPACT Challenge, however our journey is still ongoing. Because of the overwhelming support of alumni and the large number of donors who contributed to our scholarship fundraising since the campaign started, the College now has the challenge of increasing those numbers year on year, to continue to qualify for fund-matching. We have not yet exceeded last year's donor numbers. With our limited alumni base, this is a challenge for us, and time is running out.
If you are able to help us increase our donor pool before 31 July 2018 and unlock more scholarship funding, please donate today at https://donate.lpcuwc.edu.hk. Your gift will be very much appreciated.
---
Over seven weeks, UWC International is working alongside the seven remaining UWC schools and colleges in the Davis-UWC IMPACT Challenge to highlight how your donations will pave the way for further funding for UWC scholarships. Donations must be received by the relevant UWC schools or colleges by 31 July 2018 to be eligible for the current Challenge funding period.
UWC schools and colleges currently participating in the Challenge are:
Li Po Chun UWC of Hong Kong
UWC Changshu China
UWC Costa Rica
UWC ISAK Japan
UWC Mahindra
UWC Red Cross Nordic
UWC Thailand
You can visit each school or college's donation page to learn more about their activities and how far they have come on their journey with the Davis-UWC IMPACT Challenge. Be sure to continue to watch this space over the coming weeks as we share their stories!
For further information on the Challenge itself, please click here or contact UWC International at fundraising@uwc.org.