UWC Red Cross Nordic: 7 Weeks of Giving
19 June 2018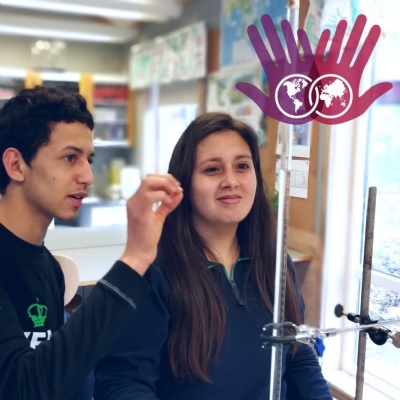 A message from UWC Red Cross Nordic in Norway, as part of the "7 Weeks of Giving" Campaign! Read on to learn about how this UWC college embraces the core of the UWC Educational Model - deliberate diversity - through its Foundation Year Programme.
A Foundation for Diversity
At the heart of our education is deliberate diversity. In line with this, UWC Red Cross Nordic (UWC RCN) has built up a Foundation Year Programme for students from underprivileged backgrounds who are not fully prepared to take on the IB Diploma Programme in just two years, due to either disrupted learning or limited English skills. Bringing together young people from different backgrounds – cultural, political and socio-economic – for a shared educational experience is mutually beneficial to all, given that we create arenas where we all take part on the same terms. Our aim for the students is that they learn and grow in all fields during their time here, be it in the residential, academic or extra-academic areas.

The Foundation Year is a tailor-made course focused on English language development, study skills, and foundation in Maths, Science and the Humanities. This ties in with our holistic approach, as expressed in the UWC Educational Model, through extra-academic challenges and our residential programme, emphasising trust and a sense of belonging. The participants will take our UWC Red Cross Nordic Foundation Diploma, the main aims of which are to build confidence, nurture and prepare the participants for the demands of the two-year IB Diploma or course certificates. Each student is given a tailor-made timetable and individual tuition with more appropriate challenges.
"I know it is hard, but now I am ready to climb the IB mountain"
The Foundation Year Programme was initiated
after we started to recruit students who are survivors of conflict, young people who are affected by landmines or other injuries related to conflict and war. Every year there are also other students enrolled who would not have benefited fully from their two years here if it was not for this opportunity to prepare. The selection happens early in the term in consultation with the participants. As a learning organisation, the development of the course has enabled us to be alert to different learners' needs and to have a continuous focus on appropriate methods. Teachers of the IB are given a considerable freedom when it comes to choice of methodology, and a course like this also provides a platform for sharing between the individual teachers and departments.
Our human environment of deliberate diversity becomes a resource for all when each individual is equipped to learn, progress and share. At UWC RCN we see the Foundation Year as a prerequisite for our deliberately diverse recruitment.
"By supporting the Foundation Year Programme you empower those of our students who are recruited from a more marginalised background and ensure that we, as a College, always have deliberate diversity at the top of our agenda"
---
Over seven weeks, UWC International is working alongside the seven remaining UWC schools and colleges in the Davis-UWC IMPACT Challenge to highlight how your donations will pave the way for further funding for UWC scholarships. Donations must be received by the relevant UWC schools or colleges by 31 July 2018 to be eligible for the current Challenge funding period.
UWC schools and colleges currently participating in the Challenge are:
Li Po Chun UWC of Hong Kong
UWC Changshu China
UWC Costa Rica
UWC ISAK Japan
UWC Mahindra
UWC Red Cross Nordic
UWC Thailand
You can visit each school or college's donation page to learn more about their activities and how far they have come on their journey with the Davis-UWC IMPACT Challenge. Be sure to continue to watch this space over the coming weeks as we share their stories!
For further information on the Challenge itself, please click here or contact UWC International at fundraising@uwc.org.