Remembering Clark Thom (1937 - 2018)
1 June 2018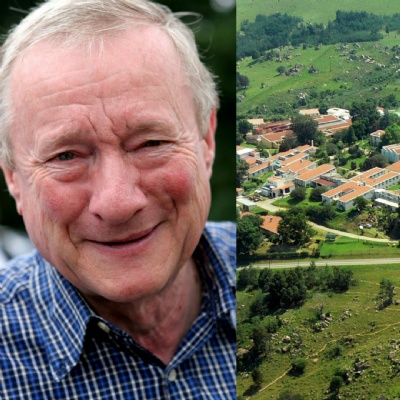 Clark Thom, a long-time supporter and friend of the UWC movement, is remembered in a statement by current Waterford Kamhlaba UWC of Southern Africa Principal Stephen Lowry, originally published 23 May 2018.
We are deeply saddened by the passing away of Mr. Clark Thom, who for so many years has given his time, energy and wise counsel to Waterford Kamhlaba UWC of Southern Africa (WK UWCSA) and the wider UWC movement.
Mr. Thom served on the Governing Council of WK UWCSA from August 1982 until November 2013 (31 years). He was elected as Chairman in November 1996, serving in that capacity until his retirement in 2013 (17 years). The 1990s were not the easiest times for the School as it historically had a strong anti-apartheid identity and this system had been eclipsed by a democratic South Africa in 1994, meaning the School needed to rethink its mission. It was also going through some difficult leadership challenges at this time. Mr. Thom steered the ship with expert hands on the tiller providing a sense of stability in changing times.
Laurence Nodder (WK UWCSA Principal 1999-2012) writes:
"Clark Thom was Chairman of the Governing Council throughout my time as Principal of Waterford Kamhlaba UWC of Southern Africa. We enjoyed a strong Chair / Principal relationship. My wife Debbie and I also developed a warm friendship, initially with him and his lovely wife Gay (WK UWCSA music teacher) until her death, a friendship that continued after my departure from WK UWCSA. Clark was always extremely supportive. I readily shared information and my leadership dilemmas with him with an implicit confidence that he would not impinge on my areas of responsibility. A couple of times I remember Clark saying: 'Laurence, maybe you should think about that again…' and of course, he was right. I think we worked well as a team. In a lack of personal wisdom, I precipitated a governance crisis in 2009. Clark stood by me through the resulting distress. Clark was not a political firebrand but rather a person of quiet conviction. In many ways, he was a modest person, but behind that modesty was a great deal of experience including financial experience, a generosity of spirit and wisdom. Our thoughts go out to his daughters Nina and Anna (both WK UWCSA graduates) and to their families."
Keith Clark, the Executive Director of UWC International at the time Mr. Thom was involved, comments:
"I was deeply saddened to hear the news of Clark. His service to Waterford Kamhlaba UWC of Southern Africa over so many years and his personal dedication to the School are well known. He was a very strong and thoughtful Chair, who knew instinctively how to govern and support WK UWCSA without crossing the line into management responsibilities. When Laurence Nodder had a terrible accident in 2006, I recall thinking how fortunate we were that Clark was Chair because he would know exactly what to do to ensure the school dealt with the shock and continued in safe hands.
What is less well-known is the very important role Clark played at the UWC International level. He was a great support to several Chairs of UWC International, most especially to Christian Hodeige and Tim Toyne Sewell at times of significant change in the UWC movement, and I also greatly appreciated his constant support throughout my time as Executive Director. A comment from Christian sums it up: 'Clark was always there when he was needed and he was quite desperately needed at certain times.' Clark didn't say a great deal in meetings but when he did speak his comments tended to be either extremely funny, taking the heat out of a discussion, or extraordinarily wise. Often, he managed both in a single pithy comment. After he stepped down as WK UWCSA's Chair and therefore also left the UWC International Board, there were moments in meetings when we really would have benefited from a Clark comment. Over time, Clark became a close personal friend, and we shared many happy evenings with good conversation, red wine and (as you would expect of such a proud Scot) whisky. On one occasion, my wife Tuula and I spent a wonderful few days with Clark and members of his family in a game reserve in Swaziland - my memories of Clark bring together moments from that time with the twinkle he always had in his eye when he made some telling intervention in a meeting. He will be dearly missed by Anna, Nina and their families, but also by many, many friends from around the world."
After retiring from the Governing Council, Mr. Thom continued showing an interest in the School, attending special occasions and offering wise counsel and advice when requested.
The UWC movement has lost one of the giants of this School, someone who faithfully took the baton from his predecessors and carried it with dedication, commitment and selfless service for over three decades. This community, governors, staff, students, current and past parents and alumni salute his contribution and stand in awe of such service. Our thoughts and prayers are with his children, grandchildren and other surviving family members as they mourn his passing.
Go in peace and friendship, dear friend, go in peace.