Cross-Country Cycling for UWCSEA​​​​​​​
21 May 2018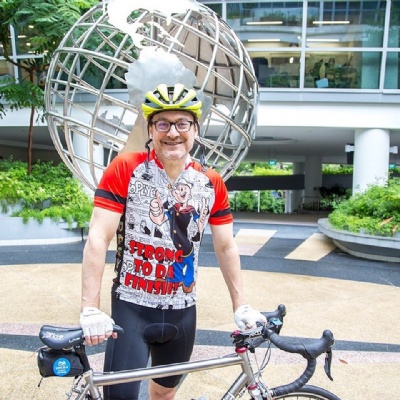 Former chair and longtime supporter of UWC South East Asia in Singapore Charlie Ormiston is preparing for the journey of a lifetime.
In order to raise awareness of the UWC South East Asia ("UWCSEA") scholarship programme, and to begin raising funds for a new endowed scholarship, on 3 June Charlie will embark on a cycling trip across the United States of America. Charlie plans on completing his 3,840-mile (6,180 km) trek in just 52 days, cycling an average of 80 miles per day. He will travel through 13 U.S. states, beginning in California and ending his ride in the East-Coast state of New Hampshire.
Charlie was an important part of the team that established UWCSEA's East Campus in 2008 - an initiative which allowed the number of students receiving scholarship funding at the College to rise to over 100. Charlie's ambition now is to double that number, in part through his coast-to-coast cycling trip: he will personally match any donations made to his campaign up to SDG 500,000 (about USD $375,000.00). "It's a daunting goal," he says, "but every journey starts with one turn of the pedal."
When Charlie is asked about why he is taking on this challenge, he speaks about the transformational potential of a UWC education:
"The first scholar I met was a young Cambodian boy who was about to graduate. He was an orphan; he lived with an uncle and contributed to the family's meagre income by scavenging at a garbage dump. It's hard to imagine a worse situation — no parents, living off the earnings from a Cambodian garbage dump with the tropical heat […] he was provided with a UWCSEA Scholarship, came to Singapore, and five years later graduated with an IB Diploma. He went on to a university education in the United States. I think of the difference between the enormous wasted potential of a garbage dump scavenger and a university graduate passionate about helping other children in Cambodia."
The Board of UWCSEA has expressed their support of Charlie's generous effort, which will help further the UWC mission across the globe. Anna Lord, Chair of the UWCSEA Board of Governors, explains:
"The UWCSEA Governors are extraordinarily grateful for Charlie's continued dedication to the College and especially our scholarship programme. Scholarships don't just provide a transformative education to the scholars themselves, they benefit the entire community. We believe that diversity makes us stronger, and our scholars bring with them political, socioeconomic and experiential diversity that build students' understanding of their responsibilities to one another and the global community. If we can realise Charlie's vision of eventually reaching a target of 200 scholars, the entire UWCSEA community will benefit."
For more on Charlie's ride and the accompanying fundraising campaign, click here. To follow Charlie as he trains and during his ride, take a look at his blog here.