2018 UWC Aurora Humanitarian Project Finalists Chosen
10 April 2018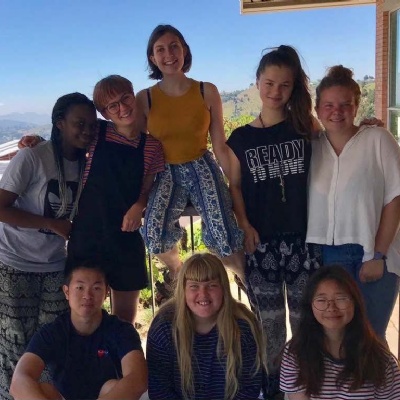 UWC teams from Swaziland, China and India will continue to final round of 2018 Aurora Humanitarian Project for UWC Schools and Colleges!
After a highly competitive selection process, UWC International and the Aurora Humanitarian Initiative are pleased to announce the three UWC colleges whose projects were chosen to proceed to the final round of the 2018 Aurora Humanitarian Project for UWC Schools and Colleges: UWC Changshu China in China, UWC Mahindra College in India, and Waterford Kamhlaba UWC of Southern Africa in Swaziland. The entire UWC community joins together in congratulating these teams of students, whose projects stood out from a group of 12 compelling submissions from across the UWC movement.
Up to four delegates from each finalist project team will represent UWC at the 2018 Aurora Prize Weekend in Yerevan, Armenia in early June. During this event, each finalist project team will have the opportunity to present their project to a panel of esteemed judges - including Nobel Prize winners and former heads of state - and one winning team will be chosen to receive $4,000 towards their project's development.
Open to all UWC schools and colleges, and presented by the Aurora Humanitarian Initiative in partnership with UWC, the Aurora Humanitarian Project for UWC Schools and Colleges (AHP) aims to encourage UWC students to engage in an economically, socially and environmentally sustainable and practical manner with current humanitarian issues affecting a community. Gratitude in Action is the concept that drives the Aurora Humanitarian Initiative. Co-founded by Vartan Gregorian, Noubar B. Afeyan and UWC Dilijan Co-Founder Ruben Vardanyan, it seeks to to empower modern-day saviors to offer life and hope to those in urgent need of basic humanitarian aid anywhere in the world and to promote global projects that are dedicated to achieving meaningful impact - including, since last year, the student-led projects presented as part of the AHP.
The projects submitted to this year's AHP by the twelve participating UWC schools and colleges addressed a wide range of humanitarian issues with creative, thoughtful and collaborative solutions. Judged on their attention to six main criteria (creativity, self-reflection, research, commitment, sustainability and impact) by an international panel composed of members of the UWC International Board and Council, each submission reflected the strong dedication, talent and passion of the UWC student community - congratulations to all participating teams!
More about the three finalist projects:
"HOPE"
UWC Changshu China
This project was founded in 2017 by students at UWC Changshu China (UWCCSC), dedicated to preventing the sexual abuse of children. HOPE delivers trainings online and in schools throughout Changshu and the surrounding area, educating children and teachers about how to address and prevent sexual abuse. The UWC students delivering this project are collaborating with other organisations, as well as with the local government, to build comprehensive systems to protect children and students from sexual abuse. There are 50 UWCCSC students who participate in the successful running of HOPE, using education to empower and protect Chinese students. Veronica, a UWCCSC student in HOPE's teaching department, writes about her experience with the project: "Providing a safe environment to live, work and socialize in is a fundamental condition for people to thrive and contribute to society… Through this project I learned the deep extent of my love and passion for raising awareness on sexual violence, and deepened my belief that education is one of the most powerful forces of change, and that change can happen, no matter how slowly."
"Amaavasya"
UWC Mahindra College
This project's goal is to enable local communities to begin and sustain a discourse around menstruation, raising awareness about menstrual health and empowering women to make informed choices. By providing educational resources, facilitating discussions and making sustainable menstrual hygiene management options (including menstrual cups and reusable pads) available free of charge, Amaavasya seeks to help the 300 women who live in the nearby villages of Asde and Sawargaon. Heleena, a second-year student at UWC Mahindra College, reflects on the development of Amaavasya and the process of addressing humanitarian concerns: "Going through this process in this project taught me about the complexity of providing service, and that the will to help is not sufficient. I learned that the approach shouldn't be centred around what I can offer, but what the people I am serving want, and not to assume that my assistance is even necessary in the first place."
"Mpaka Peers"
Waterford Kamhlaba UWC of Southern Africa
Mpaka Peers is a peer support group composed of young people from Waterford Kamhlaba UWC of Southern Africa (WKUWCSA) and the Mpaka refugee camp. Founded in 2017, the Mpaka Peers project brings UWC students to the Mpaka camp for workshops and activities, providing academic support as well as opportunities for physical activity and creative expression to young refugees - while creating lasting connections between all young people involved. As the Mpaka Peers team writes in their proposal: "What makes Mpaka Peers really work is that we are founded on the spirit of ubuntu, the Nguni Bantu philosophy of humanity and our obligation as people to share. Rather than a bunch of well-meaning international students coming for two years with the intent to 'help', we are, from both ends, like minded young people from a variety of backgrounds coming together to support and share with each other. The personal nature, the narrative of ubuntu, not only strengthens the ability of the project to last long term but also ensures that all services provided and shared are truly beneficial; that everyone feels comfortable expressing their needs and reservations, and we focus our solutions to real problems."


To learn more about the AHP, click here.