UWC Alumni Living the Mission
11 May 2016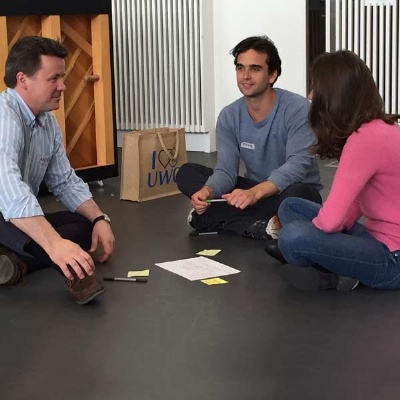 Central to the ethos of UWC is the belief that a UWC education is the beginning of a lifelong journey guided by the UWC mission to contribute to a more peaceful and sustainable future. The over 55,000 UWC alumni worldwide demonstrate in various ways how they continue applying these values to their careers and voluntary activities.
Because the UWC experience being so much broader than just the time spent at one of the UWC schools and colleges, UWC is committed to staying in touch with its alumni and to encourage alumni driven projects. Ranging from social meetings, discussion groups around specific topics and engaging in community service – alumni across the globe connect with each other and come up with projects in line with the UWC mission.
To encourage even more connection across the UWC community, UWC will launch the "UWC Hub" later this year: an online platform for the UWC community that will serve as a space for alumni, other members of the UWC community and the UWC schools and colleges to share ideas, provide a space for exchange and debate, connect people around initiatives and projects and provide inspiration.
Another example of alumni driven engagement was the first ever UWC short course for alumni called "The Art of Action within Social Innovation", which took place in London in mid-April. The two day programme was initiated and organised by two alumni from UWC Atlantic College, who are today both working for the London office of UWC International. The short course was run in partnership with Kaospilot, a hybrid business and design school from Denmark and saw the participation of 17 alumni coming from 7 different UWCs and bringing with them a range of different backgrounds and expertises, including architecture, teaching, law, finance and fashion/art. The short course focused on social innovation and saw participants using the Kaospilots tools to develop ideas for projects around common themes that were important to them. Projects aimed to tackle a range of areas, including a service to reduce food waste and ensure it reached those most in need, a school-based campaign focusing on ethical consumerism and a more community-based approach to schooling.
The response to the course has been enthusiastic:
"I absolutely LOVED it. It feels like one of the most surprising and yet relevant things I have done in a very long time. Thank you so much to everyone who was involved in organising and running it" - Elisa Engel (Waterford Kamhlaba UWC)
"I think the key attraction for me, over and above the content, was the opportunity to be with UWCers without the focus being on the past or on UWC itself, but being on a UWC-like exercise. This was a vital, refreshing change, and I think that many alumni (who might otherwise be a bit wary of too many networking or rose-coloured-glasses focused events) might really welcome this" - Andrew Brown (Pearson College UWC)
"I really enjoyed the Art of Action within Social Innovation Short Course run for UWC alumni. Not only did I leave inspired, enthused and with some tangible tools to take action in my own work, but it was also great to reconnect with UWC through the diverse and fun group of alumni attending the session. I couldn't recommend this more to members of the UWC community who are keen to find real ways to apply their values in their daily lives and make some new friends" - Lucy Geoghegan (UWC Atlantic College)
"I am already planning to use the tools to involve the volunteers at the charity I work with in decision making about the direction the charity should take on certain questions" - Elisa Engel (Waterford Kamhlaba UWC)
UWC and Kaospilots are looking into offering this short course also in other locations to give alumni a learning opportunity, and encourage the development of new project ideas – and new networks across the UWC community. Kaospilots also runs a range of short courses in different locations. For more information visit: https://www.smore.com/k9t1x.