A Small Island Girl With Big Dreams
14 April 2016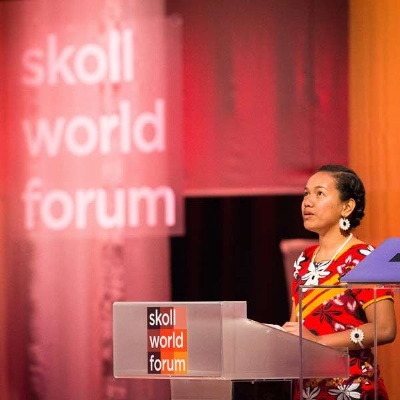 On 13 April 2016, the Skoll World Forum, the premier international platform for advancing entrepreneurial approaches to solve the world's most pressing problems, kicked off in Oxford. Each year, around 1000 of the world's most influential social entrepreneurs, key thought leaders and world innovators meet to leverage large social change. This year, one of them was Selina Leem, then a student at UWC Robert Bosch in Germany. Not only did Selina attend, but she was one of the speakers at the Opening Plenary session, alongside Al Gore, Mary Robinson and Annie Griffiths.
A citizen of the Republic of the Marshall Islands, Selina is a climate change advocate for her country. At the Skoll World Forum she spoke about the threats of global warming and nuclear testing to her motherland. Raising her voice in front of the whole world, Selina asked for global justice in order to preserve her own home, culture, ways of life for her and her people. "Still, we have hope. We will continue fighting... What we want is global justice".
When interviewed by Mary Robinson, President of the Mary Robinson Foundation – Climate Justice and Former President of Ireland and UN High Commissioner for Human Rights, Selina talked about the engagement of young people from all over the world in making changes and how being a student at UWC gives her even more leverage to reach out and connect: "I go to an international school with students from 88 countries. When you go there you feel connected to the whole world".
The UWC community is very proud of Selina, who demonstrates how even "a small island girl with big dreams" - as she defines herself - can make a change. And to think that she is doing this while also preparing for her International Baccalaureate exams coming up in just two weeks makes it all even more impressive.
At UWC, we believe that we can empower each single student to become a change maker in their communities and for the causes which matter to them. Selina's experience is both an example of how UWC students live up to our vision and an inspiration and an invitation on how to live the UWC mission every day.
To quote Selina from her speech at the COP21 in Paris last year:
"Sometimes when you want to make a change, then it is necessary to turn the world upside down. Because it is not for the better, but it is simply for the best".