Musimbi Kanyoro Appointed Chair of UWC International Board
1 November 2018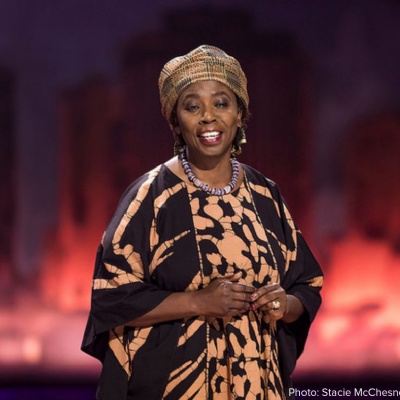 UWC International is excited to announce the appointment of Dr. Musimbi Kanyoro as the incoming Chair of the UWC International Board. In this role, she will provide leadership and strategic guidance to the UWC movement both internally and externally, acting as a figurehead and ambassador who will help advance UWC's mission to make education a force to unite people, nations and cultures for peace and a sustainable future.
Dr. Kanyoro was elected to the role by the UWC International Council, the UWC movement's highest governance body including representatives of all UWC constituencies, which met last week at UWC Dilijan in Armenia. She will begin her term as Chair of the Board on 1 January 2019, taking over from Sir John Daniel, who has served as Chair of the UWC International Board and Council since 2013.
"I am excited because education to me is really a very important aspect of human development, for people living together, and for people's own personal empowerment. Usually when I am asked to name three things that are important to bring development I usually say education - number one -, education - number two-, and education - number three," she said. "I grew up in a small farm village. When I meet mothers, I meet fathers, I meet children and I ask them what are the dreams that you have for your children, for yourselves, they always say: 'We want our children to have better lives than we have. We want them to have education.'"
Reflecting on her new appointment and on the role of the UWC schools and colleges around the world, Dr. Kanyoro added: "When I look at UWC schools and colleges, I don't simply focus on the good of the UWC schools and colleges, but I rather look at them and think what is missing in other places. So for every success of a UWC school, I would like to think about those other students that do not have the same kind of opportunity. And then find the voice and the words to advocate for a larger scale of opportunity for those people that are not part of a UWC school."
Dr. Kanyoro is globally recognized for her leadership of organizations and initiatives that advance health, development and human rights. She currently serves as the President and CEO of the Global Fund for Women, a large foundation that invests in, and advocates for, women and girls. With more than 30 years of experience mobilising and managing international non-governmental organizations at both the global and grassroots levels, Dr. Kanyoro will bring valuable insight and competencies to her new leadership role on the UWC International Board.
Dr. Kanyoro's early work focused on the self-determination of African peoples and the abolition of apartheid in South Africa. Born in Kenya, she has traveled extensively to all parts of the world, and lived for extended periods of time in Africa, Europe and the USA - as a true global citizen, she reflects the international nature of the UWC movement. Dr. Kanyoro is passionate about using philanthropy, education, media and technology to drive social change particularly amongst youth, women and marginalised peoples of the world.
The entire UWC movement welcomes Dr. Kanyoro as she joins us in our aim to provide values-based education to a diverse community of learners around the world and is looking forward to Dr. Kanyoro's leadership.