Coronavirus (COVID-19) Update
24 November 2020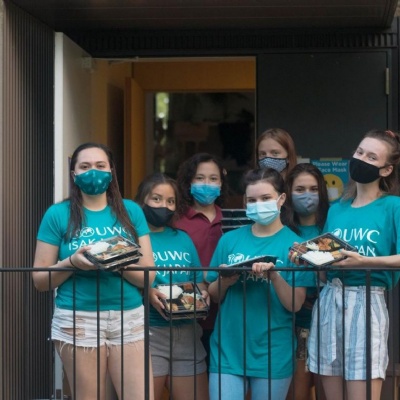 All 18 UWC schools are open
As a global organization with schools, short courses and national committees around the world, the UWC movement has been heavily affected by the outbreak and global spread of the COVID-19 virus. We have been taking measures to safeguard the health and well being of our community against the outbreak while ensuring UWC education and community life continues to flourish since late January, and we continue to do so each day. All measures comply with national health authority and government guidelines. They are put in place to ensure the safety of the UWC communities, which is our number one priority.
Yet, in the midst of the most difficult time this organization has ever faced, the UWC community raised to the challenge and opportunities arose. Opportunities for cooperation and innovation, for improving the way we teach and learn, and for pushing us to understand what it means to live the UWC values in our everyday lives, on and off campus.
"COVID-19 is making us unwilling to settle for less than a community that shows up for one another. There is more in our community than we knew – and I, for one, hope not to settle for less as we enter this remarkable school year together."
Consequences of COVID-19 for academic year 2019/2020
As a result of the COVID-19 outbreaks in the host countries of our 18 UWC schools, some of the schools had to close during the past few months and students had the option to go back home or, if that wasn't possible, to stay with host families. In case of school closure, students continued their education from home through an online learning and teaching system that ensured the continuity of the academic programme - and those in their second year graduated despite the challenges in May 2020.
We are immensely grateful to all teachers and staff members, as well as our students, who have embraced a new way of learning despite the difficulties it entails.
UWC Online Learning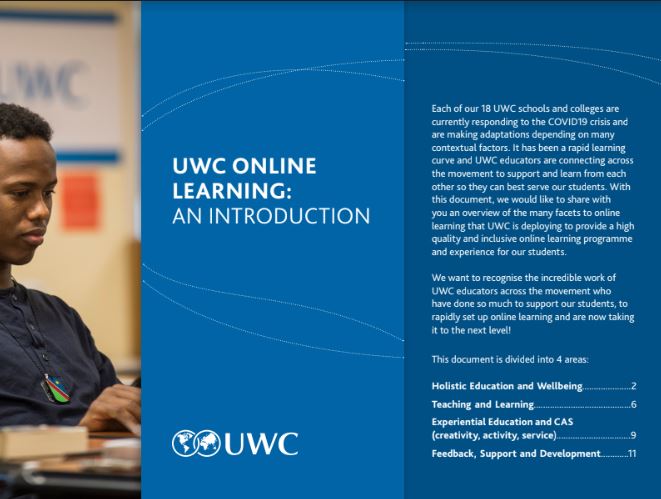 The continuous uncertainty that COVID-19 brings led to the worldwide teaching profession having to make great adaptations, very quickly. UWC educators have done (and continue to do) an incredible job adjusting to the significant challenges of the last few months, continuously learning and improving as we all figure out how to best provide a UWC education online.
Each individual school can add greater detail and nuance for their own context but the flyer below has been prepared to provide an overview of the general principles and ideas that have guided the first few months of our journey in offering a high quality and inclusive UWC education online.
The academic year 2020/2021 has started
All our 18 schools are now open and have welcomed new and returning students for the new academic year from August 2020 (January 2021 for Waterford Kamhlaba United World College). All of the schools have been working to ensure full compliance with national regulations, social distancing requirements, while navigating the complexity of current travel restrictions, having to meet additional health and safety requirements, and facing the financial consequences of the crisis. This also means that some schools are starting the new academic year with a blended model of online and in-person teaching and learning, to be sure that students who cannot reach the campus in time for the opening can start or continue their UWC education - and to this end incredible work from across the UWC teaching community has been put into creating the best online offering possible.
You can read more about the start of the academic year at our schools on the UWC International Back to School Newsletter.
"In looking forward to the coming Academic Year we are faced with continued uncertainty but our community is strong enough to draw together and to warmly and enthusiastically welcome our new members. We are stronger, more peaceful and more able to manage our human complexity and our natural environment if we are united rather than divided"
For an overview of the current status of each UWC school, please click the button below.
Impact of COVID-19 on UWC short courses
For information on the consequences of the COVID-19 outbreak for upcoming UWC short courses and summer camps, please read here.
Be Involved: the UWC Unlocked Talks
Thi is also where UWC Unlocked comes in, the UWC wide initiative with the mission to unlock the enormous capability we have as a global organisation of change-makers during these unprecedented times. This initiative was launched with a series of online talks and presentations offered by UWCers for UWCers - UWC Unlocked Talks - exploring a range of topics to help stimulate our minds, fuel connection and spark new ideas.
Thank you to the UWC community
We are grateful to all the hundreds of volunteers, host families, partners and donors who have been standing by our side with unwavering support during these challenging times. We also thank all UWC educators and students, who have shown incredible resilience and adaptability.
We will continue to do our very best to ensure that the UWC community stays united during these difficult times and that our students are supported to continue living the UWC mission of making education a force to unite people, nations and cultures for peace and a sustainable future, wherever in the world they are.
Donate to UWC
All UWC schools are responding to the changing needs of students in this evolving crisis in an attempt to alleviate some of the stress and disruption that many are experiencing at this time. Now more than ever, the UWC movement requires your support to not only recover some of the costs that have been incurred in this response, but also to ensure that future generations benefit from a UWC education.
We are encouraging those that are able, to consider making a regular donation to assist us to support current students, and to protect a UWC education for years to come. All donations, large and small, can be made by visiting the Support Us section. Donations can be made to UWC International or they can be passed on to a UWC school or UWC national committee of your choosing. Donations made by UK residents are eligible for the Gift Aid scheme, and donations from other countries may also be eligible for tax relief.
By supporting UWC at this time, you will join a global community of alumnus, donors, students, staff and volunteers, united in the mission of the UWC movement – to make education a force to unite people, nations and cultures for peace and a sustainable future.