Welcoming Two Incoming UWC Heads
22 January 2021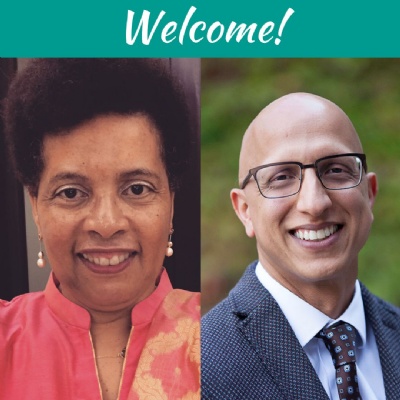 We are excited to introduce Dr Dale Taylor as the new Head of College at UWC Mahindra College and Naheed Bardai as the next Principal of UWC Atlantic. Both will take up their new positions from July 2021.
Dr Dale Taylor, the incoming Head of UWC Mahindra College
Born in Barbados and now a Canadian national, Dr Dale Taylor will bring extensive experience as an international educator to the UWC movement with a 15-year track record of school leadership in several different countries. She is currently the Principal of Aga Khan Educational Services in Bangladesh and has previously served as Head of School at SEV American College in Istanbul, Turkey and as Principal of ACS International School in Doha, Qatar.
Thanking the current Head of UWC Mahindra College, Keshub Mahindra, Chair of UWC Mahindra College wrote: "I would like to take this opportunity to thank Ms. Soraya Sayed Hassan for successfully leading the College since she took on this role in 2018 and for her excellent work during this period of great uncertainty and restrictions to control the spread of COVID-19. We wish her all the best in her career ahead."
Reflecting on this next step, Dale shared the following thoughts with us:
"I am delighted to be joining the dynamic and conscientious community of learners at Mahindra United World College, and I am eager to start working with the faculty, students, and staff to take an already robust and balanced learning program to even greater heights.
It is a great privilege to be part of the United World movement where the lived experience of its community reflects the quintessential mission, that makes education a force to unite people, nations, and cultures for peace and a sustainable future. I am also very happy to be
administering a school that has the celebration of difference, personal integrity and responsibility, mutual responsibility and respect, compassion and service, a sense of idealism, personal challenge, action, and respect for and stewardship of the environment among its core
values. As a values-based educational leader, I could not have found a better home, and I welcome the opportunity to help our students apply their education to address many of the health, geopolitical, socioeconomic and environmental challenges we currently face."
Naheed Bardai, the incoming Principal of UWC Atlantic
Naheed is currently the Head of Upper School at Upper Canada College in Toronto, prior to which Naheed worked in Mombasa, Kenya as Principal of Senior School at the Aga Khan Academy.
Sharing news of the appointment, UWC Atlantic expressed how "Naheed will be building upon the significant achievements of our current Principal, Peter Howe. As the incoming Principal, Naheed will continue to implement the College's strategy, importantly embedding our innovative, transformative educational offering, giving students the much needed skills, tools and confidence to become positive change makers."
The Chair of UWC Atlantic, Jill Longson, said "Naheed has a clear enthusiasm and appreciation of the UWC mission and values. His passion for educational innovation is especially important given the relevance of our newly created Change Maker curriculum. He will lead the College with drive and energy, and will determine how we mark our 60th anniversary in 2022/23. I am very excited at the prospect of him becoming Principal."
We will leave you with the words of Naheed himself as he prepares to join the UWC movement:
"When I think about the varying purposes of education and the impact it can have on society, none is more compelling and pressing for me than that of UWC. The move to a more peaceful and sustainable future is to the benefit of all, and we will get there by helping our students harness the world's diversity and caring for those who are most vulnerable. At UWC Atlantic, with its roots in experiential learning, building compassion, selfless service and innovation, we stand the best chance of achieving these noblest of ideals. It is with honour and privilege that I will help steward UWC Atlantic and its thriving community of change makers, activists and peace builders."
We look forward to welcoming Naheed and Dale when they join the UWC community this July!