UWCers making a difference: Les Brigades Vertes
23 July 2019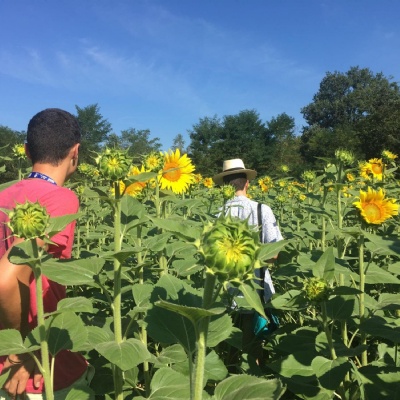 There are many ways, big or small, to change the world. Our UWC students and alumni are involved in many exciting projects where they put into practice the UWC mission.
Les Brigades Vertes (or "The Green Team, in translation) are a volunteer team, mainly composed of current UWC students and former alumni, participating in the annual festival Jazz in Marciac (JIM) in order to diminish its environmental footprint and raise awareness around environmental issues. JIM is among the most famous Jazz festivals in the world and is located in Marciac, a small village in the great southwest of France. Marciac is, since 1978, THE yearly place to be for all jazz fans and lovers. This small village of Gers department offers a warm and friendly atmosphere and gathers about 6.000 to 10.000 jazz enthusiasts every evening to listen to the most famous jazz musicians of the world. Every year there are also some opportunities for funk, reggae, blues, electro.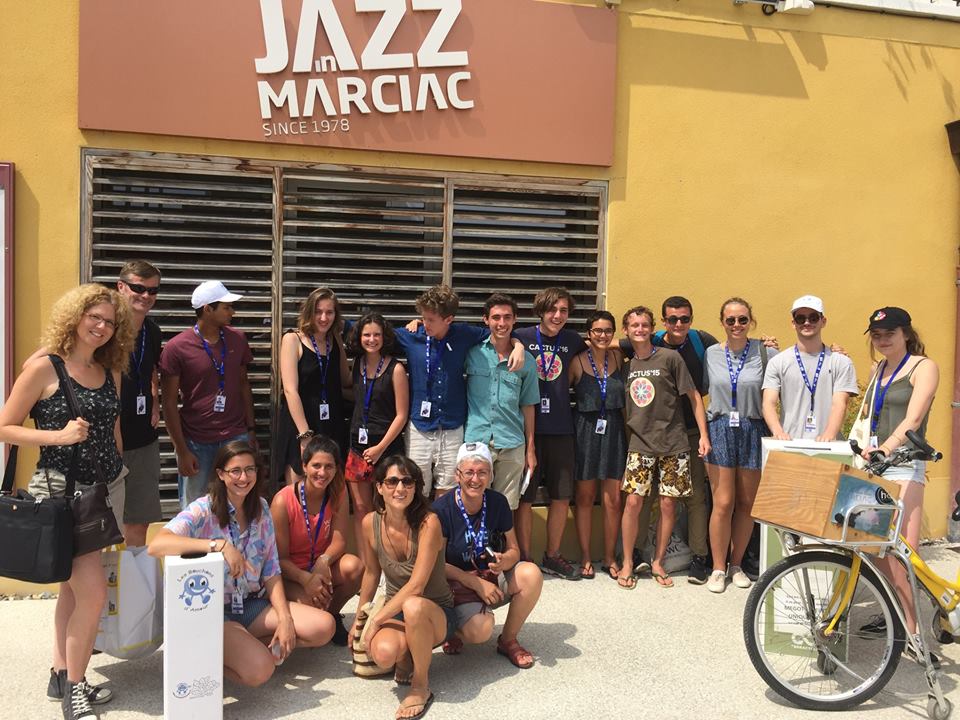 JIM has the particularity to rely mainly on volunteers' work (900 volunteers every year). In the past years, the French UWC community has established a long term partnership, joining the already ongoing JIM initiatives on the cleanliness of the site and waste sorting. Antoine Durbigny (UWC Mahindra College, 2016-2018), attending the festival with his family since he was 15 years old was a former volunteer at the festival and wanted to promote the UWC mission in France in collaboration with this festival. With his godmother, Hélène Manaud-Conter (UWC USA, 1980-1982), and Solène Dumont who has been responsible for the environment at the festival for some years now, the project of Les Brigades Vertes was initiated. Its aim was environmental action in Marciac as well as the promotion of UWC to the audience of the festival. Other UWC students have since joined the project, which will be running for the third time this year. Amongst them are alumni Ana Bajt (UWC Mostar, 2016-2018), Mathilde Rouvillois (UWC Mahindra College, 2016-2018), Paul Schwindenhammer (UWC Mostar, 2016-2018) and Danylo Shuvalov (UWC Adriatic, 2015-2017), to name just a few names and UWC schools and colleges. It is nonetheless important to emphasize that Les Brigades Vertes are also open to non-UWC alums. Every year, they aim to reach out to larger audiences and promote the project amongst other people of all ages. In this way, promoting inclusivity and the mission of the United World Colleges in collaboration with JIM. This year the project will be run by even more international volunteers who come from UWC schools and colleges, UWC short courses as well as, by a word of mouth, people who yet are getting in touch with UWC and becoming a part of the family. Some of the countries represented this year are France, Slovenia, Ukraine, Australia, Bosnia and Herzegovina, Norway, Greece, Germany, Kazakhstan and Israel.
UWC International asked the organizers of Les Brigades Vertes why they focused on this festival:
"We have realised that given the extraordinary amount of people gathering for this festival in such a small village (1.200 inhabitants against 10.000 people during the festival) the issue around trash and sustainability was, and still is, really considerate and immense. Brigades Vertes is with humility playing its part in making Jazz In Marciac a more eco-friendly festival through waste sorting and awareness among the volunteers, the festival-goers and the musicians.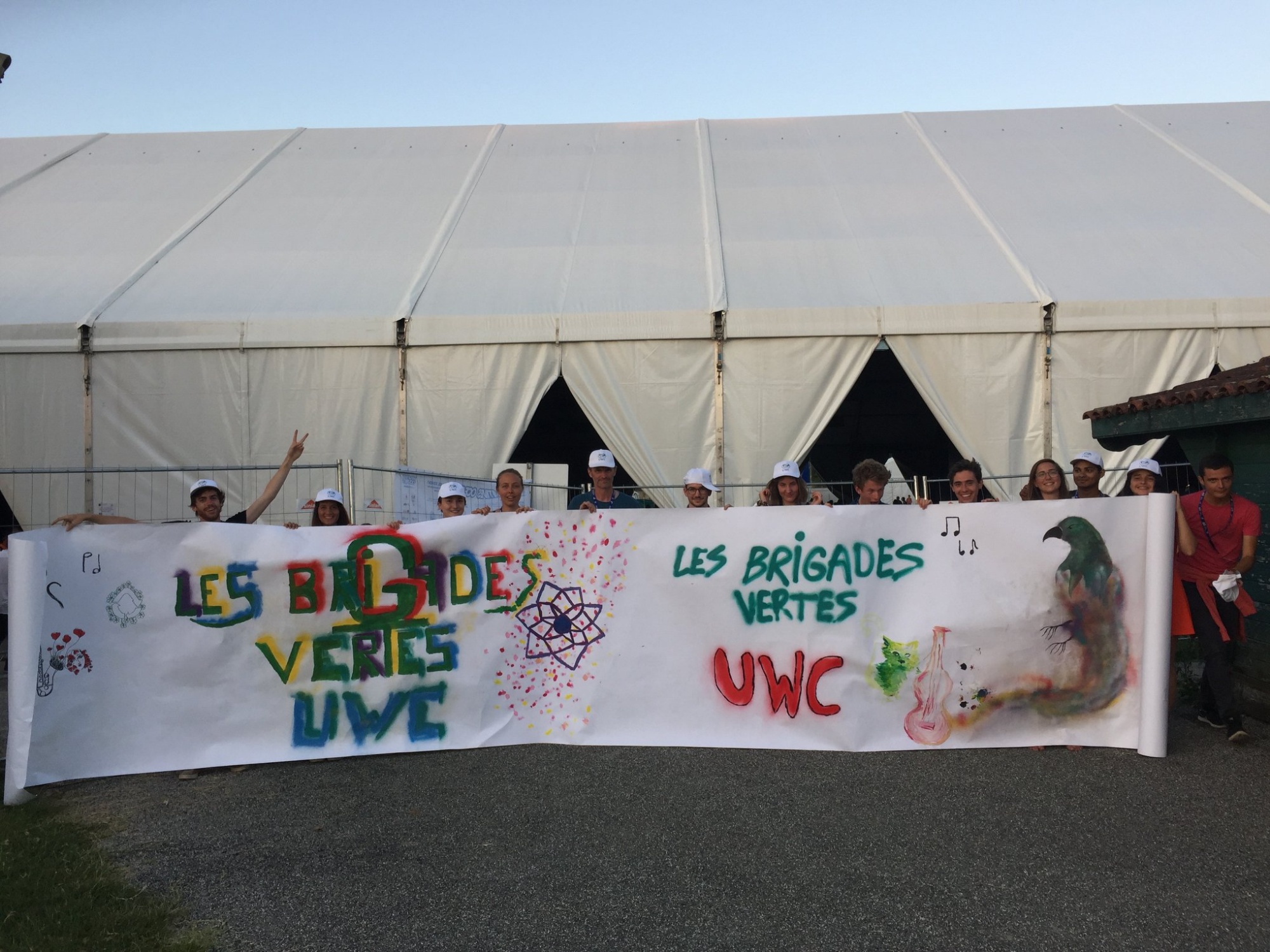 We have started off with some basic actions and observation and later on developed the project in several ways. We have ongoing activities of waste sorting (plastic, paper and cartons, biowastes for compost, etc.) and contributing to the cleanness of the site in general. Lots of initiatives we do are of "do-it-yourself" nature. Some key actions are "pocket ashtrays" (making of and distribution) and the collection of cigarette butts in special bins. To change the behaviours of the audience and other volunteers is the main aim of all these initiatives.
With two years of observations and experiences we reflected upon our work, impact and needs of the festival, and after all, the place itself. This year, some of the former participants, along with the environmental department of the JIM festival, are working on further developing diverse and meaningful actions as well as informing people about UWC movement. We would like to create more opportunities for others to participate and provide a sense of inclusion, develop competence and awareness of sustainable development, impacts of responsible behaviour, facilitate open and friendly talks among international audience and so on.
Although the project has faced many challenges, it has always sought to overcome them through mutual understanding and dialogue. One of the challenges was to get the public's attention and make the project itself a bit more visible among new potential participants as well as the general audience of the festival. The first challenge we faced was during the first edition of Les Brigades Vertes in the summer of 2017, when only 7 people signed up to take part in the team. We managed to increase that number by reaching out to more people we knew from the UWC movement and from our national committee, colleges and friends. Moreover, another challenge we met was to make our actions and initiatives known to the public and also promote the UWC movement. We have realised that we often let ourselves be restrained by social behavioural norms and habits, and it takes time for people to acknowledge the need for personal change with anything. In our case that would be personal changes in behaviours regarding the environment and human impact. Our thoughts go along with the lines of Nelson Mandela who stated: "​I learned to have the patience to listen when people put forward their views, even if I think those views are wrong. You can't reach a just decision in a dispute unless you listen to both sides." We believe that the key to overcoming such behaviours is to talk to as many as we can and raise awareness through, for example, videos that we asked JIM's administration to screen during the breaks in the main concert hall. We also created "eco-responsible" ​charters for the festival-goers as well as the restaurant and shop owners which offer their services during the festival in Marciac.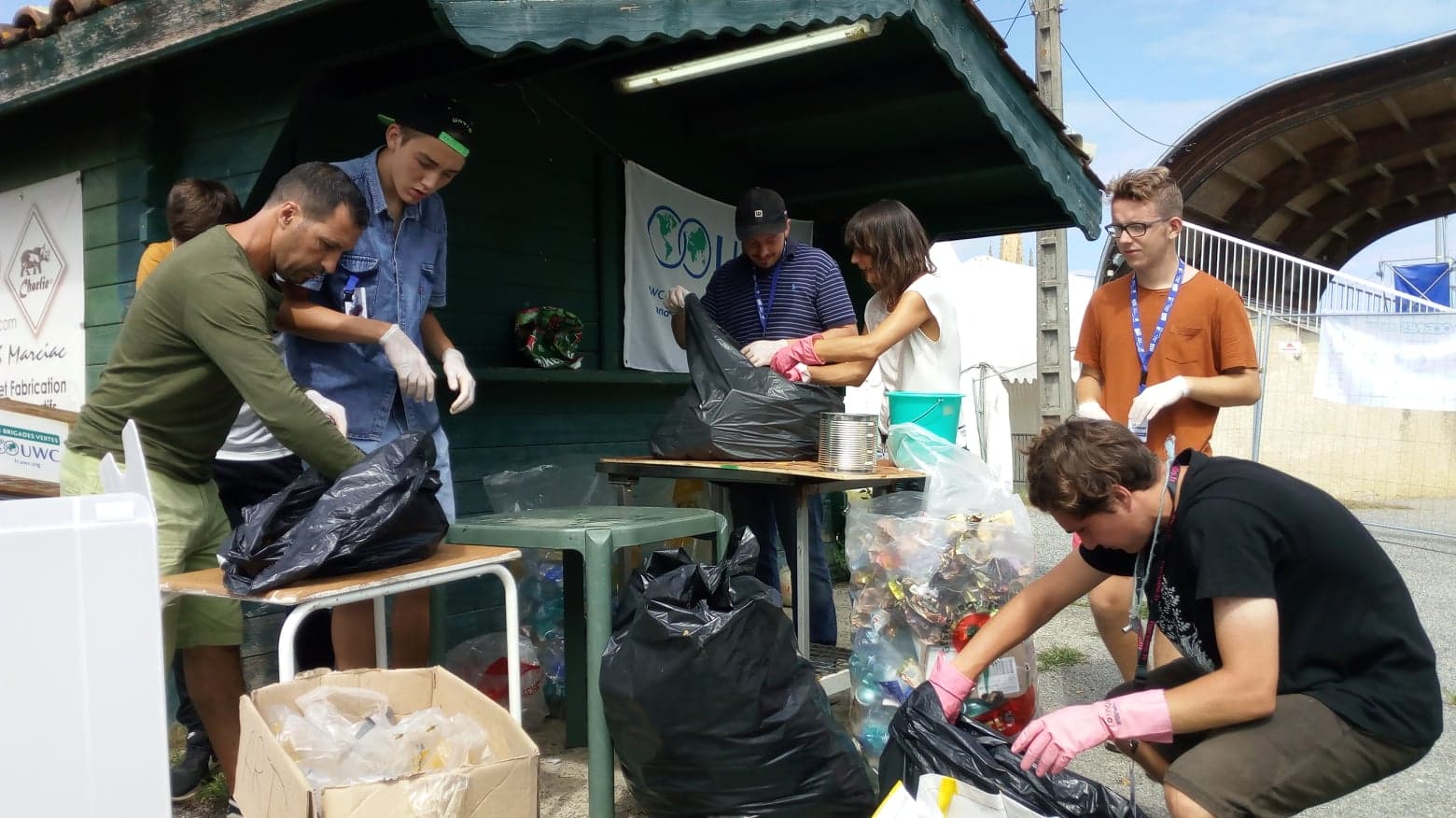 Looking at the amount of trash that other actors, such as restaurants, were making made us feel that the little we were doing was pointless. We often felt that our project was a drop in the Ocean. However, passion and teamwork helped us overcome this feeling. Through determination and reciprocal motivation shared among us during the daily evening meetings we were reminded of our goals, mission and core values: sustainability and respect for the environment. With this approach, we were and will be this year as well, able to overcome them. One said that ​"The most difficult things is not to change society — but to change yourself", thus the approach we take in this project is to positively impact individual minds and challenge other people's thoughts with a constructive mindset. ​You have to start small, in your community, places you are familiar with, where you know the people and their habits, to make a positive and long-term change. We believe that the change can come from the locality instead of being, as it is too often the case in our modern societies, expected to be top-down.
Finally, we would like to help Jazz In Marciac in their journey to become a zero-waste festival and achieve that goal. We, those working for the festival and some of those playing at the festival (shout out to Wynton Marsalis!), take this objective of JIM becoming Zero Waste very seriously. In this light, a big change JIM made a few years ago was using reusable cups and charging more money if one does not have their own cup when ordering a drink. Moreover, we believe that this project enables different UWC schools and colleges to form connections together while contributing to the development of sustainable behaviours among the audience and helping the festival to become plastic-free and zero waste. We believe in the impact of this experience at a personal level, and in the contributions that students have on JIM and the outreach of the UWC movement.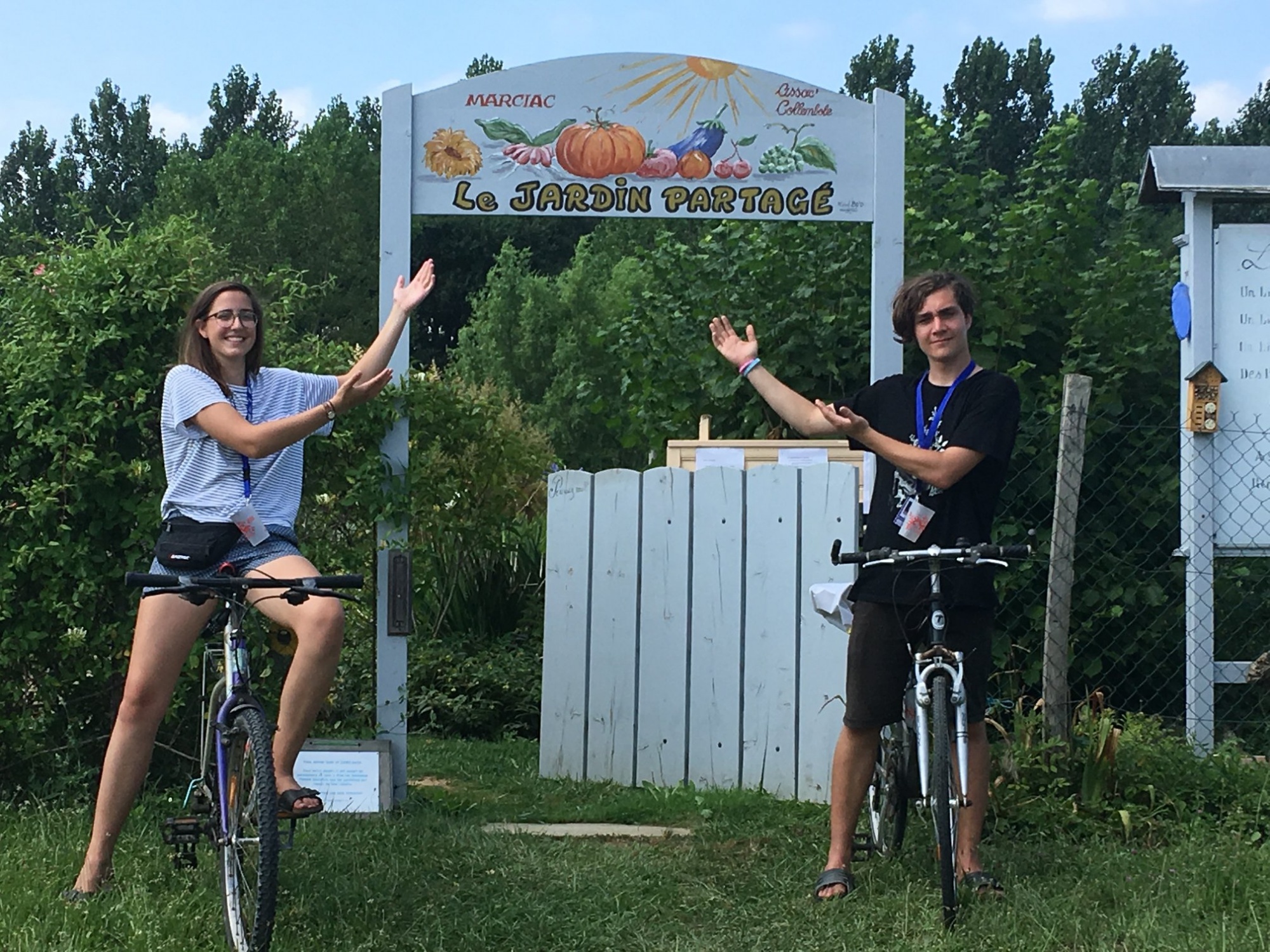 However, ​we still have a lot to develop and think of as this job is big! There is still a lot of room to develop creative activities in the environment (animation, workshops, conferences, video projections etc), work on the awareness of the public and change behaviours among other volunteers' teams and audiences. Other social events could be held to create a motivating atmosphere and provide a platform for open talks on the environment. We hope that Les Brigades Vertes are the firstfruits of a long journey that will promote the UWC mission and most importantly lower the impacts of the festival on the environment. All in all, we can say with certainty that projects such as ours bring people together and provide an opportunity to establish long-lasting links and friendships among the participants who, hand in hand, work towards the same goal."