UWC International Newsletter: Welcoming 2021!​​​​​​​​​​​​​​​​​​​​​
22 January 2021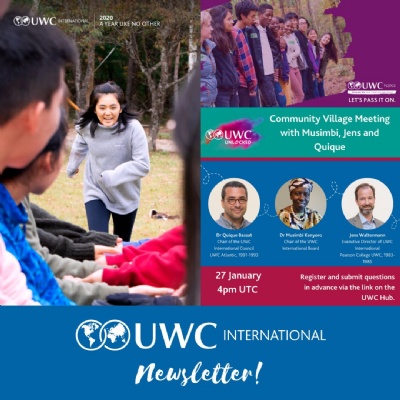 The first UWC International Newsletter of 2021 is here!
We are pleased to start the year with "a trickle of positive news" as we look back on 2020 with:
Our new "2020: A Year Like No Other" publication, which gives an overview of the hurdles we faced as a community in 2020 and how we rose to them, and is filled with UWC stories of students and alumni making a difference in the key areas deserving our attention in 2020 and beyond: COVID-19, the climate crisis, anti-racism, the refugee crisis and the Nagorno-Karabkh conflict;
The latest UWC Pledge results from the amazing and resilient UWC Class of 2020;
And as we look forward to:
The first UWC Unlocked Talk of 2021: A Community Village Meeting with Musimbi, Quique and Jens;
Welcoming two new Heads of UWC schools;
News of Rise and Huron - UWC Global Leader with Heart Award opportunities;
The latest UWC job vacancies.