UWC Afghan alum Reflects on the Extraordinary Solidarity of the UWC Community
15 August 2022
The events unfolding in Afghanistan a year ago today, touched the UWC community deeply. Witnessing the Taliban takeover of the country, and the ensuing humanitarian crisis, prompted the start of the UWC for Afghan Youth Appeal.
A year on, and the success of the campaign means that 20 young Afghans will be joining our schools on full scholarships soon. This is testament to UWC's commitment to supporting the lives of young people through education in even the most challenging of circumstances.
Here, UWC alum, Lutfullah Ahmadzai (Afghanistan, UWC Robert Bosch College, 2019-2021) tells the extraordinary story of how the UWC community pulled together to evacuate him, his family, and other UWC alums from Afghanistan last year.
After graduating from UWC Robert Bosch College in Germany, I was keen to visit my family back in Afghanistan. I had been lucky enough to receive a Huron-UWC Global Leader with Heart Award to continue my studies as an undergraduate at the University of Western Ontario, but knowing Canada did not have consular services in Kabul, I needed to stay awhile in Germany - waiting with my host family until my Canadian visa came through. Once it did, I travelled to Kabul in late July, but I could have never anticipated the events that then transpired.
By mid-August, I was preparing to leave, to start my studies in Canada. The situation in Afghanistan was becoming more intense by the day, and I could see the fear, disappointment and anger in the faces of my family and others around me in a way that I had never seen before. But while the situation was very bad in other provinces, no one thought that Kabul would fall that soon. We were optimistic that it would be defended or that there would at least be some type of last-minute negotiation where the achievements of the last two decades could be respected and guarded. But, this was not to be. On the afternoon of 15 August 2021 the Taliban seized control of the city. It all happened so fast, and it was difficult to process. I went to the airport on the morning of 16 August to board my flight, unaware of the tragic and chaotic situation that would greet me at Kabul airport.
"It was devastating to see people desperately seeking safety, and to hear gunshots and violence all around me. I asked the taxi driver to return home immediately, as I couldn't imagine how I would have been able to get into the airport safely.
The next two months of living in Kabul were like being in a prison, I only went outside the house three times during this period. We lived in a constant state of fear and anxiety. Despite a few chances to get evacuated from Kabul early on, I could not leave my parents and three young sisters behind in that horrific situation. My youngest sister was in high school and my older sister in her junior year at Kabul University and their dreams were shattered as the Taliban banned girls' education. By contrast, I had the tremendous privilege of being able to continue my studies in Canada. The situation was deeply unfair, and I felt a responsibility to help my sisters continue their education and live in safety, even if that meant risking my own life or education. So, I stayed with them, and I made a promise to myself that I would find a way to get them to safety. This is where the UWC community and friends from around the world stepped in.
My personal tutor and English teacher at UWC RBC, Adele Greaney, was the first person who I reached out to for help and guidance. We sent many letters and emails to our connections to find a source of help. The clock was ticking, and we were running out of time as the evacuation deadline of 31 August was fast approaching. UWC RBC explored many options and reached out to their network in Germany to help with the evacuation process. In addition, my roommate Oscar Schuller (UWC RBC, 2019-2021) from Frankfurt and his parents wanted to help, and they reached out to their friends in Canada to see if there was any sponsorship opportunity.
UWC international council member, Manolo Espinosa (UWC-USA, 1985-1987) and Cassandra Poyiadjis-Osler (UWC Atlantic 2008-2010), relying on the UWC network - including connections within government and two royal households - led a successful effort to evacuate three Kabul-based UWC community members out of the Baron Hotel on 25 August, the day before it was bombed, and the airport was finally closed. As the Taliban extended their control into people's everyday lives and routines, and with increasing levels of violence, arranging further evacuations became even more challenging.
Manolo, worked with other UWC alumni, including Owen Teo (Pearson College UWC, 1988-1990), and airline executives, heads of several refugee organisations, journalists, and foreign ministries across nine countries to gather information and form a new plan to get us out. The help of Ambassador and former Organization of Islamic Cooperation (OIC) Special Envoy, Huseyin Avni Botsali (father of Derya Botsali UWC Mostar, 2013-2015), proved absolutely invaluable in expediting our visas for Pakistan in the nick of time. The security situation had deteriorated rapidly in Afghanistan, with many countries closing their embassies and evacuating their diplomats from Kabul. This meant that neighbouring countries, including Pakistan, started to restrict or suspend the visa process in the face of mounting pressure brought on by spikes in demand.
On a personal level, we were facing tremendous challenges as a family. My sisters did not have passports, let alone visas. The banks had been closed, and there were restrictions on cash transfer amounts. Kabul airport was badly damaged, and the environment that surrounded us was dangerous and unpredictable.
When the airport reopened in early October, charter flights to Pakistan cost around 1800 USD per person (up from 150 USD/person, two months earlier), with a wait list of thousands. We were able to overcome these challenges by carefully following the plan developed by Manolo and Owen and by leveraging the expertise of the UWC alumni they had assembled. Manolo had the foresight to contact recent evacuees to learn from their experiences of navigating the now Taliban-run airport. He asked them to make WhatsApp voice recordings, so that we could gain a better idea of what to expect.
In the end, we were able to safely evacuate three UWC-affiliated families including my own, a first-year UWC Atlantic student, and the family of a recent Pearson College UWC graduate to Islamabad on 15 October. Manolo had received word from Air Pakistan executives that flights would be interrupted after this flight, but decided not to tell us in order to keep us calm and focused on our plan. UWC Pakistan national committee member, Zain Sadullah (UWC Atlantic, 1989-1991), welcomed us into Pakistan. Without his support, time, and local expertise we would have not been able to safely settle there.
With the help of Hubertus Zander, the admission counsellor at UWC RBC, we launched a fundraiser to cover our living costs, potential travel and immigration costs to Canada. Along with generous donations from my friends at UWC RBC, staff members, host families in the Freiburg area and throughout the wider UWC community - we received enough funds to help my family. We were absolutely bowled over with the level of support. Furthermore, a Canadian family in Toronto offered their help in sponsoring my parents and three sisters which was a huge moment and incredible breakthrough for us. This connection was made through Oscar's family, my roommate at UWC RBC.
My family is still in Pakistan and, with the support from the UWC community, they can stay there while awaiting their Canadian immigration papers. The sponsorship to Canada was not easy and many people contributed to making it happen. My Global Development course professor Dr Masaya Llavaneras Blanco (Pearson College UWC, 1999-2001) helped me enormously with this. Despite the horror of the situation, I learnt a lot through this process. I worked with some incredibly compassionate people within the UWC community, and it taught me about resilience, leadership skills, effective communication and how to ask for, and accept, help in times of need.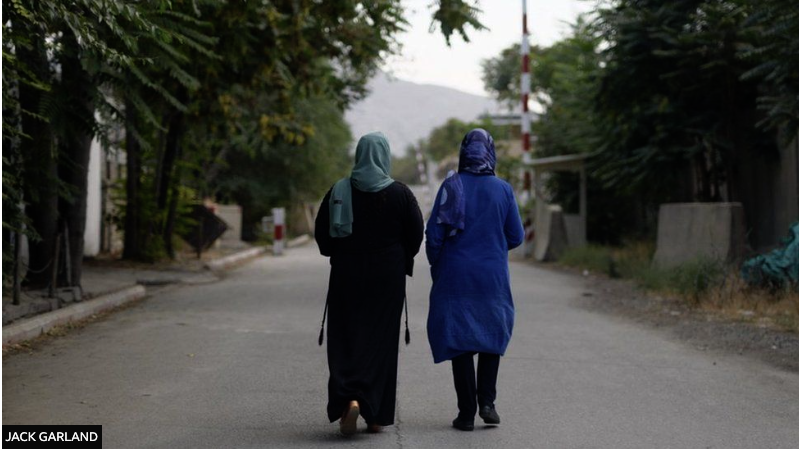 There were fundraisers at UWC schools and among groups of alumni, and UWC International launched its initiative to raise funds to support 20 scholarships for Afghan students, especially girls, to study at UWC schools. All of this shows the depth and breadth of determination to help Afghan students reach their dreams. These scholarships will not only help these individual students, they will also help their families, communities, and surroundings in the long run. Receiving an education from UWC has transformed my life, and it has opened my mind and my heart to seeing the world around me differently.
I have learned that the best way to help your loved ones and your community is to give back what you can. And this is why I have joined the UWC Afghanistan National Committee to help other Afghan students reach their potential, and to allow them to thrive through accessing a UWC education. This year we have 17 students from Afghanistan who will be joining UWC schools out of more than 1400 applicants, and I am super happy to be part of their journey and see them achieving their dreams. Once again, the UWC community has come together to help incoming students reach their schools on time, with Manolo stepping up to help coordinate efforts to obtain visas and flights to Islamabad, Ghaus Hussaini (Pearson College UWC, 2011-2013) the co-chair of UWC Afghanistan National Committee and I coordinated among students and schools, and Zain supported the students as they waited in Islamabad for their visas. With no embassies operating in Kabul, we have had to navigate a new process in trying to leave Afghanistan and obtain student visas.
As Gandhi says, we can only be the change we wish to see in the world, and I believe that this starts with each small individual action we take. The events of the last year have taught me that we can achieve our goals, and help each other, no matter how difficult the situation is. It takes courage, empathy, and a sense of responsibility to bring a positive change in the lives of others, giving them a hand to stand up again. Sometimes we might forget the values that brought us to UWC in the first place, and it's really important to remind ourselves of them so that we can recharge ourselves.
My story is a real-life example of how UWC brings people together for peace and a sustainable future. I am happy that UWC has been nominated for the Nobel Peace Prize, and I believe it deserves to win. I hope this story inspires you and reminds you of the strength of the UWC community. Together we can make the impossible possible. Let's continue to stand together, and lead the way to change the world for the better.
Thank you from the bottom of my heart, to all those who supported me and all the other Afghan students. I want to personally thank the UWC RBC management, Adele Greaney, Manolo Espinosa, Zain Sadullah, Hubertus Zander, and the Huron faculty members. I will never forget your kindness.