Uniting the World Through Education
5 July 2019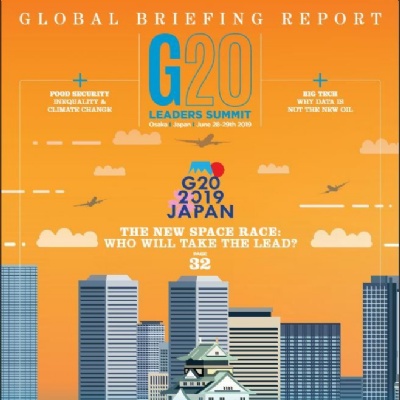 UWC was featured on the official G20 Summit magazine. The magazine was distributed on 28-29 June during the G20 Summit in Osaka, where leaders from 19 countries and the UE met to discuss and foster global economic cooperation.
Read below what UWC International's Director, Jens Waltermann, shared on education and its power to unite the world. The original article can be accessed at page 48-50 of the publication.
---
Uniting the World Through Education
by Jens Waltermann
Our rapidly changing world needs a new kind of leadership. Globally-minded, ethical, strong leadership. Leadership that harnesses the power of diversity and thrives in complexity. Leadership that speaks to and includes the younger generation. Leadership as compassionate as it is courageous. This is what we foster at UWC.
UWC (United World Colleges) is a global movement with the mission to unite people, nations and cultures for peace and a sustainable future. We recognise that our goal - a more peaceful, just and sustainable world - is an aspirational one. But since our founding in 1962 we have had a transformative impact on 60,000 UWC graduates from 160 countries simply by deploying what our late Honorary President Nelson Mandela called the most powerful weapon to change the world: education.
There are 18 UWC schools and colleges and dozens of UWC short educational programmes worldwide. Each serves as an incubator for the next generation of global leadership. Many of our alumni lead in their respective fields: science and technology (there are two UWC astronauts), business (from CEOs of Fortune 500 companies to some of the most innovative start-up founders) and politics (currently, Canada's Chrystia Freeland and Sierra Leone's David Sengeh are among our graduates).
Along with being highly successful in their chosen pursuits, our alumni bring something special to the table: strong values, an unparalleled level of intercultural understanding, an ability to celebrate diversity and the drive to make a difference. Why? What sets UWC and our graduates apart from those of any other educational institution is, as with most things, a combination of nature and nurture.
A UWC education begins with our unique way of finding and selecting students. In nearly 160 countries around the world including all G20 nations, committed groups of volunteers locally seek out and select the most promising candidates for a UWC experience. To ensure the most diverse group of students on our campuses, selections are based solely on candidates' demonstrated potential, and are independent of their cultural, linguistic, religious or socioeconomic backgrounds. Thanks to UWC's robust scholarship programme and with the help of our funding partners across the globe, these young people are offered places at UWC schools and colleges and according scholarships are distributed to meet any and all demonstrated need.
Once on campus, students engage with a rigorous, experiential educational programme together with their peers from around the world. Throughout their two years at a UWC college (or longer at one of UWC's four full schools), students discover their shared humanity, become equipped with the competencies needed to be ethical leaders in a complex and interconnected world and acquire the skills to be innovators for positive social change.
Most UWC students are between the ages of 16 and 19, and study the International Baccalaureate Diploma Programme (IBDP), an internationally-recognised educational programme developed in close collaboration with UWC in the late 1960s. The IBDP aims to develop students who have excellent breadth and depth of knowledge – students who flourish physically, intellectually, emotionally and ethically - and together with other aspects of the UWC experience, works to inspire the kind of thoughtful, active leadership our world needs.
At UWC, students who would normally never meet - the street kid from Manila, the professor's daughter from Manhattan and the young Syrian refugee - learn, live and thrive together. The young people who take part in UWC educational opportunities are thus given a holistic view of the world and a sensitivity for sustainable development that remain with them for life, shaping the way they interact with the Earth and with each other.
In this era of rapid globalisation, if we hope to be successful in achieving our collective goals of prosperity, justice, peace and liberty, we need leaders who are able to communicate effectively across cultures, languages and opposing political and economic interests. This is why a UWC education prioritises collaboration, intercultural understanding and empathy. Instead of turning away from their neighbours, and seeking out the "easy answers" to growing problems associated with global competition and mass migration, UWC students and alumni step into action. A UWC education encourages young people to approach issues with complexity of thought, to embrace different perspectives and to contribute to the common good - to be global bridge builders and not protagonists of simplifying populism.
One cannot stress enough the importance of strong and selfless leadership in today's world. Our students learn to exercise leadership, to embrace complexity and diversity - and they know that we will only solve our problems together.
Jens Waltermann has been the Executive Director of UWC International in London since 2015. A German graduate of UWC Pearson College in Canada and Harvard Kennedy School, he spent 18 years in major foundations and the corporate world before returning to his roots at UWC. He can be reached via info@uwcio.uwc.org.
For more information about UWC, visit www.uwc.org or follow "UWC International" on Facebook, Twitter, Instagram or Linkedin.