The 2020 UWC Photo and Artwork Contest!
13 November 2020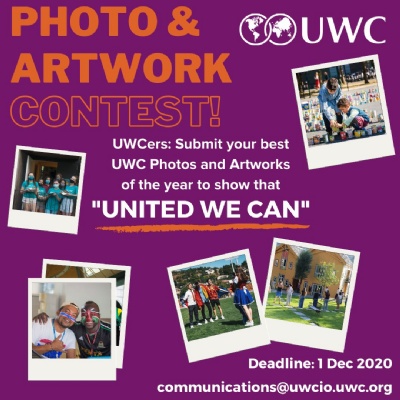 It's that time of year again: We are thrilled to announce the fourth annual UWC photo contest! Acknowledging the challenging - and virtual - nature of the past year, this year's contest will continue the UWC Day theme: 'United We Can' and will include the opportunity to submit (photos of) any pieces of art you have created over the past year.
We invite all UWC Students, schools and short course alums, staff and volunteers to take part by submitting a photo or piece of art from your UWC life that links to your interpretation of the UWC Day 2020 theme: "United We Can".
Contest Guidelines:
Maximum of 2 photo or artwork submissions per person
You must be a student, alum, short course participant, staff member or volunteer within the UWC movement
The photo or artwork must represent a life at UWC and link to your interpretation of the "United We Can" theme.
Please send your high resolution photos, your UWC affiliation and 1-2 sentences about the photo and how it relates to the theme to communications@uwcio.uwc.org by 1 December 2020 with the subject line "Photo Contest".
The winning photos will be announced later that week and will be featured on social media, the UWC website and our annual holiday cards which are sent to thank friends and donors of UWC for all that they do for the UWC movement.