Reflecting on UWC Day 2020: 'United We Can'
1 October 2020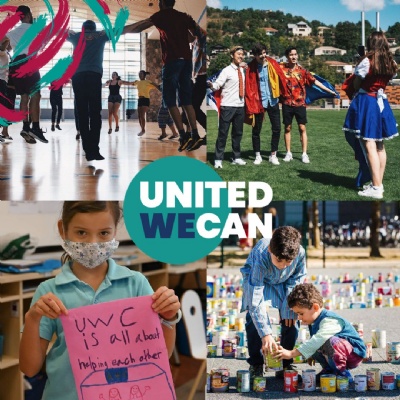 This year for UWC Day the community celebrated under the theme 'United We Can'. In the last few years, and especially over the last couple of months, we have seen how conflicts, alienation and tension can be used to separate rather than unify us. This year's theme aimed to unite the UWC community, to reflect on the challenges we face as a world, and as a movement, and remind us of the power of united action. Although faced with Covid-19's 'new normal' - social distancing, wearing masks, carrying hand sanitisers and hosting more online events - we were able to see the strength of the movement shine through, and find more opportunities to unite across continents, as many of our celebrations took place virtually.
Amidst the additional burden placed on many members of the UWC community this year - from national committees to schools - the number of events that sprung up around the world, involving alumni, national committees, students and staff at the UWC schools and colleges, and friends of UWC, were a wonderful testament to this year's theme. The events included a community garden festival hosted at UWC Robert Bosch College, a Round Table Zoom Discussion - "UWC as a factor of Unity" at UWC Mostar and Inter-Residence competitions at UWC Costa Rica. From our national committees we saw a region wide Open-Mic Evening from our Latinx National Committees, Beach Clean Ups held at three locations in Taiwan, and a Creative Video Competition for youth in Timor-Leste, among others. At the UWC International Office, staff undertook the new UWC-wide Diversity, Equity and inclusion course as a further step towards tackling continuing inequities in wider society and within our own UWC community. And at the UWC movement-wide level, the "Spread Peace Challenge" saw UWCers across generations and continents unite through the below video challenge.
Annually, UWC Day provides a space to appreciate the strength in the diversity of the movement and reflect on how united we can achieve a more peaceful and sustainable future....and to take those reflections and commitments with us into the next year. We can't wait to celebrate UWC Day 2021 with you!
See how UWC Day was marked at UWC Adriatic, UWC Costa Rica, UWC Dilijan, UWC Japan, UWC Maastricht, UWC SEA Dover Campus, UWC Changshu China and UWC East Africa...and find more celebrations and reflections by searching #uwcday2020 #unitedwecan on Instagram or Facebook.