End of Year newsletter
31 December 2020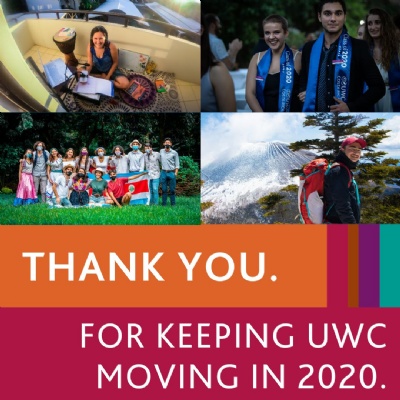 As we look back on all that we faced, learned, overcame and experienced in 2020 with this End of Year video and final UWC International Newsletter of 2020, we want to say thank you!
Thank you to every single student, parent and guardian, staff member, volunteer, donor, partner, supporter and friend who continued to believe in the importance of 'making education a force to unite people, nations and cultures for peace and sustainability' in a year in which the act of 'uniting' was perhaps more difficult than at any other point in UWC's almost 60-year history.

With this UWC International Newsletter, we're also excited to share the following:
UWC Mahindra College is back on the hill! MUWCI community members share their reflections on the past year and what they are looking forward to now that they are back;
How you can help support Rise, UWC's latest partner, find and support their first cohort of future changemakers;
News of the EU Scholarship Programme For Cypriot Youth's extension;
The appointment of Mai Al-Qaisi as Save Our Future Global Ambassador to Defend the Right of Refugee Children to Education;
Welcoming Jane Foster as Special UWC International Board Representative on Safeguarding;
Plenty of job opportunities throughout the UWC movement!