December 2022 ARDEI Update
19 December 2022
Anti-racism, diversity, equity & inclusion work across the UWC movement
Building partnerships
In 2020, with the creation of the Anti-racism Diversity Equity & Inclusion (ARDEI) Committee, UWC once again made it clear that intentional diversity would remain at the core of its values. As part of this initiative, committee members wanted to establish a more sustainable and consistent effort to recruit prospective teachers to the movement by partnering with Historically Black Colleges and Universities in the United States. Over the past two years, Rod Jemison - founding Head of UWC ISAK Japan now serving as a special advisor - has liaised with members of HBCUs to introduce UWC schools/colleges, discuss the recruitment of prospective graduate teachers, and to also make them aware of our graduates at UWC. These conversations have led to significant interest in the movement and how each organisation can support the other.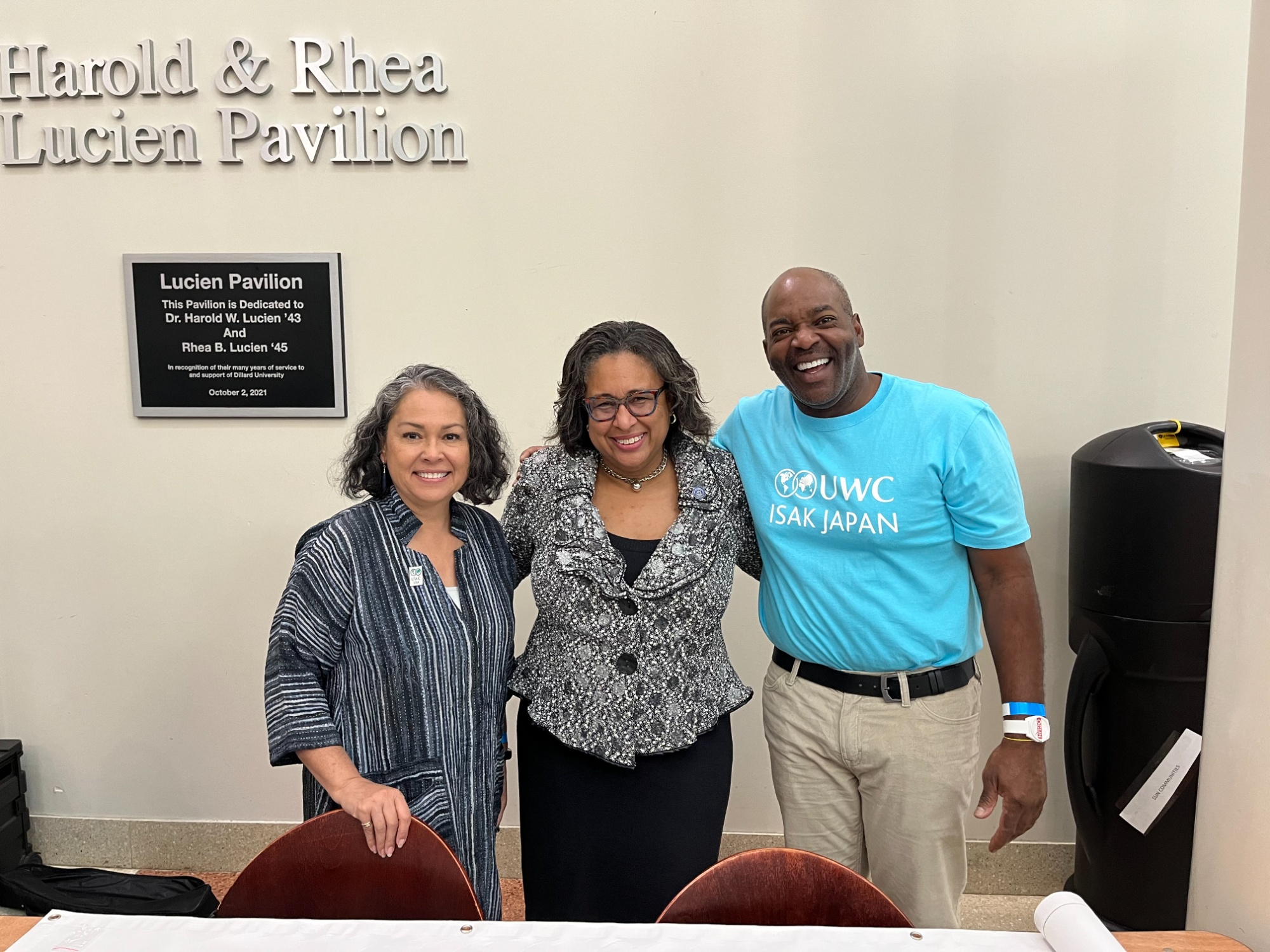 Most recently, Victoria Mora (President of UWC USA) and Rod visited Dillard University (New Orleans) and attended their Career Fair. Visiting with students, the President of the College (see picture), and working with the Director of Career and Professional Development, there was a high interest and excitement about the prospects moving forward. Additionally, the Spring is looking even more promising with plans afoot to visit and strengthen relationships with a host of colleges/universities that include, but not limited to: Tennessee State University, Texas Southern, Savannah State, Lane College, Talladega College, Fisk University, Morehouse College, Spelman College, Miles College, and Virginia Union University.
The visits and conversations with members of HBCUs have shown that there is keen interest in improving the internationalisation of their student body, building more career opportunities for their graduates, and in possible collaborations between the faculty and staff. Expect further updates on this in the coming months.
UWC Thailand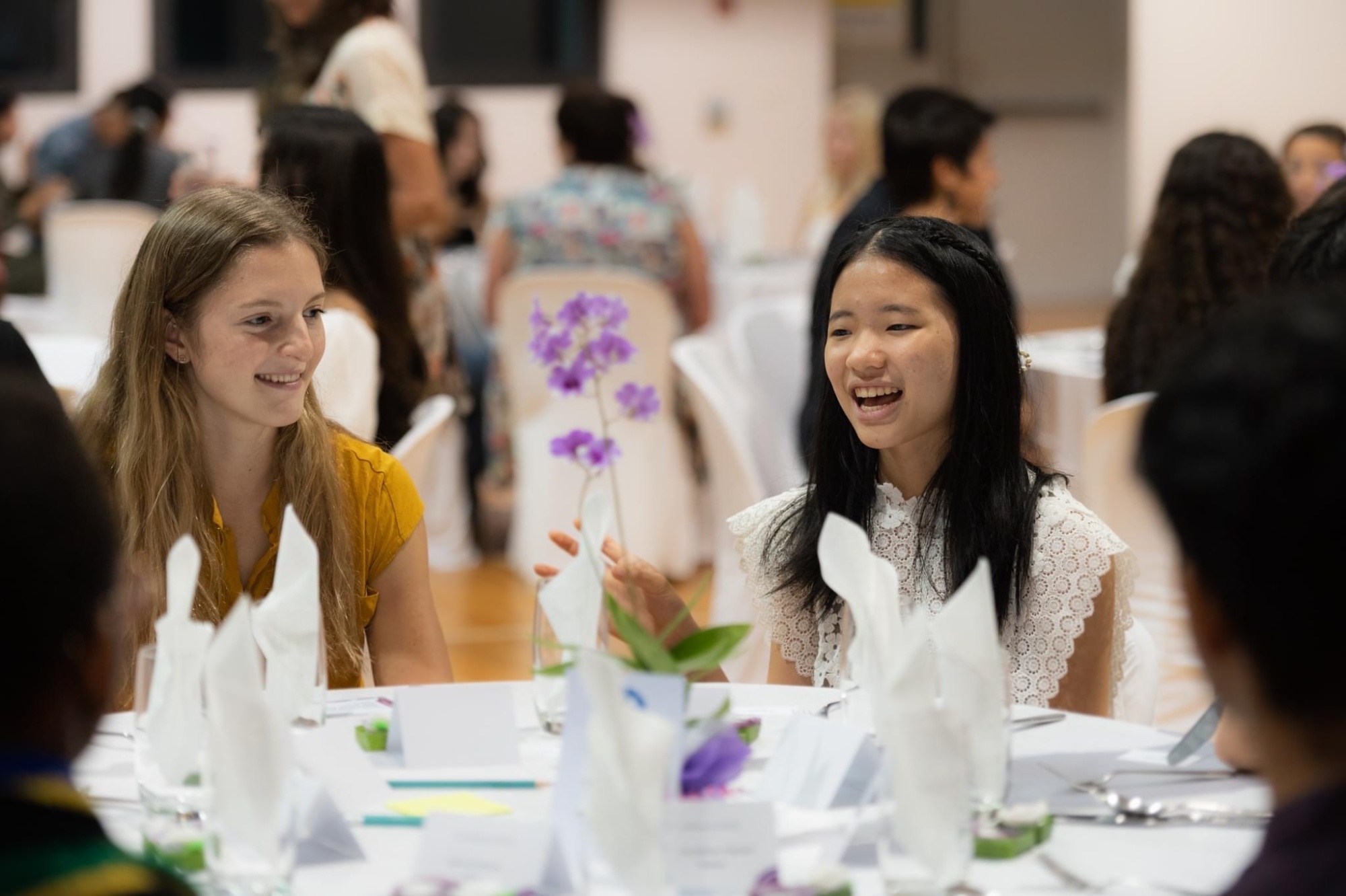 Recent ARDEI work at UWC Thailand has been focused on building authentic connections as a community, with the annual UWC Thailand 'Confluence' event held in September where grade 11 and grade 12 students enjoyed a formal dinner seated at deliberately diverse tables of students, teachers, school leaders and governors. Conversation prompts encouraged the sharing of "home" as well as their hopes for themselves and the world around them, and the sense of individual and communal responsibility. The following month, UWC Thailand's teachers engaged in professional learning around intercultural understanding by considering the ways in which they can hold greater awareness of their own culture, while also understanding how different cultural groups consider the same concepts of time, personal space, adaptation to change and communication style. Then in November, UWC Thailand's student leaders organised a TedX Youth event with different speakers focusing on the concept of peace - peace in self, in connection with others and in the world.
Pearson College UWC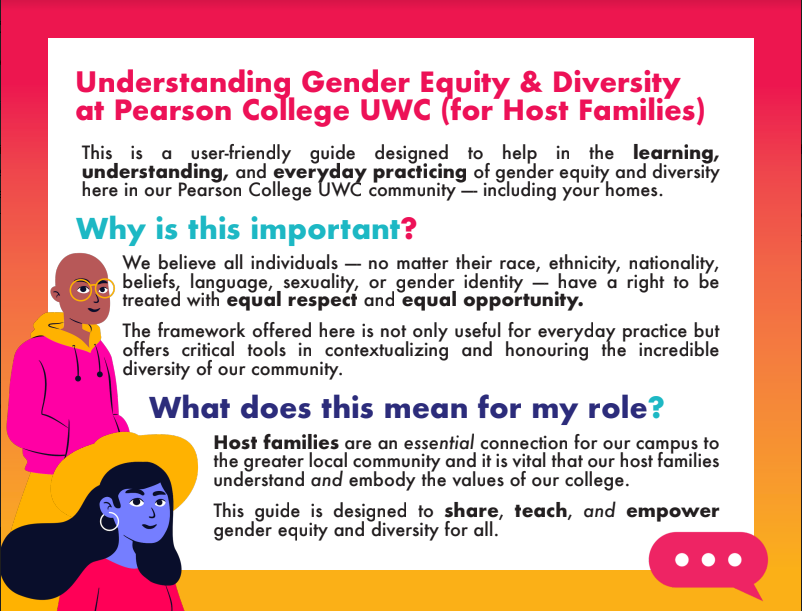 Meanwhile, Pearson College UWC has been working hard to make spaces within the College more inclusive with their gender-neutral bathrooms, and by including 'non-men' designated gym times when the school gym can only be accessed by female-identifying students. After students raised the concern that cultural celebrations on campus had become very Eurocentric, a group called the Pearson College Cultural Coordinators was set up to ensure a centralised process for all cultural celebrations, with a budget allocated to represent diversity on campus. The College has also taken a look at its host family/volunteer training by removing the option to host families to select their 'preferred student gender' when matching students to host families. Instead, a new gender diversity policy package with easy to understand languages has been introduced to ensure host families understand the importance of gender inclusivity. Training is also being offered on gender/racial diversity to all new onboarded host families and volunteers.