Theatre, Gender, Identity & Film
28 June 2017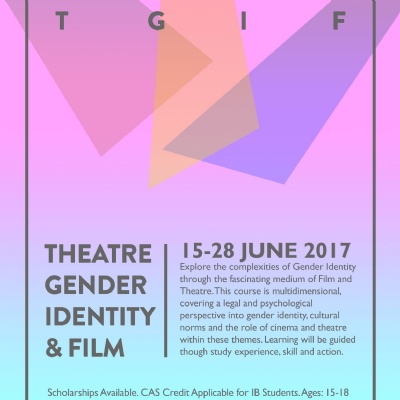 15 - 28 June 2017, UWC Mahindra College
Theatre Gender Identity and Film (TGIF) aims at providing a holistic approach towards conventional beliefs on gender identities. Through methodologies that resonate with 'a complete UWC experience', TGIF, over 12 days will guide all its participants in exploring gender through multiple perspectives. Participants will be using the mediums of Film and Theatre to first explore and then convey their ideas on gender identity.
Throughout the program, participants will engage in research, debate, ideation and creation by interacting with a spectrum of experts - writers, professors, lawyers, journalists, social activists and theatre and film practitioners. The program is hosted at the picturesque United World College, Mahindra College, India, which boasts of great settings, spaces and equipment for film and theater as well as an educational pedagogy that is focused on fostering critical thinking, global awareness and civic engagement among students. TGIF also provides the invaluable opportunity to interact with students from different countries, cultures and backgrounds.
For more information visit the dedicated website.
This programme includes travel within Maharashtra.