Nelson Mandela
31 March 2017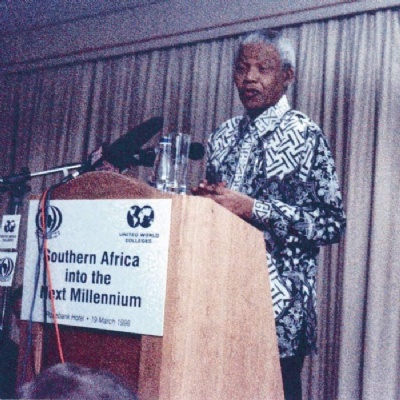 UWC Late Honorary President
Considered by many as the father of modern South Africa, and one of the most important figures in global political history, President Nelson Mandela served as South Africa's first democratically elected leader from 1995 until 1999.
A political activist, prisoner, and social justice campaigner for his entire public life, Mandela oversaw the transformation of South Africa from a nation divided by a brutal apartheid system to the 'Rainbow Nation' that we see today. South Africa's first black head of state, Mandela's ethos of reconciliation and dialogue over revenge and division earned him near-universal plaudits around the world. Receiving the Nobel Peace Prize, among 250 additional honours, Mandela's presidency of the UWC movement began in 1995, when he took up a joint presidency with HM Queen Noor of Jordan.
In 1999, he became Honorary President of UWC. Additionally, his children and grandchildren attended Waterford Kamhlaba UWC of Southern Africa, further deepening his connection to the movement and our shared ideals of peace, international understanding, and sustainable futures.