​​​​​​​The Himalaya Environment and Leadership Program ​​​​​​​/ India
30 June 2020
The Himalaya Environment and Leadership Program supports youth in discovering and exercising their agency in a complex world. It takes place in Ladakh, a high-altitude region in the Northern corner of the Himalaya known for rugged mountains and Tibetan Buddhist culture. This is a powerful setting for an expedition and development study, and inspires us to believe that the way things are is not the way they must be.
The Ladakh mountains offer big challenges and rewards as well as protection from the monsoon. Local leaders and host families teach us about alternative ways of knowing and being. The recent history of policy interventions shows us the combined impacts of globalization and the neo-liberal development doctrine. Before the expedition, we explore places, traditions, stories and political movements, and set aside time for quietude, sharing, and reflection. It allows for a contextualised and critical examination of the global and local incentives and structures that drive power, access, consumption, policy, and the displacement of indigenous knowledge.
The expedition begins 5 days later, with a stunning route selected for a gradual elevation profile, uncomplicated road access, and minimum objective hazards. It leads right up to three impressive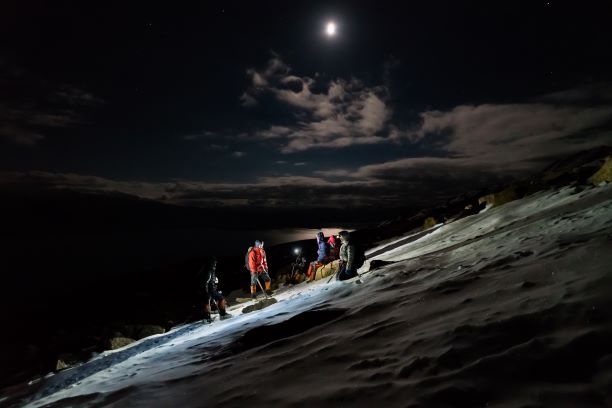 mountains between 6000 and 6300 meters that present outrageously adventurous but appropriately challenging objectives to a determined hiker. This is a strenuous and ambitious program that requires dedication and preparation. Participants plan and cook meals; set up camps; learn to use mountaineering equipment to move across difficult terrain; and manage risks intelligently. On three nights we are roped together for 16 hours going up and down a mountain face, but the course is about a lot more than high adventure.
DETAILS
Dates: 5 June 2020-29 June 2020
Location: Leh, Ladakh, India
Application deadline: 1st deadline 20 March 2020
2nd deadline 20 April 2020
Course fee: EUR 3,400 - for applications by 20 March 2020.
EUR 3,800 - for applications by 20 April 2020.
Eligibility: Minimum 17 years old at the time of application.
Scholarship Availability: Need-based financial aid is available.
For more details: Visit our Website, Instagram or email us.
Please note: Though this UWC Short Course is running in India, it is not organised by or connected to UWC Mahindra College, Pune, India. The college is not liable for any part of the course.
APPLICATION INFORMATION
We welcome participants from a diverse range of backgrounds. Admission to this program will be based on:
Demonstrated interest in sustainability, peace, global affairs, and local development
Demonstrated commitment and/or leadership in school or college activities
Exceptional work and team ethics
Alignment with UWC Guiding Principles
Preparedness to undertake the expedition
Applicants must:
Be 17 or older on the date of application
Be declared medically fit by their doctor to attempt the expedition
Provide two references of activity leaders, work supervisors or teachers that can speak to their preparedness for the course
Prior camping and trekking experience is strongly recommended. No crampon, ice axe or roped travel experience is necessary, though this will be taught and used on three summit attempts. Physical preparedness is a prerequisite, and a reasonable benchmark is jogging 5km in 30 minutes, but note this is a limited measure of preparedness. Please contact us for more information about training and preparedness for the expedition.
BROCHURE