Teaching Vacancies
10 March 2020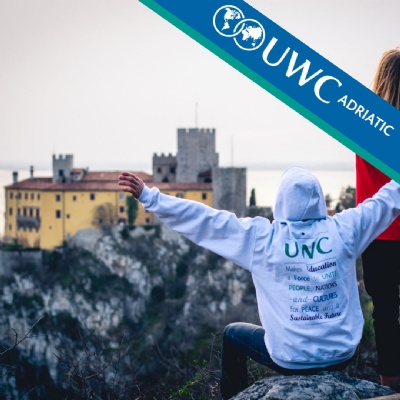 UWC Adriatic is seeking three new teachers. The deadline for applications is Monday 9th March 2020
Teaching vacancies to start in August 2020
Teachers are required for the following positions:
IB Diploma Head of Mathematics (HL and SL)
This is a full-time post. This position is for candidates with suitable IB and other career experiences befitting of someone who can lead an academic department. The expertise to teach Mathematics Higher Level is essential. The ability to teach theory of knowledge will also be an advantage.
IB Diploma Teacher of Mathematics (HL and SL)
This is a full-time post. This position is open to both new and experienced teachers. The expertise to teach Mathematics Higher Level is essential. The ability to teach theory of knowledge will also be an advantage.
IB Diploma Teacher of Environmental Systems and Societies (SL) and another Group 3 subject
This is a full-time post. The ideal candidate will have experience teaching this inter-disciplinary course and another Group 3 subject. A requirement is that the post-holder will also offer one of philosophy, global politics or history. The ability to teach theory of knowledge will also be an advantage.
There is also a position as a residence tutor in one of the student residences. The desire to fulfil this role in addition to teaching responsibilities will be a significant advantage in the recruitment of the positions listed above.
There is also a position as Head of IB Core available at the College, a role overseeing the Extended Essay process and Theory of Knowledge. If candidates wish to be considered for this, it should be expressed in their letter of application.
The College

UWC Adriatic is one of the 18 UWC schools and colleges across the world. The College shares the UWC Movement Mission to make education a force to unite people, nations and cultures for peace and a sustainable future.

UWC Adriatic is set in the picturesque village of Duino, near Trieste in north-eastern Italy. It offers a challenging holistic, residential educational programme including the two-year IB Diploma (taught in English) to around 185 students from 80 countries. The college mission is to welcome young people at the threshold of adult independence and guide them on their way to being compassionate and conscientious individuals with the energy and understanding to work for positive change.
Experiences gained within a diverse multicultural community in an Italian region at the crossroads of cultural, political, historical and geographical transitions are used to stimulate personal reflection and growth.

The College capitalizes on its village setting at a historical, political, cultural and geographical crossroads in the heart of Europe. Interwoven through the surrounding community, UWC Adriatic draws inspiration from Italian and local culture, music, art, architecture, history and linguistic diversity to stimulate personal reflection and creativity of students. Outdoor activities in adjacent hills, mountains, rivers and at sea provide a breadth of physical challenges. Throughout their time at the College all students are committed to service to the community around them. UWC Adriatic offers students opportunities to fulfil their potential and develop the skills to become agents of positive change in an increasingly interconnected world.
Personal qualities

UWC Adriatic is a small boarding college which offers students and staff the opportunity to intensely engage in the educational experience of the students. Any suitable applicant must work in a collaborative and consultative manner. Understanding the need for constructive intervention and patience are essential components of non-curricular learning that occurs in an environment of empowering students to take the next steps towards independence.

All UWC Adriatic full-time teachers and management team members are expected to have pastoral responsibility for a group of 8-10 personal tutees, supervise one weekly service, one weekly activity, either physical or creative, and one project-week group a year. Teachers may also be asked to take residential responsibilities and will be required to perform periodic weekend duties. In order to be available for the students when needed, the College provides teachers with accommodation in the village of Duino. Teachers who accept Residence Tutor responsibilities are provided with accommodation in or adjacent to a student residence and have utility costs paid by the College along with an additional monthly allowance related to the number of students in the residence.

Non EU/EEA/Swiss appointments are subject to approval by the Italian employment and immigration authorities. Possession of an EU driving license and the readiness to drive 9-seater MPVs is an advantage. The nature of activities and services that are required will be discussed at interview with candidates who progress to this stage.
How to apply

Applications including a CV, a letter of application (no longer than one side of A4), passport photocopy and the names and contact information for two professional referees should be made by email by Monday 9th March 2020.
UWC Adriatic will need to be provided with or to seek evidence that candidates have police clearance and supporting references demonstrating they are suitable to work with young people in a residential community.
Interviews with candidates will be completed shortly after the application deadline. Salary will be dependent on previous experience.