Head of Finance
10 February 2020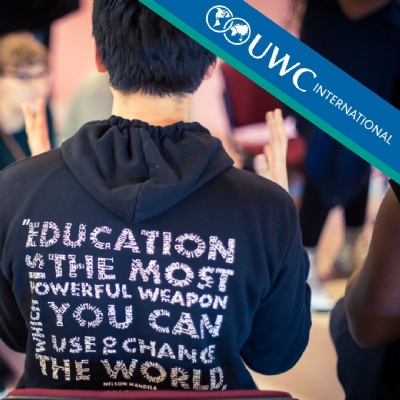 For a (financially) sustainable future
Job Title: Head of Finance
Department: Finance
Reports to: Executive Director
Status: Full time (38.5 hours per week)
Location: London or Berlin
Salary: Competitive salary
Changing the world takes passion and dedication
Isn't it time that your passion and dedication be channelled towards a career and community that genuinely changes lives?
If you...
want to transform your own life by transforming the lives of others
crave a career that creates opportunity for others
desire to make dreams come true for those who never thought it possible
know that education is the foundation from which we can change the world
believe that today's young people can transform tomorrow
strive for world peace and global sustainability
dare to dream
...then a career with UWC could be the change you need.
UWC is a global family of schools with a powerful difference. With a shared goal of working towards global peace and sustainability, we bring together young people from around the world to study in one of our 18 schools on four continents. There they don't just learn how to be great at passing exams. They learn how to communicate across cultural boundaries. They develop the skills to be a changemaker. They design and engage in initiatives that transform their lives and the lives of those around them for the better. And they stay a "UWC-er" for life, becoming part of a global community of over 60,000 changemakers transforming the lives of others.
Working with us will inspire and challenge you
Driving a mission to make the UWC experience available to tomorrow's changemakers, irrespective of their background, beliefs and economic means demands colleagues with passion and dedication, and a talent for transformation. If you studied at a UWC, you'll know why we're so passionate and perhaps you want to be part of this again. If you didn't, prepare to be inspired.
We have so much to do, so isn't it time you got started?
Are you our new Head of Finance?
Right now, we are searching for a new Head of Finance to join UWC International. You could be based at either of our two head offices, in London (UK) or in Berlin (Germany). Wherever you will work from, we want you to think and act with a global mindset.
UWC International works with all our schools and stakeholders around the world, serving the movement through:
Global fundraising
Global communications, promotion and marketing
Supporting over 155 UWC national committees in their daily work and growth
Global strategy development and implementation
Assisting UWC schools and colleges
Let's not pretend that being our Head of Finance is going to be easy. Our mission is global peace and sustainability, and our success depends on our own sustainability as a movement. That's where you come in. Your purpose is to drive the financial sustainability of a movement that:
Offers financial assistance to over 70% of the young people who win a place at a one of our schools - and supports our aim to offer even more financial assistance in future
Is made up of 18 schools across four continents
Is supported by a network of mostly volunteer-led national committees in over 155 countries and territories around the world
Is today a UK registered charity, and will soon open a second office and legal entity in Berlin, Germany.
As our Head of Finance working across the London and Berlin offices, you'll be responsible for:
Financial planning and budgeting, financial control, reporting and financial analysis of UWC International and across both the London and the Berlin office
Ensuring that our financial systems and procedures are effectively implemented and run in order to meet auditing requirements
Providing the UWC International Board, Executive Director and other colleagues with relevant, accurate and clear financial management information
Performing the role of Company Secretary
Playing a key role in developing and implementing the global financial strategy of the UWC movement.
You'll be working closely with UWC International's Finance and Audit Committee. And while you won't be responsible for financial oversight of individual schools (who are all separate legal entities), you will be working closely with them and our 155 national committees in the collection and analysis of data to improve our global financial sustainability.
As you'd expect in a streamlined team working for a charitable organisation, our colleagues all perform different duties from time to time too. We will ask you to be in charge of ensuring we are always in full compliance with all regulatory requirements, including GDPR.
This all means that we're searching for someone who:
Knows how to lead and manage a finance function, including financial forecasting, budgeting, and overseeing the annual audit process
Has an excellent grasp of technology and how it can serve us, with experience of driving technology transformation programmes across organisations
Has led and loves leading and managing a team and managing projects
Knows how to work with and in support of stakeholders and colleagues, including directors, board treasurers and trustees
Understands the world of grantmaking and reporting to donors
Has the will and the responsibility to lead by example, providing guidance, coaching and support to colleagues across the organisation with regards to finance and technology.
If this is you, read on for further details…
Key responsibilities
Finance
To manage the full financial cycle with support from the senior financial accountant. This includes annual budgeting and budget approval with the finance and audit committee as well as the board, monthly management accounting, ensuring timely payments to suppliers and invoicing to donors and constituents, annual audit and submission to Companies House and Charity Commission.
To oversee the processing of payments, income, disbursements and international transfers and to monitor cash flow and recommend and implement action when necessary.
To support teams and senior managers with financial management and planning, including contingency planning for unforeseen events, donor reporting and management, financial reporting to the executive director and the board.
To act as secretary and support to the finance and audit committee of the board, in close collaboration with the board treasurer. This includes drafting agendas for regular meetings, producing papers and coordinate minute taking and follow up to meetings, including escalation to the board for decision making.
To support the Executive Director and senior management team with preparation of papers for board meetings and especially taking the lead on papers relating to finances, compliance and data reporting.
To act as the key liaison with fund managers, auditors and banks to ensure the smooth functioning of the finance function at UWC.
To oversee internal control processes.
To maintain contact with and support the group of college finance directors, act as lead for data gathering, management and reporting on the finances of the 18 UWC schools and colleges as well as the national committee system. This includes refining and launching annual reporting tools, managing data collection and data cleaning as well as working independently and with the help of external consultants to produce interactive data dashboards for internal office use, as well as presentations for external and internal stakeholders.
To support the work of the volunteer-run UWC finance taskforce to provide analysis and recommendations to the board and wider UWC constituents about the state of UWC finances.
To line manage the senior financial accountant.
Compliance
To act as Company Secretary for UWC International and to ensure compliance all regulations from HM Revenue and Customs, Companies House and the Charity Commission and reporting requirements
To act as the Data Protection Officer for UWC International, ensuring that the organisation meets its obligations vis-a-vis stakeholders and the regulator (Information Commissioner) and act as the first port of call from constituents to support their compliance with data protection regulations.
To act as the main liaison to UWC's solicitors in the area of data protection in close cooperation with the Executive Director and senior members of the management team.
Technology
To drive the development of a consistent, reliable and efficient ecosystem of technological platforms within UWC. This includes driving the tender process and integration of a variety of technological platform including cloud-based financial software, grant-making software and schools applications management software and supporting teams with implementation once the platforms have been deployed.
To leverage technology to present data to UWC stakeholder with the help of interactive data dashboards already developed by UWC International.
Person Specification
Essential
Excellent financial skills and proven ability to drive budgeting and financial management at an organisation level and in a multi-currency environment.
Excellent communication, writing and reporting skills, including presenting financial information to the board, senior audiences and non-technical stakeholders in a clear and concise manner.
Proven experience of acting as business partner support to senior management and their teams on issues related to finances and technology in a dotted management environment.
Experience in designing and implementing agile operational policies and procedures fit to the management of a charity operating in a distributed setting.
In-depth experience in overseeing internal control procedures.
Experience in managing direct reports and/or teams effectively and collaboratively.
Ability to influence external stakeholders in areas related to financial planning.
Ability to liaise and negotiate with professional service providers such as consultants, auditors, fund managers, lawyers and IT outsourcing providers.
Knowledge of financial software (Sage preferred) and data visualisation software (MS PowerBi preferred) and ability to identify and roll-out appropriate technological solutions to operational challenges.
Excellent interpersonal and communication skills (oral and written), in particular the ability to communicate in a confident and engaging manner at all levels, in culturally very different contexts and in challenging contexts or situations.
Self-motivation, flexibility and adaptability. A pro-active attitude and ability to work independently as well as a member of a team.
Good diplomatic skills and cross-cultural sensitivity and a high level of comfort operating in an international and multicultural environment.
Values own knowledge but always willing to learn and to remain open to alternative views and perspectives.
Excellent spoken and written English (ideally equivalent to native speaker)
Comfort operating in an international and multicultural environment and ability and desire to travel internationally.
A deep interest in UWC's mission and values, and a willingness to engage with issues of relevance to the UWC movement.
It is expected that the job holder will travel to UWC schools and colleges. For that reason a basic DBS check (Disclosure barring statement) or international equivalent will be required before any job offer is made.
Desirable
Qualified accountant (ACA / ACCA / CIMA), MBA or equivalent
Experience with financial management of consolidated accounts
Experience working across offices and legal entities in different jurisdictions
A mix of charity and commercial experience
Ideally strong command of additional world languages beyond English
Knowledge of data protection regimes in the UK and EU.
Are you excited about this? Then apply!

Please send your CV with a covering letter (each no more than two pages) that relates your experience to the requirements of the role to vacancies@uwcio.uwc.org. Please state your current salary and salary expectation for this role. Please also indicate how you have heard about this role.
In your application, please also provide the name, roles and contact details of two referees. We will not contact them without letting you know. Please note that applications without a cover letter will not be considered.

Deadline for application: 19 Jan 2020 at 5pm. The interviews will take place the week beginning 3 Feb 2020 in London.