National Committee Development Consultant
4 December 2019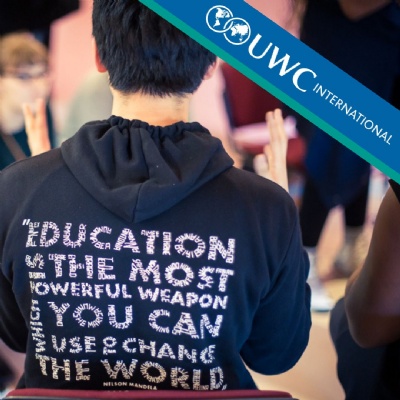 Title: National Committee Development Consultant, NC Fundraising Programme
Location: Dependent on applicant
Fees: $3432 USD/month
Contract type: Consultancy
Duration: 75% part-time, 4 days a week.
Initially, this role is for a period of 7 months (Dec. 1-June 1), with the possibility of converting to
a long-term position given the agreement of all parties.
About UWC
UWC makes education a force to unite people, nations and cultures for peace and a sustainable future. To fulfil its mission, UWC has 18 schools worldwide, alongside over 155 mostly volunteer-run national committees which select qualified students to join for IB Diploma Program. The UWC International Office is the executive arm of UWC International, a UK registered charity, and is situated at the heart of the UWC movement. It is currently located in an office in central London (a second office will soon be opened in Berlin). The UWC International Office collaborates closely with all stakeholders from across the UWC movement, engages the UWC alumni community of more than 60,000 members and serves UWC International's governance bodies. Responsibilities include global fundraising, global communications, promotion and marketing, supporting the national committees in their daily work and growth, global strategy development and implementation and assisting the schools and colleges. Philanthropy is one of the core functions of the UWC International Office, as over 80% of national committee selected boarding students at UWC schools and colleges receive a scholarship to enable access to a UWC education independent of socio-economic means.
Description of Services/Project
Provision of fundraising development and capacity building services for approximately 40 UWC National Committees (NCs) around the world in the Fundraising Programme, under the supervision of UWC International.
The consultant is expected to support work more narrowly related to National Committee fundraising:
● Supervise the work of two NC Fundraising Organizational Consultants: one in Bogotá, Colombia, and the other who will work in the same location as the NC Development Consultant.
● Liaise between UWC schools/colleges, the International Office, and NCs in the Fundraising Programme
● Oversee the National Committee Fundraising Programme, including:
Supporting NCs to develop their fundraising capacity, including advising NCs on strategic priorities
Maintain consistent communications with all NCs in the programme
Supervise the Organizational Consultants' work on ten crowdfunding campaigns
The person we are looking for should have the following qualities:

● Experience with the UWC National Committee system
● Experience in the field of fundraising
● Strong communication and interpersonal skills
● Detail-oriented with exceptional organizational skills
● IT fluency, particularly with the Google Drive suite
● Experience of problem-solving and working on various projects with competing deadlines
● Able to work independently and with volunteers in multiple time zones
● Ability to communicate fluently in written and spoken English; other languages a definite advantage
Location and supervision
This position will work from wherever they are located; this may be in any of a number of regions of strategic importance to UWC International, including MENA, Sub-Saharan Africa, South Asia, East Asia, or the Pacific. The programme has budgeted for a shared office space for the Development Consultant and the Organizational Consultant. The position will report to the Programme Development Manager at UWC International.
Please send your CV with a covering letter (each no more than two pages) that relates your experience to the requirements of the role to
vacancies@uwcio.uwc.org
. Please also provide the name, roles and contact details of two referees. We will not contact them without letting you know.
Deadline for application: 5 pm, Monday, 25 November 2019. The interviews will take place the week beginning 2 December 2019.