Individual Giving Manager – Annual Fund
7 November 2019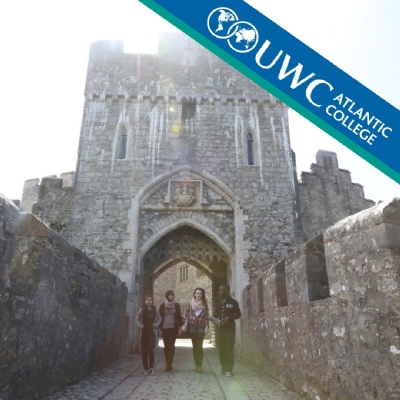 Individual Giving Manager – Annual Fund
Salary £28,785-£32,878 (role evaluation pending)
UWC Atlantic is at the heart of a powerful global movement and at the vanguard of
progressive education worldwide. We are proud to be a part of the UWC family of 18
schools and colleges worldwide – and for our courage to champion the values, ideas and
aspirations in which we all believe. We are driven by the UWC mission to make education a
force to unite people, nations and cultures for peace and a sustainable future. It drives
everything we do.
We continue to embrace the spirit of those pioneers who not only created the College in
Wales in 1962 and launched the UWC movement in 1967 but who also co-created the
International Baccalaureate Diploma programme, in collaboration with the International
School of Geneva (Ecolint) and UN International School in New York (UNIS).
Our multicultural student body, from over 90 countries every year, comprises young people
from vastly differing political, religious, ethnic and socio-economic backgrounds. They are
selected to attend UWC Atlantic based on their demonstrated promise and potential, to
make a difference in the fields of sustainability, social justice and peace. These inspirational
young people are the next generation of change makers, empowered to go on to careers
and lives that create impact locally, nationally and globally.
The Philanthropy, Partnerships and Engagement team, based in London and in Wales is the
essential link with these graduates, our alumni community, across cultures and continents,
professional spheres and life experiences, to ensure that we stay connected to each other
and the UWC values. The PPE team aims to develop a more inspired, enthused and
engaged alumni community and to develop and celebrate a "culture of philanthropy" – a
commitment to give time, treasure and talent to support our future ambitions.
This role will be instrumental in developing and leading the College's Atlantic Fund and
Class Philanthropy and Engagement programme, with particular emphasis on annual targets
set in terms of participation rate and fund raised including increasing the number of regular
donors to the fund including alumni, parents, past parents and friends of the College. You
will be responsible for increasing participation rate and donation levels achieved for the
Atlantic Fund including developing and implementing new initiatives for donor acquisition
contact updates, renewals and upgrades of pledges, maximising the opportunities of data
segmentation and profiling of alumni to extend data analysis and increase funding activity.
You will have a proven and demonstrable track record in income generation, DM,
fundraising, sales or business development along with experience of appointing and working
with fundraising volunteers, encouraging and leading them in fundraising activities.
Your excellent communication and interpersonal skills, engaging personality, influencing,
persuasion and negotiation skills enables you to build a strong rapport with a broad
spectrum of people including the wider College community, current students, alumni, donors,
benefactors and high profile visitors. Confidence and ability to present expert advice through
written reports, presentations and during meetings to support the long-term strategic
development of the programme. This is a very exciting time for UWC Atlantic College as we
develop our new strategy.
To apply for this position please visit our website at: www.atlanticcollege.org/careers to
complete an application form, and send to: hr@atlanticcollege.org
Closing date for completed applications is noon on 31 st October 2019.
Interviews for this post will take place on Tuesday 12 th November 2019.
When applying for a job at the college, you should ensure that you are already authorised to
work in in the United Kingdom (UK). In accordance with the Asylum and Immigration Act
1996 we require confirmation of candidates' permission to live and work in the UK. All
candidates will therefore be required to produce at interview original documents (details of
which will be included with the interview invitation letter) which demonstrate an ability to live
and work in the UK and to do the type of work being offered.

UWC Atlantic is committed to safeguarding and promoting the welfare of young
people. Applicants must be willing to undergo child protection screening
appropriate to the post, including checks with past employers and the Disclosure
and Barring Service.

Registered Charity Number: 525761