UWC Refugee Initiative Benefit Gala - NYC
15 June 2017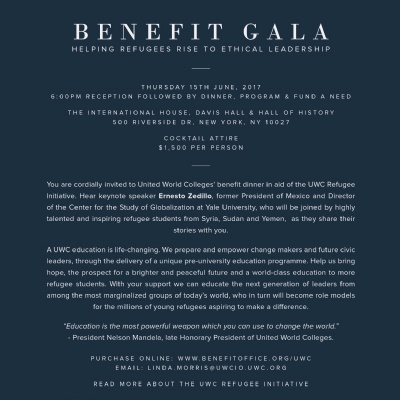 Helping refugees to rise to ethical leadership
Join us to hear keynote speaker Ernesto Zedillo, former President of Mexico and Director of the Center for the Study of Globalization at Yale University, who will be joined by highly talented and inspiring refugee students from Syria, Sudan and Yemen, as they share their stories with you.
With your support we can educate the next generation of leaders from among the most marginalized groups of today's world, who in turn will become role models for the millions of young refugees aspiring to make a difference.
Funds raised will support talented refugee students as part of the UWC Refugee Initiative. You can purchase your tickets here.
Date
15 June 2017, 6pm
Location
The International House, Davis Hall & Hall of History, 500 Riverside Dr, New York City