Education for Change - NYC
14 June 2017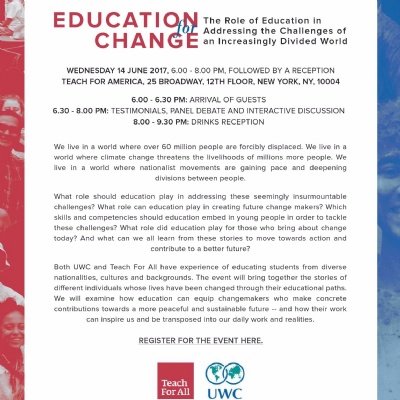 UWC and Teach for All on the the role of education in addressing the challenges of an increasingly divided world
We live in a world where over 60 million people are forcibly displaced. We live in a world where climate change threatens the livelihoods of millions more people. We live in a world where nationalist movements are gaining pace and deepening divisions between people. What role should education play in addressing these seemingly insurmountable challenges? What role can education play in creating future change makers? Which skills and competencies should education embed in young people in order to tackle these challenges? What role did education play for those who bring about change today? And what can we all learn from these stories to move towards action and contribute to a better future?
Both UWC and Teach For All have experience of educating students from diverse nationalities, cultures and backgrounds. The event will bring together the stories of different individuals whose lives have been changed through their educational paths. We will examine how education can equip changemakers who make concrete contributions towards a more peaceful and sustainable future -- and how their work can inspire us and be transposed into our daily work and realities.
The event is free of charge - but places are limited, so register today on eventbrite.
Date
14 June 2017, 6-8pm followed by a reception
Location
Teach for America, 25 Broadway, 12th floor, New York City