Educating For An Economy That Works
16 November 2017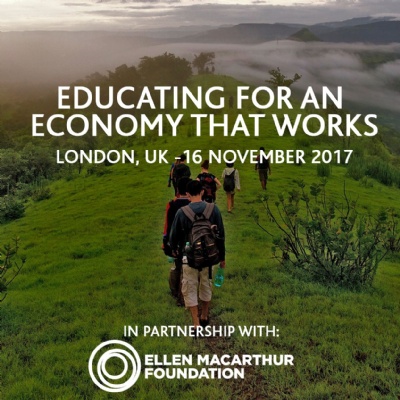 In partnership with the Ellen MacArthur Foundation
This event is free and open to everyone and it requires registration on https://emf-uwc-education.eventbrite.co.uk/

Please join UWC and the Ellen MacArthur Foundation for a night of discussion surrounding how education can support an economy that is restorative and regenerative by design: a 'circular' economy.
During the evening you will have the chance to hear from innovators in the educational and economic sectors, and engage with the combined UWC and Ellen MacArthur Foundation communities to uncover solutions for how to better incorporate education and sustainability.
The Ellen MacArthur Foundation and UWC are working in partnership to enhance sustainability practices in UWC schools and colleges worldwide. This event, as a close collaboration between UWC and the Ellen MacArthur Foundation that highlights this growing partnership, is presented as part of the Disruptive Innovation Festival (DIF), and will be live-streamed online.
Doors will open at 6:30pm, and the panel discussion will begin promptly at 7:15pm. The panel discussion, which will include an extended Q&A session, will be followed with a drinks and networking reception, as well as the opportunity to discuss the theme of the evening in an informal small group setting.

Panelists:
- Proserpina Dhlamini-Fisher (Director of Education, UWC International; UWC Waterford Kamhlaba alumna 1983)
- Kresse Wesling MBE (Co-Founder, Elvis & Kresse; Li Po Chun UWC alumna 1996)
- Cedric Solms (Founder, Re-Apaga; UWC Dilijan alumnus 2017)
- Jack Barrie (Project Engineer, Kite Power Systems; circular economy consultant; former Schmidt-MacArthur Fellow)

Moderator:
- Ken Webster (Head of Innovation, Ellen MacArthur Foundation)

Educating for an Economy that Works
The economy of the 21st century has seen huge changes across many sectors. Transportation, energy, employment, manufacturing, and the built environment are all undergoing significant transformation, ushered in by a new digital revolution. Yet the education system as we know it still bears many resemblances to the industrial model of a hundred years ago.
With these changes come new requirements as well as 'side effects'. Different skills and mindsets are needed to successfully navigate our increasingly complex world.
As we begin to exceed planetary boundaries - exhausting the linear, 'take, make, dispose' economy - the need to shift to a regenerative and restorative economy becomes increasingly paramount. Education has a pivotal role in such a shift.
This panel discussion involving experts from across education, business, and economics will explore two important questions: What is the role of education in shaping an economy that works? What practical steps can be taken by schools and colleges to help make this vision a reality?
UWC and the Ellen MacArthur Foundation
The mission of UWC (United World Colleges) is to "make education a force to unite people, nations and cultures for peace and a sustainable future". UWC, a global education movement, has 17 schools and colleges worldwide that deliver a challenging and transformational educational experience to a deliberately diverse group of young people, inspiring them to become agents of positive change.
The Ellen MacArthur Foundation (EMF) works with business, government and academia to build a framework for an economy that is 'circular': restorative and regenerative by design. The Disruptive Innovation Festival (6th - 24th November 2017) is an online, open access event that invites thought-leaders, entrepreneurs, innovators, businesses, makers and learners to explore the question: What if we could redesign everything?