Rettore (Head of the College)
12 October 2021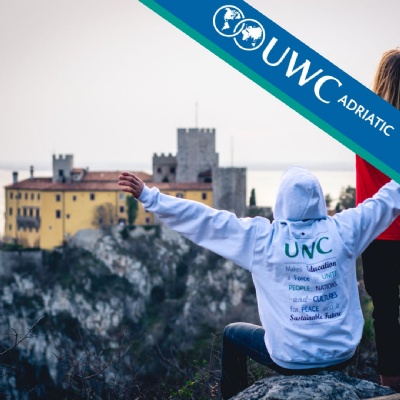 UWC Adriatic

The UWC Adriatic President and Board seek a talented and highly motivated Rettore. The new Rettore will take up the position in August 2022.
UWC ADRIATIC, ITALY
RETTORE (HEAD OF COLLEGE)
From August 2022

This is an outstanding opportunity for an inspirational educationalist and school leader to become head of an exceptional, residential UWC college, fully aligned with UWC's commitment to education as the means to a more peaceful and sustainable world. UWC Adriatic, in a beautiful location on Italy's Adriatic Coast, is home to almost 200 students aged 16-19 and representing more than 70 nationalities.

UWC (United World Colleges) is a global group of 18 schools and colleges joined by a common mission to make education a force to unite people, nations and cultures for peace and a sustainable future. UWC Adriatic was founded in 1982 and has a proud history as the first United World College in mainland Europe.

UWC Adriatic forms an integral part of the picturesque village of Duino, a short distance from the historic port city of Trieste. It is a private, non-profit institution but receives a significant proportion of its funding from public sources, reflecting the esteem in which the College is held regionally and nationally and opening up opportunities to make an impact. UWC Adriatic is committed to the idea of a holistic education that brings together the academic rigour of the IB Diploma, an extensive extracurricular programme and a strong emphasis on service, compassion and personal responsibility. More than 70% of the College's students are on full scholarships, resulting in a truly diverse school community both culturally and socio-economically, in line with UWC's approach of placing deliberate diversity at the heart of its transformative educational model. Since its foundation, the College has taken many students from Central, Eastern and South-Eastern Europe, and it is now exploring a wider Mediterranean and Middle Eastern emphasis; a significant number of students are refugees or from crisis-affected communities.

The UWC Adriatic President and Board now seek a talented and highly motivated Rettore (Head) to succeed Will Turner, who will return to the UK after three years of highly successful leadership.

The new Rettore will have a track record of effective senior leadership and a sound understanding of the nature of leadership in a residential school context. They will be able to manage complexity and understand the balance of leading with authority whilst also genuinely seeking consensus. In challenging times globally, their headship will be marked by brilliance, composure, vision and courage. They will be a compelling ambassador for the College, able to work with a wide range of stakeholders and supporters. An authentic and demonstrable commitment to UWC's mission and values is essential and a knowledge of Italian is desirable.

The new Rettore will take up the position in August 2022.
For detailed candidate information and details of how to apply, please visit Rettore (Head of College) – UWC Adriatic, Italy – RSAcademics

RSAcademics is supporting UWC Adriatic with this appointment process. For a preliminary, confidential conversation with Jean Sullivan, Head of International Search, or Keith Clark, Head of International Appointments, please contact JeanSullivan@RSAcademics.com
The deadline for the receipt of applications is Monday 8 November at 10:00 (GMT)/11:00 (CET). Preliminary Interviews with RSAcademics will commence before the applications deadline and early applications are therefore encouraged.

UWC Adriatic is committed to safeguarding and promoting the welfare of children and young people and will require background checks and references before making an appointment to this role.