Head of HR
14 September 2023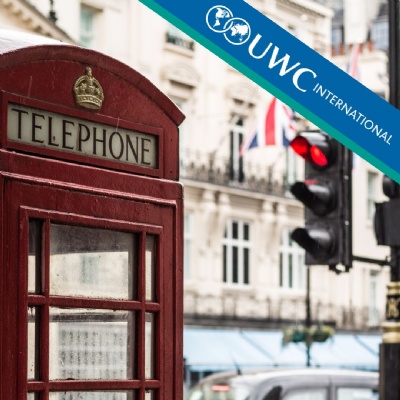 UWC International - London

Job Title: Head of HR
Department: Executive Team
Basis of Appointment: Part-Time; 4 days a week (31 hours)
Salary: £49, 520 per annum
Location: London - hybrid working
Reporting to: Executive Director
Changing the world takes passion and dedication

UWC is a global family of schools with a powerful difference. With a shared goal of working towards global peace and sustainability, we bring together young people from around the world to study in one of our 18 schools on four continents. There they don't just learn how to be great at passing exams. They learn how to communicate across cultural boundaries. They develop the skills to be a changemaker. They design and engage in initiatives that transform their lives and the lives of those around them for the better.
Our students go on to become leaders in politics, NGOs, social enterprises, community movements, charities, and business. For life, they remain dedicated to the UWC mission and many of them remain in close contact with us, their school, and their peers, becoming part of a global community of over 60,000 changemakers transforming the lives of others.
About UWC International
The UWC International Office is the executive arm of UWC International, a UK registered charity, and is situated at the heart of the UWC movement. Located in central London and Berlin, the UWC International Office collaborates closely with all stakeholders from across the UWC movement, engages the UWC alumni community of more than 60,000 members and serves UWC International's governance bodies. Responsibilities include global fundraising, global communications, promotion and marketing, supporting the network of over 150 UWC national committees in their daily work and growth, global strategy development and implementation and assisting the UWC schools.
Job Scope
The Head of HR leads UWC International Office's work in the area of HR. The main purpose of the role is to support the organisation to achieve its objectives by developing ways of attracting, developing and retaining talented people. The UWC International Office is headed by the Executive Director, its main locations being London and Berlin, and with a number of people working remotely from various locations around the world. All in all, we can count on about 40 highly engaged and committed people working to advance UWC's mission to make education a force for peace.
The Head of HR is supported by the HR Coordinator, particularly in relation to recruitment and
on-boarding of staff and volunteers, administering the monthly payroll processes, coordinating the learning and development activities and liaison with benefits providers. The Senior Financial Accountant looks after the pensions and supports the role with budgetary queries.
This is a senior role and we are looking for an experienced Head of HR who can lead the work in this area across the organisation. You will be part of the management team and will report to the Executive Director. The role also provides support to UWC's Personnel and Remuneration Committee and leads the UWC HR Network.
Key Responsibilities
Work with the Executive Director and the other senior managers to improve the effectiveness of people management and development.
Oversee a culture of staff engagement and wellbeing; working with the Executive Director and senior management team to lead improvement and ensure retention of staff.
Work closely with the senior management team to ensure the business is compliant with employment laws and up-to-date with changing regulations.
Manage and oversee the full recruitment cycle from: engaging with managers, developing job descriptions, shortlisting, managing the interview process and leading the onboarding of new staff.
Manage, update and administer all contractual documents to new and existing staff, as well as managing the leavers process.
Manage the payroll services both in the UK and Germany, ensuring that all staff are paid on time and accurately.
Oversee and manage performance management, advising both managers and staff on annual, mid-year and probationary reviews processes.
Manage the processes relating to grievances, disciplinaries and/or redundancies.
Design, develop and implement annual learning programmes for the whole UWC International team.
Support managers with the recruitment and onboarding of consultants, ensuring compliance with the laws and regulations of the relevant country.
Monitor and manage HR expenditure through scoping annually and maintaining a department budget, ensuring the organisation obtains best value for its processes and services.
To ensure meaningful people insight is provided in order to assist in decision making and planning; reporting to the Personnel and Remuneration Committee and occasionally the Board on HR and People issues.
Provide support to the Personnel and Remuneration Committee in setting agendas, taking minutes of meetings and providing guidance on HR and People related matters.
Build a HR function with a continuous improvement ethos to support the needs of the organisation; maximising the use of technology available to drive best practice and streamline process.
The above is not an exhaustive list of duties and you will be expected to perform other duties as
required.
Person Specification
Essential knowledge, skills and experience
Substantial senior level experience in a generalist International HR role with a full CIPD qualification (level 7).
Strong leadership and analytical skills, able to contribute to business strategy.
Empathetic people person, able to establish and maintain credible relationships with people at all levels.
Strong evidence of successfully working on own initiative and working as a member of the management team.
Up to date knowledge of UK employment law, with experience of working across multiple jurisdictions is highly desirable.
Excellent organisational and planning skills; with experience in managing simultaneous projects.
Brilliant communicator, both verbally and in writing, with strong attention to detail; able to engage, motivate, lead and inspire a wide range of different people.
Proven ability to translate HR knowledge into pragmatic and professional approaches.
Considerable experience in managing and advising on complex employee relations issues in an international context.
The highest level of integrity, discretion and professionalism with the ability to exercise judgement at all times in ambiguous circumstances.
Experience of working on strategic HR projects such as well-being, talent management, learning and development, performance management and diversity, equity and inclusion.
Strong interest in UWC's mission and values, and a willingness to engage with issues of relevance to the UWC movement.
Desirable knowledge, skills and experience
German or another language skills would be desirable.
Experience of devising and implementing employee engagement initiatives.
Experience of working with HR systems, benefits platforms and databases.
What we offer
As part of a commitment to our employees we offer:
Generous holiday allowance – 28 days per year plus 8 public holidays (pro rata for part time or fixed term contracts).
The standard working hours are 38.5 per week. Start and finish times can be agreed between managers and employees. We support flexible working and are happy to discuss different working patterns.
We offer up to two days per year for volunteering and up to two days per year for study leave.
We support staff development and provide access to training and a wide range of CharityComms resources through our UWCIO membership.
We offer a health and wellbeing support package, which includes income protection, employee assistance programme, advice and legal support helpline, remote GPs access, medical second opinions, mental health support, physiotherapy, cycle to work and a wellbeing calendar featuring podcasts and webinars.
Perks and discounts portal, which provides a range of discounts across shopping, dining, lifestyle, and entertainment. With thousands of offers on hundreds of top retailers.
Contributory pension scheme, UWC International currently contributes up to 8% of the employee's gross salary and the employee must match the percentage of up to 8% of their gross salary. The minimum contribution rate is 4%.
Working arrangements
We operate hybrid working arrangements, with at least 20% of the week worked in the office and up to 80% worked from home. There is the option to work additional days in the office.
These arrangements will be reviewed later this year. We support flexible working and would be happy to discuss different working patterns with candidates.
Any requirement to travel for work will be subject to a risk assessment and will take into account
official government guidance on COVID-19 and any other health or security considerations
applicable at the time.
Safeguarding
It is expected that the job holder will occasionally travel to UWC schools and colleges. For that reason, a Basic DBS check (Disclosure and Barring Service) or international equivalent will be required before any job offer is made. We will also take up references prior to the second stage of the interview process. Referees will not be contacted without your consent.
Diversity Statement
UWC places deliberate diversity at the heart of our educational model because of its critical importance in our mission 'to unite people, nations and cultures for peace and a sustainable future'.
At the UWC International Office, we believe this commitment to deliberate diversity must be reflected within our team, organisational practices, policies and culture. We recognise people with different backgrounds, skills, attitudes and experiences bring fresh ideas and perceptions, and we encourage and leverage these differences to make our work more relevant and approachable.
We will not discriminate or tolerate discriminatory behaviour on any grounds such as, but not limited to, race, gender, disability, nationality, national or ethnic origin, religion or belief, marital/partnership or family status, sexual orientation, age or socioeconomic background.
We strive to be an inclusive workplace where everyone feels a sense of belonging, has a voice, can raise concerns, and feels comfortable and confident. We expect everyone who works with us to share this commitment and to act accordingly, as we aspire to best serve the UWC mission and our global community. It is an ongoing journey and we welcome all those who are ready to travel with us.
Visa requirements
This role requires applicants to have the right to live and work in the UK to undertake the role.
Please provide confirmation of your eligibility and willingness to indefinitely work or reside in the UK in your application. Any offers of employment made by UWC International in London will be subject to a right to work check on your immigration status in the UK.
Application Process and Deadline
Please send your application to vacancies@uwcio.uwc.org including your CV and cover letter in English (each a maximum of 2 pages). Your cover letter should:
Indicate how you heard about this role.
Outline your knowledge, skills and abilities against the job requirements.
Provide confirmation of your eligibility to indefinitely work or reside in the UK.
Provide the name and contact details of two referees, including their job title and the capacity in which you are known to them. References are taken up prior to the second round interviews and we will not contact your referees without first letting you know.

Please note that applications without a cover letter will not be considered.

Deadline for application: Tuesday 3 October at 23.59 hrs (BST)

Interview dates:
First round interviews will be held on the week commencing 9 October 2023
Second round interviews will be held on 17 and 18 October 2023