FUNDRAISING & DONOR RELATIONS MANAGER
1 October 2022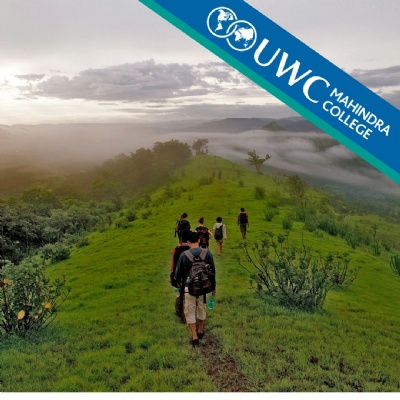 UWC Mahindra College

FUNDRAISING & DONOR RELATIONS MANAGER
At UWC Mahindra College, we believe that education is transformational for both: our students and our faculty.
Please write to vacancies@muwci.net
ABOUT US
UWC Mahindra College is a pre-university residential high school for 240 students aged 16 to 19 representing more than 80 countries. The College offers the globally recognised 2 year International Baccalaureate Diploma Programme, taught by 30 faculty members from around the world. Resting in the 175-acre biodiversity reserve, our campus is located 40 km outside of Pune amidst the greater Western Ghats – one of the world's top biodiversity hotspots.
Job Title: Fundraising & Donor Relations Manager
Reports to: Head of Advancement
Type of Position: Full Time/ Non Residential Staff/ Remote work option
Key Relationships: Individual, Foundation and Corporate Donors, Alumni, Parents, Friends and Prospective, Stakeholders, College Governances, UWC International, UWC National Committees Direct Reports Global Advancement Team, Press & Media
ABOUT THE POSITION
The Fundraising and Donor Relations Manager will be providing strategic input and strong execution support to enable fundraising targets for the college. They will also be expected to streamline systems and processes around knowledge management, donor stewardship and fundraising administration related duties.
Knowledge Management
Support the office to migrate to more sophisticated knowledge management systems including database software, prospect research tools and other systems and processes that can drive strategic donor insight
Scout for vendors that can audit current knowledge systems and propose recommendations for improvement. Prepare request for proposals and work with external vendors to execute recommendations received.
Manage the data migration process and provide support and guidance to upskill team members to leverage new systems. Work closely with other offices (e.g. accounts, admissions) to ensure data on donations received and disbursed are reconciled. Ensure data used across offices are in-sync with each other.
Donor Solicitation
Actively engage with the Head of Advancement to deliver on the fundraising targets for the office and play a key role in executing on the work that enables this.
Support the development of the fundraising strategy and execution plan across key donor stakeholder groups including – Corporate donors, Foundations, HNI/UHNI donors, and alumni. Manage the fundraising life-cycle from identification, qualification, cultivation, solicitation and stewardship across relevant donor groups.
Take lead (content writing) in developing various fundraising collateral (pitch decks, FAQs, brochures, case for support, etc.) Support with donor outreach and solicitation activities including setting up meetings, preparing an agenda for discussions, participating in meetings and responding to donor queries. Following up with donors in the pipeline and ensuring movement across all open conversations.
Stewardship
Prepare a revamped engagement plan to steward donors that are actively giving to the college. Provide project management support to ensure current stewardship efforts being driven by the executive officer are delivered as per pre-agreed timelines and reports being shared are up to a certain standard.
Propose ideas to improve process efficiency and quality of deliverables being submitted to donors.
Administration
Streamline and oversee the process of providing donors with payment confirmations, thank you receipts, and requisite tax exemption paperwork.
Take responsibility to ensure all contracts with vendors such as payment gateway providers (Instamojo, Razor Pay), fundraising platforms (Give Campus), Corporate/Institutional donors, etc. are up to date, renewed in a timely manner and the office is adhering to any commitments with regards to the same.
Other Responsibilities
The office is a lean team with a large mandate of activities. Staff members are expected to contribute to other areas of work including supporting with alumni relations, outreach/summer program initiatives, and key communication deliverables from time to time.
JOB INTERFACE/RELATIONSHIPS
Internal
Communications Manager, Executive Officer (Advancement), Head of College, Chief Financial Officer, Accounts Office, Specific faculty members and college administration staff.
External
UWC International Office, Corporate Donors, AlumniCommunity, Parent Community, HNI/UHNI Donors,Institutional Donors
Knowledge/Education
UWC International Office, Corporate Donors, AlumniCommunity, Parent Community, HNI/UHNI Donors,Institutional Donors
Specific Skills
Excellent verbal communication, including the ability to effectively communicate with internal and external individuals and organizations.
Outstanding ability to write clearly, quickly, and persuasively. Strong presentation skills and experience with public speaking. Must be a strategic thinker, able to push forward with imperfect information, and comfortable providing direction to others.
Detail oriented and strong organization skills. Required to execute on multiple competing priorities.
Results oriented with a focus on ensuring fundraising goals and targets are achieved.
Desirable Experience
6+ years of professional experience in the not-for-profit, education management or international development sectors, with at least 2 years in fundraising and/or business
development.
Corporate crossovers in allied fields (marketing, sales, business development) are also encouraged to apply
Prior experience of working on database systems and maintaining CRM/donor databases is a plus.
Prior experience of working in strategic philanthropy including experience of working with HNI/UHNI and corporate donors is a plus.
HOW TO APPLY
Interested applicants should send the following materials to the attention of the Head of College, Mr. Gaurav Chopra at vacancies@muwci.net
Curriculum Vitae (not more than two pages)
Brief cover letter (not more than one page)
Details of two references (professional relationship, dates of employment, telephone and email contacts)
Optional: A 200-250 word statement on "how the UWC mission and values find expression in your own life."
Deadline: 30 September 2022
Note: International candidates are welcome to apply
We hold ourselves to a high standard of effective recruiting practices with specific attention to child protection. Candidates must be willing to undergo screening appropriate to the position including checks with past employers.