Funded Programmes Consultant
20 November 2023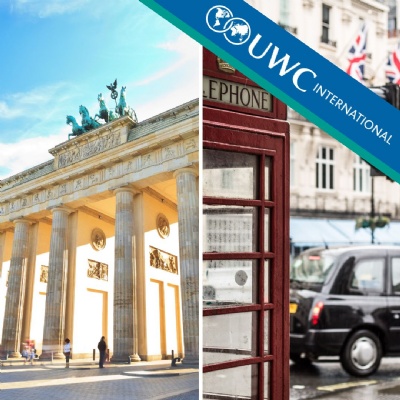 Title: Funded Programmes Consultant
Location: global - remote
Type of contract: consultant
Expected duration: two years (max. 448 days)
Contact: Head of Philanthropy
Fees: based on skills and expertise and will be paid at the national rate for the country in which the consultant is based
Changing the world takes passion and dedication
Isn't it time that your passion and dedication be channelled towards a career and community that genuinely change lives?

If you...
want to transform your own life by transforming the lives of others
crave a career that creates opportunity for others
desire to make dreams come true for those who never thought it possible
know that education is the foundation from which we can change the world
believe that today's young people can transform tomorrow
strive for world peace and global sustainability
dare to dream
...then an assignment with UWC could be the change you need.

UWC (United World Colleges) is a global family of schools with a powerful difference. With a shared goal of working towards global peace and sustainability, we bring together young people from around the world to study in one of our eighteen schools on four continents. There they don't just learn how to be great at passing exams. They learn how to communicate across cultural boundaries. They develop the skills to be a changemaker. They design and engage in initiatives that transform their lives and the lives of those around them for the better. And they stay a "UWC-er" for life, becoming part of a global community of 60,000 changemakers transforming the lives of others.

One of the things that makes us the most proud is our network of over 4,000 dedicated volunteers, who make up the UWC national committees in charge of finding and selecting students in more than 150 countries worldwide. Our national committee volunteers - UWC alumni, parents of UWC students or alumni, education professionals and community leaders who believe in UWC's mission - make it possible to seek out the most promising and diverse students in each country, with over 80% of students selected by UWC national committees receiving a scholarship.
Do you want to support our UWC national committees and make sure many more young people get this life-changing opportunity?
Working with us will inspire and challenge you
Driving a mission to make the UWC experience available to tomorrow's changemakers, irrespective of their background, beliefs and economic means demands colleagues with passion and dedication, and a talent for transformation. Our students go on to become leaders in politics, NGOs, social enterprises, community movements, charities, and business. For life, they remain dedicated to the UWC mission and many of them remain in close contact with us, their school, and their peers.

This is what fuels us at the UWC International Office (UWCIO). We are based in London and Berlin, and we are the executive arm of UWC International, a registered charity in the United Kingdom and Germany. We collaborate closely with all stakeholders from across the UWC movement, including our volunteers and 60,000 alumni, and we serve UWC International's governance bodies.
Are you our new Funded Programmes Consultant?
UWC International is seeking a Funded Programmes Consultant to lead the implementation of important scholarship programmes focused on post-conflict reconciliation, refugees and aspiring young students from disadvantaged communities selected to attend a UWC school. The Funded Programmes Consultant will work with the Philanthropy team, a team of seven people raising funds for and managing funded scholarship programmes.

The Funded Programmes Consultant will be responsible for a wide range of activities, including collaborating with colleagues in project countries, outreach to young people eligible for the scholarships we offer, and coordinating their selection and support once they join UWC. The position is a donor-funded assignment for a fixed term of two years. The work location can be anywhere in the world, with most of the team working in the European time zone.
Scope of Work
Funded Programmes Implementation
Manage the implementation of important scholarship programmes, including the scholarship programme with RISE, an initiative of Schmidt Futures and the Rhodes Trust
Build and manage processes to ensure effective delivery and initiate improvements
Support and coordinate promotion and outreach as well as student selection in project countries remotely
Coordinate various teams' contributions to the donors' funded scholarship programmes
Ensure regular effective communication with external and internal stakeholders
Ensure timely operational and financial reporting to the donors
Supervise programme staff in project countries remotely
Oversee programme budgets
Ensure effective programme monitoring, evaluation and reporting.
UWC Refugee Initiative
Support the expansion of foundational programmes for refugee scholars
Develop other support mechanisms for refugee students
Liaise with many stakeholders from the UNHCR to high-level government officials and institutions as well as volunteers and schools/colleges.
Philanthropy and Fundraising
Facilitate the growth and development of UWC's presence and networks in programme countries and at the regional level
Support new programme development including fundraising
Perform any other tasks relevant to the programmes and role
Report to the Head of Philanthropy and Senior Advisor for International Fund Development.
Key Deliverables
Scholarship programmes' deliverables (oversight of the scholarship reporting roster, the financial management roster, the scholarship statements, the students' letters, the onboard/offboarding materials, the promotion materials and the project guidelines)
Regular written and oral communications with donors and all project stakeholders (meeting minutes, briefings, presentations)
Bi-annual and final donor reports including financial and narrative reporting, monitoring and evaluation reports
Oversight of the project Google Drive folders documenting all relevant documentation related to the programmes (deliverables, contracts, reporting, communication)
New funded programmes proposal writing including project objectives, activities, deliverables, planning and budgeting.
Essential knowledge, skills and experience
Demonstrated experience in managing programmes at the 6-8 figure level
Proven ability to deliver and report upon agreed individual and team targets and plans within set deadlines
Effective interpersonal and communication skills (oral and written), ability to communicate confidently and engagingly at all levels and in different cultural contexts
Excellent written and verbal communication skills in English, with a strong attention to detail
Experience in managing complex projects, including leading intercultural teams
Highly numerate with the ability to monitor and manage financial information, setting and reporting on project budgets, multi-year projections
Knowledge of the global education sector and issues affecting young people, especially from less advantaged groups, in the pursuit of quality educational opportunities
Experience working in a fast-paced beneficiary-focused/ donor-focused environment while maintaining flexibility and resilience to deal with challenges calmly and constructively.
Aptitudes
Strong interest in UWC's mission and values, and a willingness to engage with issues of relevance to the UWC movement
Ability and willingness to travel globally
Ability to work on own initiative and as part of a team
Desirable knowledge, skills and experience
Experience in working with volunteers
Experience in working with refugee youth
Fluency in or excellent knowledge of other world languages
Other relevant information
Diversity Statement
UWC places deliberate diversity at the heart of our educational model because of its critical importance in our mission 'to unite people, nations and cultures for peace and a sustainable future'.

At the UWC International Office, we believe this commitment to deliberate diversity must be reflected within our team, organisational practices, policies and culture. We recognise people with different backgrounds, skills, attitudes and experiences bring fresh ideas and perceptions, and we encourage and leverage these differences to make our work more relevant and approachable.

We will not discriminate or tolerate discriminatory behaviour on any grounds such as, but not limited to, race, gender, disability, nationality, national or ethnic origin, religion or belief, marital/partnership or family status, sexual orientation, age or socioeconomic background.

We strive to be an inclusive workplace where everyone feels a sense of belonging, has a voice, can raise concerns, and feels comfortable and confident. We expect everyone who works with us to share this commitment and to act accordingly as we aspire to serve the UWC mission and our global community. It is an ongoing journey and we welcome all those who are ready to travel with us.
Safeguarding
It is expected that the consultant will travel to UWC schools and colleges. Therefore, a Basic DBS check (Disclosure and Barring Service) or international equivalent will be required. We will also take up references during the selection process. Satisfactory references and criminal record checks are required before any offer is confirmed. Referees will not be contacted without your consent.
Additional Information
Individuals engaged under a consultancy or individual contract will not be considered "staff members" under UWC International's policies and procedures, and will not be entitled to benefits provided therein (such as leave entitlements and medical insurance coverage). Consultants and individual contractors are responsible for determining their tax liabilities and for the payment of any taxes and/or duties, in accordance with local or other applicable laws.

The selected candidate is solely responsible for ensuring that the visa (applicable) and health insurance required to perform the duties of the contract are valid for the entire period of the contract.
Application Process and Deadline
Please send your application to vacancies@uwcio.uwc.org including your CV and cover letter in
English (each a maximum of 2 pages). Your cover letter should:
Indicate how you heard about this role.
Outline your experience and ability to complete the assignment.
You should also include details of where you are currently based, the proposed
consultancy fee and your availability to take up the assignment.
Please provide the name and contact details of two referees; including their job title and the capacity in which you are known to them. We will not contact your referees without first letting you know. Please also indicate how you heard about this role, in your application.
Please note that applications without a cover letter, including the information requested above will not be considered.
Deadline for application: Thursday 7 December 2023 12.00 noon (UK time)

Interview dates:
First round interviews will be held 13 and 14 December 2023
Second round interviews will be held 18 and 19 December 2023