Director of Short Programs
4 August 2023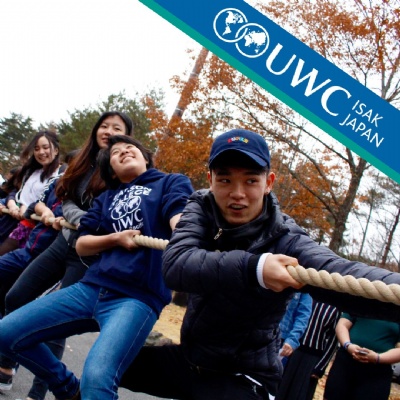 UWC ISAK Japan Short Courses (as of June 2023):
Summer School and Winter School
Salary: 3,000,000 JPY
Supervisor for the role: Head of School
Overview
At UWC ISAK Japan, we believe that education should go beyond the traditional classroom setting, fostering a holistic and transformative learning experience. Our short programs offer an incredible opportunity for students from around the world to engage in a diverse and vibrant community while exploring their passions, developing leadership skills, and broadening their global perspectives. Short Programs at UWC ISAK Japan bring together bright, curious, motivated young people (ages 12-16) from a diverse range of countries,
cultures and socio-economic backgrounds for what many students say is a "life-changing experience".

Short Programs aim at engaging students who are interested in UWC ISAK Japan's educational experience. It provides them with an opportunity to experience the leadership model, diversity and design oriented curriculum. We see many students after Winter and Summer School apply for the High School experience.

Short Programs at UWC ISAK Japan currently include two active programs; Summer and Winter School. Summer School is a 13-day on campus program during the summer break. It brings together 80 students from all over the world and a team of about 25-30 passionate educators. Summer School is open for 13-14 year olds interested in leadership and diversity. We have been running Summer School since 2010 and only skipped the edition in 2020. Winter School has been around since 2020, and is aimed at 12-13 years old. It is a 5-day program during the winter break. It brings 40-45 students and a team of 15 educators to campus. The residential experience is at a nearby Japanese dorm and classes take place on campus. Winter School also incorporates daily elements of Outdoor Education during the experience.
Role and Responsibilities
Key Areas of Responsibility
Ownership over project management duties across the life-cycle of UWC ISAK Japan Short Course activities including planning and coordination, outreach/advertising, and program implementation.
Strategy:
Work with the UWC ISAK Japan Leadership Team to develop a future vision to monetize key school assets (both physical infrastructure and people assets) and spare capacity as further revenue generating opportunities for the school;
Lay groundwork by conceptualizing pilot programs, developing budgets and overseeing the expansion of earned income initiatives for the college.
Planning & Coordination:
Drive consensus among the school community over key programs that should be offered and develop and manage the calendar of educational programs that will be offered during the whole year (academic year and summer break);
Develop a vision for how the short courses fit together and contribute toward the mission and vision of the school. Maintain oversight of the program content of the various short courses to ensure diversity in the content provided and to prevent content overlap.
Scout and recruit potential Program Managers, guest speakers and other resources to deliver on the programs identified, with a focus on collaborative decision making on hiring for open roles related to the short courses.
Work closely with the Program Managers and identified facilitators to finalize the program budgets, logistical requirements, and program schedule.
Outreach & Advertising:
Working closely with the Communication and Marketing Director, finalize the promotion plan to advertise and market these programs to the age appropriate audience;
Review all the marketing material prepared for the advertisement of programs across relevant channels including social media and email.
Program Implementation:

● Oversee the execution of the UWC ISAK Japan Short Course programs, stepping in to problem solve when; needed, and ensure that program protocols are adhered to and outcomes are being met;
● Manage the day-to-day execution of the Winter School & Summer School as Director for the academic year 2023-2024.

Job Interface/Community Relationships:

● Internal: Head of School, Communications Manager, Head of Operations, School Leadership Team, Program Managers
● External: Alumni, Parents, UWC International Office, Short Course Directors at other UWCs
Safeguarding

● The DSP must adhere to and ensure compliance with the School's Safeguarding and Child Protection Policy at all times. If, in the course of carrying out the duties of the post, the post-holder becomes aware of any actual or potential risks to the safety or welfare of children in the School, they must report those concerns to the Designated Safeguard Lead or to the Head immediately.